How I Reclaimed My Home Office With Help From Amazon Home
Stylish furniture and decor finds from Amazon Home (all available via fast and free shipping) helped me transform my office-turned-foyer back into the perfect work-from-home spot.
Keep in mind: Price and stock could change after publish date, and we may make money from these affiliate links.
My husband and I have gained the master suite of our dreams after a lengthy and painful renovation, and we couldn't be more thrilled. However, renovations often come with a compromise, and in our case, we had to put a staircase right in the middle of what had been our dedicated home office to provide access to our new bedroom and bath in what was previously the attic.
BEFORE: Disorganized Home Office Before Major Renovation
BEFORE: The home office and all its clutter and glory.
Beth Rucker
BEFORE: The home office and all its clutter and glory.
Fortunately, there was still enough room in our office-turned-foyer to carve out a small spot for our work-from-home days, but our existing furniture neither fit into the new nooks and corners nor matched the newly painted green walls and dark wood trim. I turned to Amazon Home to see what I could find to furnish the workspace and was blown away by all of the affordable options — all of which qualified for Amazon Prime's fast, free shipping.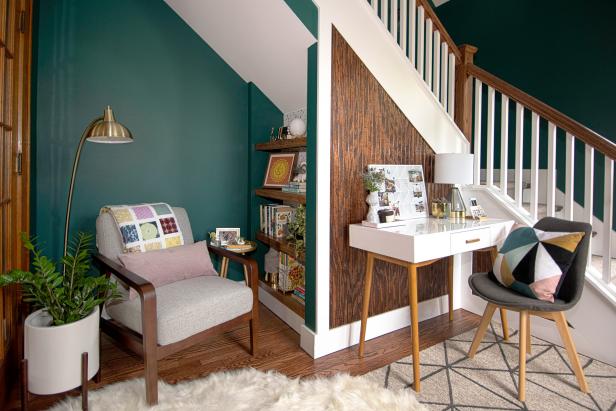 Home Office and Reading Area Tucked Into Nooks in Deep Green Foyer
AFTER: The home office-turned-stylish foyer.
Sarah Busby
AFTER: The home office-turned-stylish foyer.
I knew the nook created by the turn in the staircase would be a good spot for a desk, but the space presented a few challenges. It's small and trimmed with dark beadboard, so I needed a compact setup with light finishes that wouldn't block the access to the bottom of the stairs or compete with the woodwork.
I thought my options would be limited, but Amazon Home had an endless selection. After poring over pages of results, I fell in love with the Convenience Concepts Oslo Desk and its simple Scandinavian style and storage drawer. Preferring something sleeker than a typical office chair, I paired it with a comfy GreenForest midcentury modern-style dining chair.
You've probably heard that a good rug can tie the room together. In my case, it was a thick wool rug from Amazon Home's private brand Rivet. A prism-patterned throw pillow from Now House by Jonathan Adler was the cherry on top thanks to how it married the patterns and the bold colors of the room in one perfect accessory.
Getting some new furniture also forced my hand on upgrading the rest of the room's decor. I'm a sucker for a pretty desktop tableau, and the Poppin blush-colored accessory tray, Flora Bunda watercolor succulent pot and Rivet table lamp were a perfect trio of accents.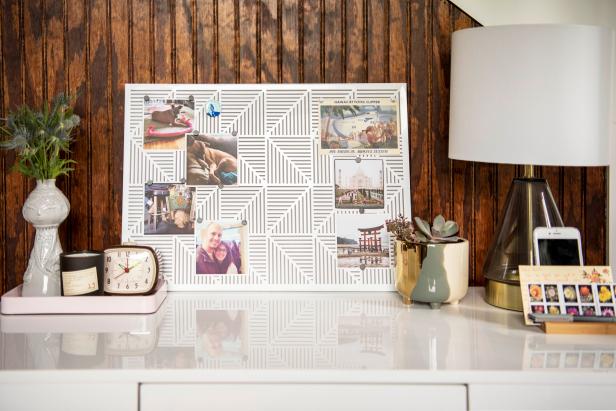 Desktop Accessories Can be Functional and Pretty
Desktop accessories can be both pretty and functional. A magnetic bulletin board creates a spot to display favorite photos, but the slats between the graphic design accommodate push pins for corralling important papers. A small tray, like this blush-colored one, can corral loose accessories, and a slim bamboo tray has slots that hold cell phones, tablets, envelopes, stamps and other slim items. A table lamp gives the look a more relaxed look than a traditional desk lamp.
There's plenty of function on display, too. The Umbra Trigon bulletin board gave me a place to feature my favorite photos. The white metal overlay is magnetic, while the thin slots in the overlay also accommodate push pins. The simple and sleek bamboo desk organizer comes with enough slots to hold letters from friends, stamps, a sticky-note pad and my cell phone.
Shop My Favorite Desk Accessories
The wacky geometry of the room's new footprint opened up the perfect spot for a reading nook next to the new built-in bookshelves. Empowered by my success with the desk setup, I decided to outfit this cozy little spot, too.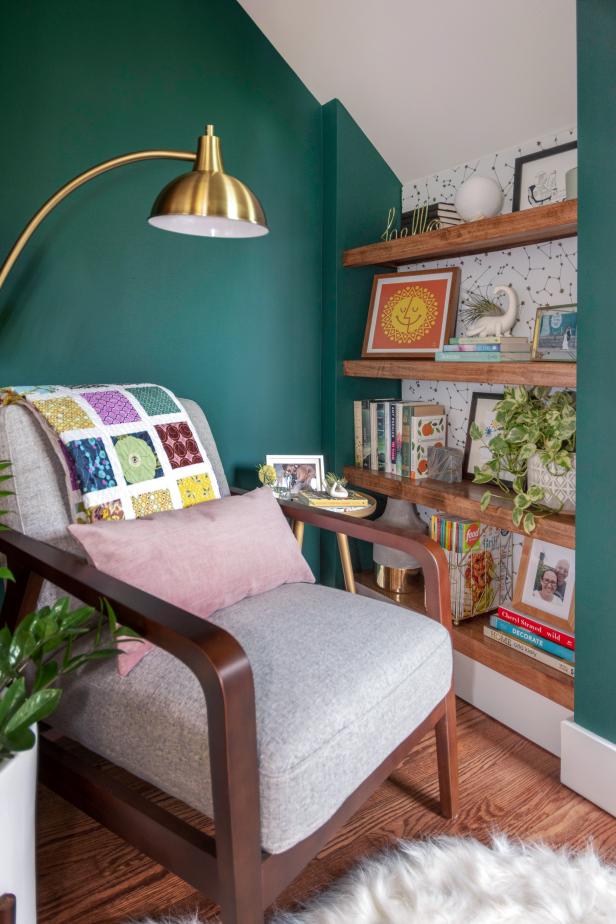 Niche Under Stairwell Provides Perfect Space for Built-In Bookshelves, Reading Nook
All you need for your own personal home library or reading nook is a good bookshelf and a spot for a comfortable armchair. This reading spot makes use of a spot beneath a staircase that would otherwise be wasted. The back of the built-in bookcase is lined with removable wallpaper to give a pop of contrast to the moody green walls painted in Sherwin-Williams Country Squire. The nook includes an arc lamp to provide task lighting for reading and a small side table to hold a beverage, a soothing candle or the current book club book.
I really fell in love with Rivet, Amazon Home's line of midcentury modern furnishings and accessories. From that line, I selected the Huxley accent chair, minimalist floor lamp, brass side table and mauve throw pillow. You might call my reading nook "Rivet-ing." (Sorry, I love a good dad pun!)
We didn't have much shelf space pre-renovation to display photos and books, so I had some fun when selecting items to dress up these beauties. I prefer decor that doesn't take itself too seriously, and I couldn't resist the Umbra "hello" wire piece, an LED moon night light and a dinosaur tillandsia holder.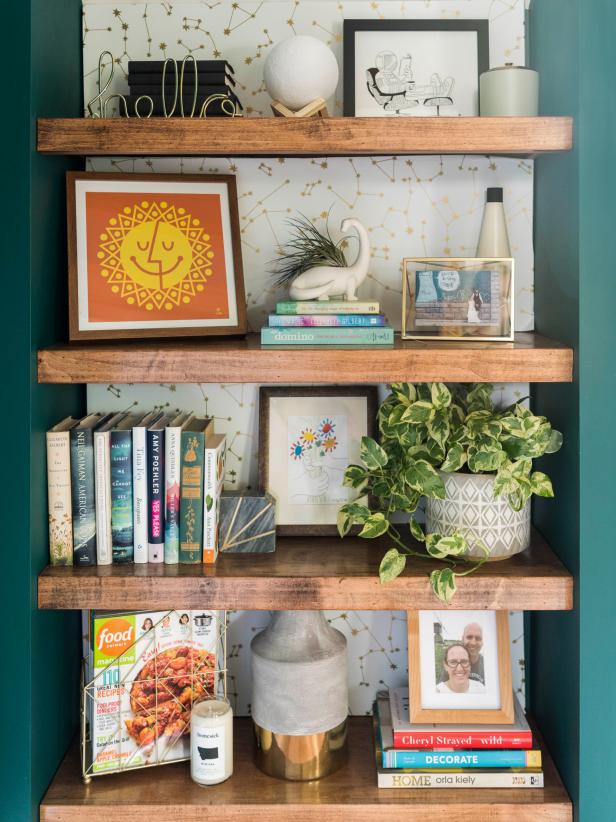 Built-In Bookcase is Lined With Removable Constellation Wallpaper
The back of this built-in bookcase is lined with Novogratz Constellation removable wallpaper. The off-white peel-and-stick paper with gold foil design creates striking contrast against the deep green walls and dark wood shelves and can easily be removed or replaced. Accessories like a "hello" sign made from wire, astronaut artwork, a moon LED night light and a brontosaurus tillandsia planter add to the whimsy of the display.
To add a little more contrast to the deep green walls, I lined the back of the bookcase with removable peel-and-stick wallpaper from the Novogratz. Pro HGTV styling tip: If you don't want to wrestle with lining wallpaper up perfectly in the back of a bookcase, apply it to pieces of foam core cut to size and then just prop those up along the back of the shelves. Easy peasy.