Yard Sale Furniture Repurposed: Filing Cabinet
HGTV Magazine gives the simple how-tos of transforming a dingy filing cabinet into a chic office organizer.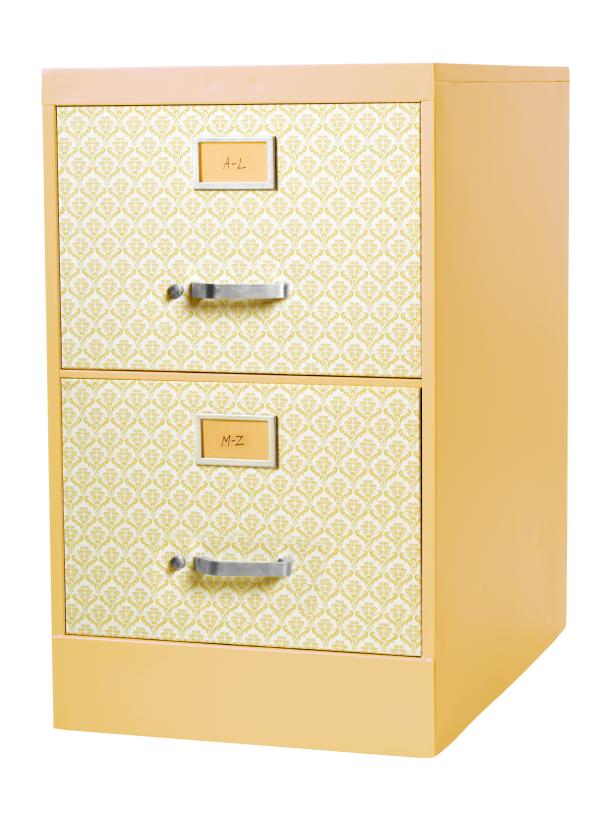 Yellow File Cabinet With Patterned Paper
HGTV Magazine created a chic storage space by painting the file cabinet a sunny yellow (we used Bee's Wax by HGTV HOME by Sherwin-Williams) and then covering the drawer fronts with Gold Leaf Damask shelf paper from chicselfpaper.com.
Photography by Philip Friedman/Studio D
screwdriver
medium-grit sandpaper
all-purpose spray cleaner
paintbrush
acrylic primer for metal
latex paint
adhesive shelf paper
metal ruler
utility knife
straight edge (like an old credit card)
Remove the cabinet's hardware. Note how it was assembled so you can put it back on later. Rough up the metal with the sandpaper, then wipe down the cabinet with the cleaner.
Prime the cabinet — except the drawer fronts, which you'll be covering — and let dry. Then paint over the areas you primed. We used Bee's Wax by HGTV HOME by Sherwin-Williams. Let dry.
Measure a drawer front and add 3/8" to each side. Draw measurements on the back of the shelf paper (we used Chic Shelf Paper in Gold Leaf Damask, from $3.50 per sheet, chicshelfpaper.com) and cut with the utility knife. Unpeel the top of the paper and wrap it around the drawer's top edge. Slowly unpeel a little more at a time, smoothing the paper over the front of the drawer, first with your hands, then with the straight edge, to eliminate air bubbles. Make a small cut in each corner of the shelf paper; neatly wrap it over the drawer's edges. Repeat for the other drawers, then reattach the hardware, puncturing through the paper.
produced by Anthony Santelli