Confession: Why I Can't Get on Board With Gallery Walls
Tap, tap — is this thing on? Hi, I'm an interior designer who can't stand gallery walls, and I understand if you want to send me hate mail right now.
Kim Cornelison (Styled by Elizabeth Demos)
I'm an interior designer with a secret, and I just can't hold it in any longer: I CAN'T STAND GALLERY WALLS.
There, I said it. And I'm totally OK if you judge me for it, because I'm judging the hell out of all your gallery walls on the daily.
I'm willing to concede that I'm in the vast minority of design-loving Americans, but this is my truth.
Why the Gallery Wall Hate Parade?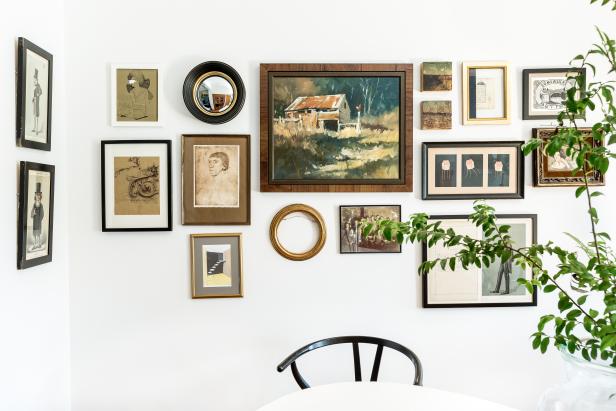 Corner Gallery Wall
Artwork and vintage photographs in a wide range of sizes create a dynamic gallery in the corner of the living and dining room. Mixing up the shape, width and color of the frames keeps the eye moving from piece to piece.
I've never known any other design trend to cause me anxiety-like symptoms, but gallery walls usually make me feel like I need to breathe into a paper bag and pop a Xanax. In fact, if they had a tagline, I'm pretty sure it would be: "A Panic Attack on Your Wall."
I guess it has a lot to do with the fact that most gallery walls are woefully imbalanced, not very cohesive and a bit haphazard. And I know for many people, those are the exact characteristics that make gallery walls seem charming and lovable. And I support you on your own gallery-wall journey! I just want off the train.
Some things in the world of design are easy. I think I could pass along four throw pillows to pretty much anyone and feel pretty confident they could have their couch looking incredible in five minutes or less. But gallery walls are actually quite complicated.
Even for those of you out there with a lifetime membership in the gallery wall fan club, I bet there are some types of gallery walls that you think are more well done than others? Anyone? Bueller??
There are angles to consider, frame choices, art types and choosing placement on the wall. Creating an awesome gallery wall is not super easy, and I don't think most people realize this before they pull out their hammer and nails.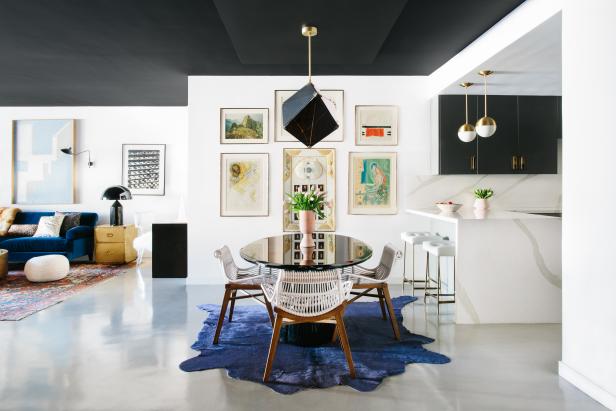 Open Great Room With Dining Area and Gallery Wall
This modern, open great room area features a black ceiling, a round dining table with geometric pendant lamp, an organically shaped blue rug and a gallery wall.
OK, just because I'm letting it all hang out here, I will confess that there are some gallery walls that I think do get it right. See, I'm not a complete monster after all. I like to call this group: Grown-Up Gallery Walls.
I've tried to pinpoint exactly what makes a gallery wall feel grown-up to me, and I think I've narrowed it down to a few key characteristics: not too many pieces of art, intentional frame choice and some sort of cohesion to the art.
This is a perfect example of a grown-up gallery wall for me. While all the pieces are not hung at the same height, it also doesn't look like a jigsaw puzzle threw up. They used the same frames for all of their art and have a cohesive color palette running throughout. Voila! A grown-up gallery wall!
The Trend That Won't Go Away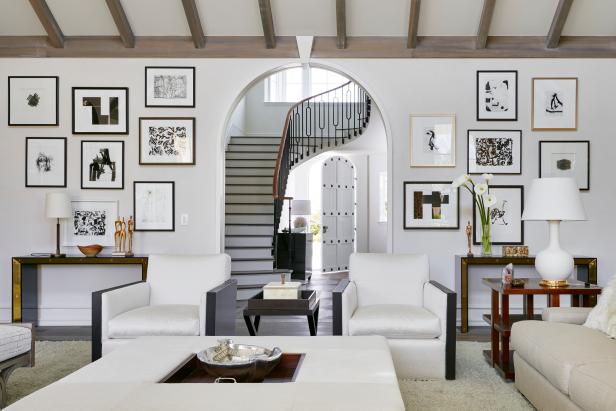 Gallery Wall and Arched Doorway
This gallery wall is a playful complement to the open arched doorway and foyer, the frames' clean angles a visually interesting contrast to the swoops and curves.
Brown Harris Stevens Residential Sales, The Hamptons, a member of Luxury Portfolio International
Despite my gallery wall agita, I understand what I'm up against. This universal worship for any and all gallery walls seems like one of those design trends that just refuses to die.
After many years, chevron finally bit the dust after covering virtually every surface of our homes for eons. So, call me crazy but I'll just be over here in my little corner of the design world waiting for you all to decide whether you think gallery walls should all burn in a dumpster fire. I know it's a long shot, but I like to dream big.