What You Call a 'Tiny Home', City-Dwellers Just Call a 'Home'
This writer is taking on the tiny home trend with a radical idea: maybe you just need an apartment.
The precious little home with the peaked roof and perfect, scaled-down log cabin look (or gingerbread look, or prairie look) is just so very adorable. It reminds you of a playhouse, but for grown-ups! It's cute. No doubt about that. You imagine paring your life down to just the essentials. You'll only keep what truly "sparks joy" in you! Maybe in your best-case-scenario of your life you get one on wheels and move your tiny home wherever your heart or the winds take you. It's a pretty dream.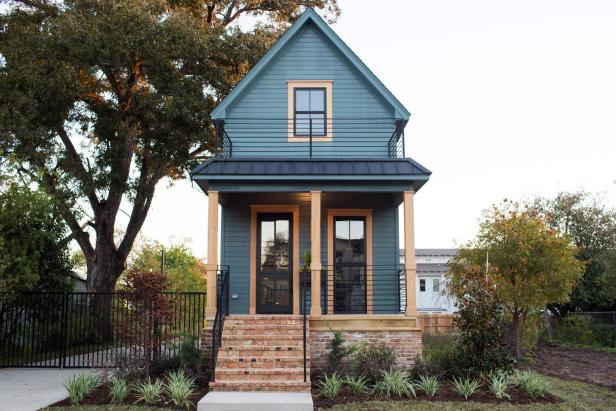 Bold Dark Green Vintage Tiny Home with Wrap Around Brick Skirt ,Unpainted Wood Columns, Iron railing and Metal roof
On HGTV's Fixer Upper, this shotgun home was totally transformed from the inside out. The house itself was moved from one location to another and the area on top was extended to create a loft area. The home features new windows, front porch, brick skirt and attractive landscaping.
Your passion for tiny homes is great. I love that people are craving small instead of big. As a whiplash reaction to the McMansion explosion, the desire to downsize is probably very healthy and wise. Less is more. Many of you think that living (with a family or without) in under 1,000 square-feet is a radical act, though. But you know who regularly lives in that little space? Apartment dwellers. Have you ever considered that maybe you just want an apartment? Because what you call a "tiny home" city dwellers just call a home.
You don't see people expounding in online articles about "What It's Like to Live in an Apartment" because there is no allure there. We know. It's small. It's old news. People have been living in small spaces in densely populated areas for centuries. Suburban sprawl and its attendant extra-large, single family homes is a relatively new phenomenon in the course of human history. A lot of us city residents get a little prickly when everyone and their mother extols the virtues and desirability of tiny homes. Because you know what? We live in tiny homes and no one thinks it's cute!
OK, I'll stop stomping my feet and break this down point by point to see how apartments and tiny homes stack up.
Benefit of a Tiny Home: It's Environmentally Friendly
This is a great reason to want a tiny home. Fewer construction materials are required. They're less of a strain on the surrounding environment. You need fewer resources to heat, cool and electrify and your tiny home. In general you have a much smaller carbon footprint.
Apartments: Same.
Benefit of a Tiny Home: Promotes Minimalism
Without a doubt you cannot have as much stuff in a tiny home. This seems to be one of the biggest hurdles for people considering a tiny home. We Americans are pretty attached to our stuff. You must pare down to the essentials or at least make really thoughtful decisions about which parts of your material life are worth it for you to hang onto.
Apartments: Let me count the ways that this is exactly the same 1. In all of the ways. 2. See #1.
Benefit of a Tiny Home: Less Money for Furniture and Decor
With limited square footage and fewer rooms you will need to spend much less on furniture and decor. And if you're moving from a larger home but have small furniture maybe you won't have to spend anything at all. But if you need to outfit your home from scratch, you will be plunking down a much smaller chunk of change than if you were decorating a traditional home starting from the ground up. There aren't dining rooms and guest rooms and dens in tiny homes, so go ahead and cross those off your decorating to-do list.
Apartments: Check, and check. A couch, a coffee table and a lamp will nicely fill out your living room.
Benefit of a Tiny Home: Less Money for Upkeep and Repairs
Much like in the furniture and decor arena, there's just so much less house that you will need to spend less money on upkeep. Just as an example if your tiny home needs a paint job, you're going to need much less paint to complete the task. Ditto for needing a new roof. If down the road your need to update your electrical in your house, there are miles and miles less of wire that will be required.
Apartments: I don't know, you'll have to ask the Super.
Benefit of a Tiny Home: Less Time on Cleaning
If you've got a five-bedroom, 3.5 bath, 3,000 square-foot home covered in carpeting, roughly 50 percent of your weekend hours are spent on cleaning. Cleaning time diminishes in proportion to square footage. Now if that's not music to your ears, you and I can't be friends.
Apartments: Ditto.
Benefit of a Tiny Home: Staying Cleaner
The thinking goes if you've got fewer places to avoid the mess, you'll stay cleaner. If you're skeptical I want you to envision the junk drawers in your kitchen. Or that one spare bedroom that things just seem to find their way into without ever being put away because you can just close the door. That room doesn't exist in your tiny home.
Apartments: This one is a toss up.
Benefit of a Tiny Home: Getting Out Into the World
Many tiny home seekers want a small home because what they truly love most of all is being out in the world and having adventures. They don't spend a whole lot of time in their homes, so why have a giant one that they're rarely in? If you crave space in a tiny home, you'll need to head out-of-doors to get it. It's a good option for people who wish they could be more social because it forces the issue.
Apartment: You guessed it. It's the same for us.
Benefit of a Tiny Home: Smaller Price Tag
When it comes to forking over a good chunk of your life savings and income, there is no question that a tiny home is going to cost you a lot less than a traditional home, even when you're including the price of land or leasing space. Many people are even able to save enough money to own their tiny home outright and never have a mortgage.
Apartments: You can't beat the price—especially in major metropolitan areas in the U.S. I'll give you that one. But in smaller cities you definitely can get a great apartment for much less than a single family home.
So you see? You tiny home seekers aren't that much different than we apartment dwellers. You just have a much cuter set of pictures to scroll through on Pinterest. If you decide to move into the apartment next door, we'll be sure to say hello and maybe even feed your cat when you're out of town. So how about we give up the "tiny" and just start loving wherever it is we call home.