Vern's Design Tips: The Final Challenge
Antonio and Dan go head-to-head in the biggest Design Star challenge yet: making over a deserving family's entire home. See what Vern says they did right, did wrong and how she could have done it better.
Without question, our two contestants face their toughest challenge to date by having to completely transform nearly the entire house for two wonderful families with specific needs and circumstances. The challenge for every designer on HGTV is identifying what is important to the families that allow us into their homes and having that physically manifested into the spaces that are transformed for them. Our final two designers have demonstrated throughout the competition not only that they have the natural gift of creative vision but also that they know how to execute their ideas. And they accomplish all this while easily lending their unique hosting styles, which manage to communicate ideas and remain engaging. The key to this challenge, however, is addressing each family's needs while managing the stressful pressures of time, team and budget management associated with transforming the entire home.
Have An Original Design Voice
Antonio has never backed away from a transformation challenge, no matter how daunting, which is why he has successfully gotten to this stage of the competition. Oftentimes the steps toward making a space work for a family necessitate more than new flooring and a coat of paint. Walls sometimes need to be moved — or removed — and Antonio realizes this early on when addressing the main living space and its connection to the kitchen. By changing the shapes of the living and kitchen spaces (and their relation to each other), he rolls the dice that he will have enough time to finish all of his projects. Luckily for him, his gamble pays off, and the end result is a more functional home for the family. The kitchen transformation is masterfully done and is characterized by timeless off-white cabinets in a transitional style, with dark granite countertops and stainless steel appliances throughout. Beautiful hardwood floors supplant the black-and-white checkerboard tile, warming up what could have otherwise been a cold kitchen. Smart space planning, however, is the real success story here. Smartly placed cabinets provide a plethora of storage, and the paint color in combination with the cabinet color creates a sense of volume in what is really a fairly tight room.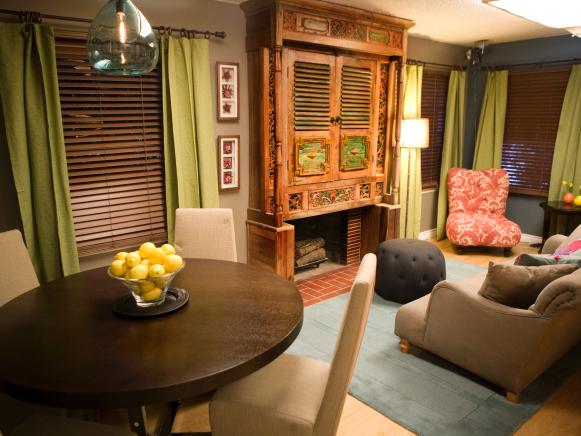 Living Room With Grand Fireplace
"The sofa positioning in front of the fireplace and television is a logical choice; however, it creates an unappealing "hallway" behind the sofa, wasting valuable space," explains designer Vern Yip. "A console storage table behind the sofa would help anchor it in the space and provide a surface for table lamps."
Antonio's transformation of the living/dining space also is largely successful. More so than almost any other contestant, he embraces color cleverly, balancing blues, greens, yellows, pinks and oranges in just the right amounts. A new space plan creates a proper entryway, while a round table in the dining area provides both flexibility and ease of circulation. Never one to shy away from bold moves, Antonio dismantles an armoire and permanently attaches the top portion to the fireplace in order to create a media cabinet. Although this provides a strong graphic in the living room, it is such a specific look that this family may have trouble selling their home if they ever decide to move in the future. The proximity of the armoire to the firebox may also become problematic. Smart and graphic touches throughout this room, however, are also abundantly found. Artistically cropped wedding pictures transform these images into art, while the mixing of patterns on upholstery, case goods and throw pillows adds a thoughtful edge.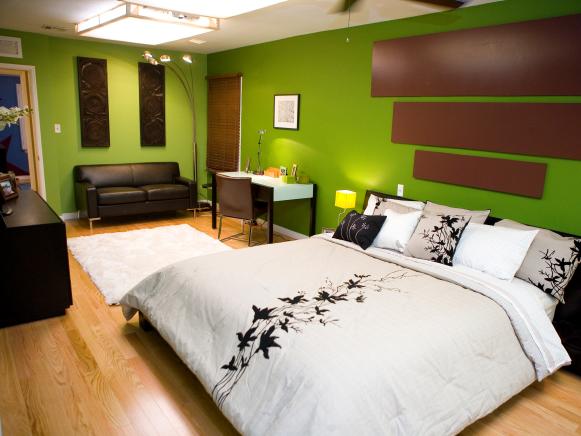 Bedroom With Interesting Headboard
"The horizontal bands only serve to make a long wall even longer and the varying sizes, from small to large, bottom to top, seems just plain odd," says designer Vern Yip. "A floor-to-ceiling upholstered headboard would have covered the window and provided a dramatic and comfortable setting for the bed."
My favorite move, however, occurs in the master bedroom. Antonio ambitiously moves the entrance to the master bathroom from the main bedroom space to an auxiliary master hallway, thus expanding the space-planning possibilities. A new wood floor and a vibrant green color quickly infuse this space with warmth and personality, while a large desk area, new seating and a media zone add needed function to this large room. Permanently covering the transom window with a headboard component is unnecessary in my opinion, and the too-small rug floating in the middle of the room provides only visual texture without contributing any practicality. Randomly hung art also provides one of the few clues that he may have been time-pressed.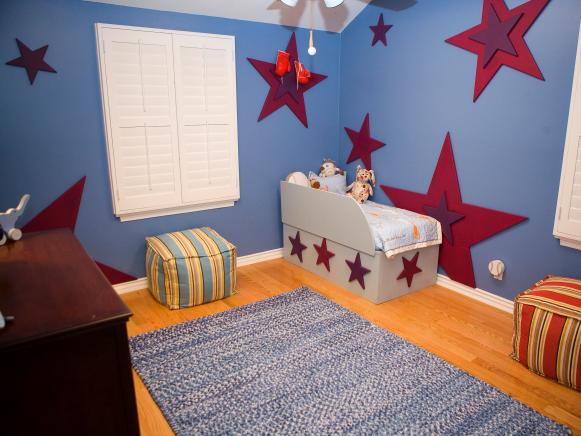 Kid's Bedroom Filled With Color
"As graphic and exciting as this room is from a color and pattern perspective it falls short, very short, on function," explains designer Vern Yip. "Kids come with a lot of junk — bright red, yellow and blue plastic brain-forming junk that needs to go somewhere. Bins, baskets and buckets are every parent's savior when it comes to conquering kid clutter."
The child's room may be Antonio's least successful transformation. Although I appreciate the bold star pattern and his willingness to think outside the box and take risks, these dimensional stars affixed to the walls seem to provide too many sharp points that could become an issue. Shoving the bed into the corner and randomly placing upholstered cubes indicates that space planning may have not been the priority item in this room. Again, Antonio uses a peculiarly petite rug that doesn't sufficiently provide this child with the abundance of soft surfaces that are generally required. Overall, however, he demonstrates that he has design skills to spare and is a creative force who knows how to execute and host with true ease. His definitive vision is always clear, and his design voice is always original.
Inject Your Design Perspective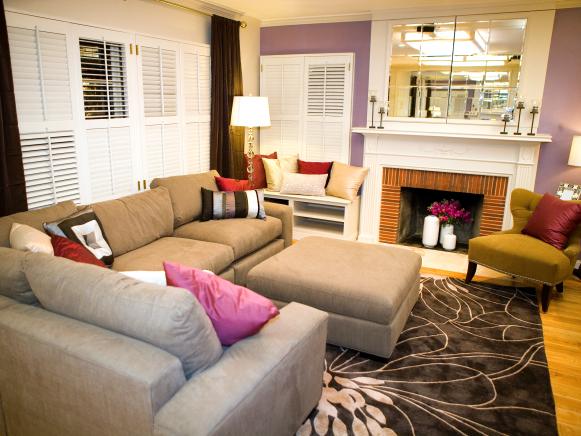 Living Room With White Shutters
"The mirrored doors above the fireplace add depth and interest on their own; the fact that they conceal the TV is a bonus," says designer Vern Yip. "The severe lines of the shutters are softened by simple drapery panels that also help frame the large sectional.
Dan is a master of taking in what a client needs, injecting his design perspective and turning in a product that manages to be sensitive to homeowner needs while providing no shortage of originality. This transformation of four rooms is quintessential Dan, while still managing to show us a few additional tricks he's had stored up his sleeve.
The transformation of the main living space showcases Dan's signature, sophisticated and tailored style, while still appearing feminine enough to appeal to our homeowners. Installing a large, mirrored wall in the entryway not only manages to define this space but also provides an area for dance practice to occur. In fact, mirrors throughout the space — along with an abundance of crystal, glass and light-colored metals — help to create a feel of lightness. Sliding mirror panels above the fireplace help disguise a television, while a built-in bench offers additional seating and media equipment storage. If anything, there is an over-reliance on mirrors in this space. Three out of four walls in this living room have mirrors, and there is a fourth mirror in the dining portion. It would have been nice to have seen something else on at least a couple of these surfaces. Utilizing bold scaled pieces throughout the living room helps him create a greater sense of volume and space, while smart space-planning techniques simplify the flow from one room to another. Pushing the dining room table against the wall (rather than floating it in space) allows him to use a larger-scaled table while still providing passage. This is a sleek and beautiful room that is a great representation of the thoughtful designer that Dan really is.
The kitchen transformation is also beautifully done and offers clean and classic lines that manage to incorporate timeless materials. Stainless steel appliances and the incorporation of natural stone on countertops and the backsplash add visual richness and resale value to the room. Unfortunately, the backsplash is small in scale and is a bit warm in juxtaposition to the countertop. A window that dips slightly below the countertop line has storage underneath but is also characterized by a countertop that dips below counter level, reducing the practicality of this surface. Dan could have continued the line of the countertop and added a bit of additional storage, but this is an extremely small point when viewing the beautifully completed project. With a kitchen filled with this many neutral materials, he needs to punch up the visuals with brightly hued accessories. This is done to a certain extent, but it certainly could have been pushed a little farther.
A perfectly transformed room, however, is the daughter's bedroom, which manages to be age appropriate and inventive all at the same time. Placing abundant storage below the bed and incorporating a pull-out desk surface are ingenious. Dan displays such sensitivity in the way he handles the space planning of this room and provides the homeowner with a unique solution to all of the functions that were asked to be incorporated. Somehow, despite the severe square-footage requirements of the room, He even manages to incorporate overstuffed upholstered seating. This is a smart and effectively done space that showcases Dan at his best.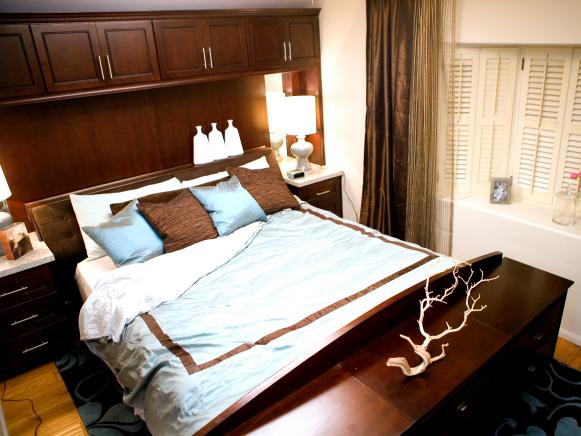 Small Bedroom With Dark Wood Furniture
This bedroom maximizes space by placing the dresser at the foot of the bed. "The downside to so much of the same wood — cabinetry, bed and dresser — is that it starts to get monotonous," explains designer Candice Olson.
The fourth and final space Dan transformed is the master bedroom. Like Antonio, he decides to forego a window in order to accommodate the bed on a different wall. Losing a window is never a great idea in my opinion and should be avoided in all but the most extreme circumstances. The built-in cabinets surrounding the bed provide a plethora of storage but also give the room the appearance of being an extension of the kitchen, as if the bed would fold up into the cabinet wall. Mirrored areas behind each bedside lamp nicely reflect light but awkwardly end with the built-in end tables instead of extending behind the bed. If there were one room where mirrors would have been necessary, this is that room. There is no question, however, that Dan provides the homeowner with improved utilization of this space. His sensitivity and caring nature are wonderful tools that make him an extremely gifted designer. The fact that he also has wonderful execution skills and can handle tight budget and time constraints make him a real force to contend with.