Vern's Design Tips: Homes of the Brave
In episode five, the Design Stars make over living areas for two deserving military families. See what Vern says they did right, did wrong and how she could have done it better.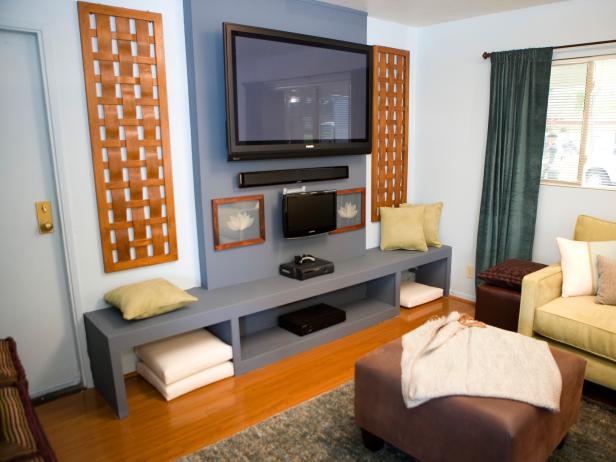 Contemporary Neutral Living Room With Mounted Wall Accents
Several solid colors come together in this contemporary living room. Braided wooden panels are mounted on the wall beside a blue accent section that connects down to a low bench and storage unit. Yellow pillows matching the yellow sofa contrast with the blue. A brown ottoman and green curtains complete the room.
Embracing everything that this special family needs is a large and complicated task, but this team of very capable designers addresses all of the issues at hand elegantly and creatively. Smartly replacing an overscaled sofa-and-chair set with a large sectional, Torie, Antonio and Dan immediately open up the room visually while providing more seating and defining an entrance foyer. Wall-to-wall carpet is replaced with medium-toned wood floors and an area rug, which warm up the room significantly while providing soft and practical surfaces for children. Similarly, the use of an ottoman instead of a traditional coffee table in front of the sectional provides a practical and child-friendly surface to prop feet up or serve as additional seating.
Custom-built pieces, however, are some of the main highlights of this transformation. An entertainment center to centralize audio-video equipment houses a large flat-screen television while also housing a smaller screen for video gaming. A clever ledge at the base is built to the perfect height to double as bench seating if need be. A purchased furniture piece, replete with cushions on the top, completes this seating area while also providing for needed storage below. Inventiveness can also be found in the custom work table with wall-mounted activity board as well as in the long desk top fitted to sit on two purchased side tables. The custom work table is thoughtful and appropriate, as is the wall-mounted activity board, but it would have been nice to have seen the large surface of the board double as a chalkboard through implementation of chalkboard paint, or simply finished with artwork mounted to its surface.
In the area of the custom desk, draperies on the windows would have finished the space nicely and added some warmth by offsetting all of the hard surfaces. By using the same drapes utilized in the living area, these two spaces could have been visually linked even more to create a sense of flow through the home. As always, anyone with children knows you can never have enough storage, so some additional places to hide toys before company arrives would have been a bonus. Overall, this fantastic transformation from this team shows that a tremendous amount of thought went into coming up with a solution to address all of their specific needs.
Have a Cohesive Design Plan
The effort by this team, for this very deserving family, yielded some wonderful results as well as some things that could have used additional thought. Replacing the light-colored wall-to-wall carpet with rich wood floors immediately opens up the space while providing for a warm foundation to build off of. A new space plan, however, shoves the sectional in front of the nearly floor-to-ceiling windows, reducing the amount of natural light coming in and offering minimal opportunities to look out onto the backyard. The natural-fiber rug below the sectional is a nice touch that adds needed texture to the space, but it is so small that it barely exceeds the edge of the sectional arm, making the room look empty and disjointed.
A series of stools with storage inside, pushed together to make a coffee table, is a clever idea that yields child-friendly storage and added seating if needed. The custom-built entertainment center, while well built and nice looking, offers nothing unique that could not be purchased already made. This team could have used some additional time and design thought with this space, and this time-consuming media unit should have been purchased instead to allow for better allocation of resources. Additionally, the open storage unit that spans an entire wall of this living room is nice looking but a waste of valuable space. Instead of providing this family with closed storage opportunities that would help organize children's toys and accoutrements, this unit is more about display. The entire wall, in fact, houses many breakable items, which would be less than ideal to have in reach of children who could easily climb the storage unit below. Instead of communicating a design thought, this wall looks as if all of the leftover components of the space were piled on top of each other in a last-minute attempt to personalize the room. Many of these elements are significant and meaningful to this family and should be appropriately treated and displayed.
One of my favorite moments in this transformation occurs with a focal wall that incorporates a chevron pattern, a subtle reference to the military. The painting of this pattern, although less than perfect in execution, is a smart way to get a graphic focal point without spending a lot of money. While the storage wall reads as disjointed, this wall reads bold, interesting and pulled together. Although this team did address window treatments, nailing curtains to wood valances provides an impractical solution that prevents this family from opening and closing their drapes for privacy. This room clearly has some very nice moments, but in the end, this team could have used more closed-door storage and a more cohesive design plan that addressed all the requirements of this wonderful family.