Vern's Design Tips: Design a Hollywood Home
In episode one, the Design Stars made over their gorgeous Hollywood home. See what Vern says they did right, did wrong and how he could have done it better.
Showcase Your Originality
With a classic color combination of blue and brown that has become a practiced standard in the design world, this bedroom demonstrates an understanding of basic design principles, but shows little innovation or the presence of an original voice, which have become standard requirements for a true Design Star.
Custom upholstered headboards that could be real design statements instead look meek and skimpy as they barely peek above the pillows. It would have been nice to have seen these headboards reach almost to the ceiling to anchor the room and give ownership of the space behind each bed.
A very small clock, hanging on a wide expanse of wall, unsuccessfully tries to hold its ground juxtaposed with a large–scale, full-length mirror. Bigger and more scale-appropriate items or patterns on the wall would have helped this room tremendously. Furthermore, small benches at the foot of each bed, little pillows accenting each bedding ensemble and a plethora of items in the dresser area all underscore that this team has collectively failed to demonstrate a willingness to make a bold design statement.
A respectable job with space planning and a complete room show that there was enough forethought put into this project to get things done, but if this team wants to survive, they will have to take some chances that showcase some originality. Safe and boring will not win this competition.
Don't Bite Off More Than You Can Chew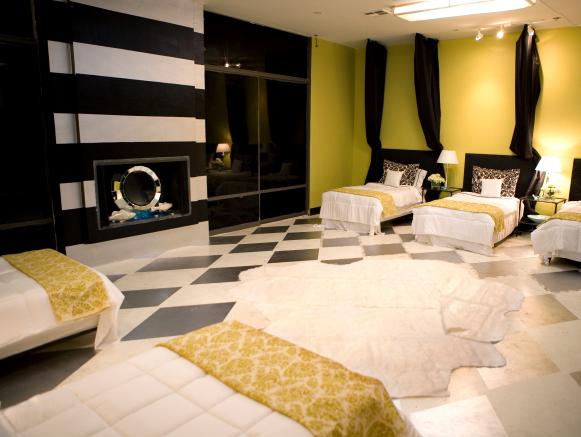 Hollywood Glam Bedroom Design
"This room has some really beautiful moments: the bold, striped fireplace commands attention; the combo of zebra, white leather, mirror and crystal set against a moody black backdrop is pure Hollywood glam; simple, two-tone damask patterns add a sense of tradition and comfort that tempers the sharp lines of the very modern wall and floor patterns," says designer Candice Olson. "However, I think this is a case of both too much and too little. Too many patterns — stripes, checks, zebra and damask — all scream for attention. Undertaking such an ambitious painted floor with very little time prevented Design Star contestants NataLee and Tashica from really finishing this room, and it shows on so many levels, from the shredded bedding to the perplexing mirror/aquarium placement in the fireplace. I would have simply let the striped fireplace graphic be the star; painted the floor white to contrast the black and yellow walls and brought in a large zebra-patterned carpet for interest in the center of the room. This duo's predictable perimeter bed placement reminds me a bit of summer camp — a little more swanky, mind you. I would like to have seen a few beds dressed as sexy daybeds positioned in the center with cocktail tables beside and a spectacular chandelier above, very LA-luxe (in much less time)."
Without question, this bedroom started out with fantastic features that set this team up for success from the get go. Unfortunately, Tashica and NataLee failed to take advantage of this wonderful space. A real Design Star has to be able to both design and execute.
Some interesting high-contrast ideas are emerging from this room, including broad horizontal stripes across the façade of the fireplace and a painted diamond pattern on the floor. Executed well, these concepts could have been real winners. Unfortunately, this team ran out of steam and the paint job left much to be desired. Lack of window treatments, taped drapes dividing the beds, unforgivably tattered bedding and a scale-inappropriate rug floating in the middle of the room all are indicators that Tashica and NataLee bit off more than they could chew.
In any design, it is absolutely critical that original ideas are executed well, and this team failed to understand this. Although the team begins to show traces of understanding scale with regard to the size of the painted patterns, tiny headboards, lamps and the rug indicate otherwise. A bold yellow-green wall color choice gives the room some kick but may be hard to sleep with. Despite their best efforts, these two talented designers didn't turn in a great effort.
Make a Cohesive Statement
Within the walls of this one room, this team managed to showcase a myriad of interesting and creative vignettes. Taken as a whole, however, these fantastic parts fail to speak to each other in the creation of an overall room with a cohesive statement, and space planning (a standard must for any designer) has taken a major back seat to supporting strong visual components.
One wall of this room showcases some interesting typography with a wide and expansive wall-to-wall custom desk. The thought is original and the desk is a bold statement, but the pale-colored letters are difficult to appreciate on the pale-colored wall due to lack of contrast, and the custom desk was built to chair height rather than to the height of the chosen seating (counter height), meaning that the chair cannot even be used by a person trying to pull up to the desk.
The wood-carved animal heads peer out of a bright yellow-green rectangle on another wall, adding a great sculptural quality to the room, creating an intense and spectacular focal point, but only a lonely bench sits underneath. On another wall, bunk beds create an unnecessarily impractical sleeping scenario. Stacking beds in an adult room is a necessary practice in tight quarters, but this bedroom could have easily handled three individual beds, while the animal heads would have been a fantastic anchoring point for some twin beds below.
Overall, there are some noteworthy moments of design in this bedroom, but the cardinal rule of combining great design with great function never materialized. A room cannot only be about a series of events but must, at the end of the day, work and function practically and aesthetically, as a whole.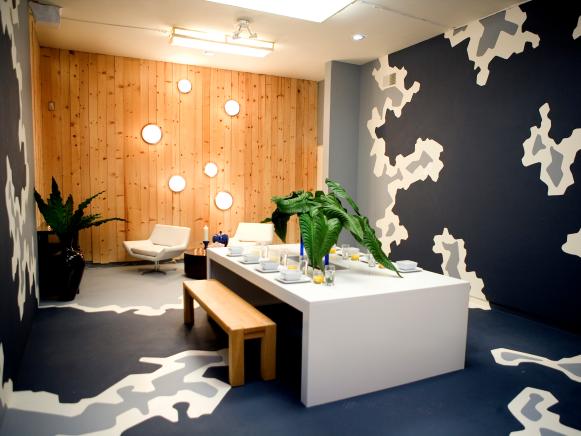 Abstract Mural in Modern Dining Room
For one of the HGTV Design Star challenges, an eclectic dining room features a fun abstract mural that flows from one wall across the floor to the other wall. A large white table is paired with light wood benches for dining.
Bold, graphic, daring and original are the words that come to mind when I think of this masterful transformation. This room is the perfect example of taking a negative and making it a positive. Dan and Nathan have taken the only room in the house without breathtaking views and created their own visual focal point by perfectly painting an abstract mural that extends from wall to wall while covering the floor in between. The end result is a functional dining room that also serves as a piece of art that you can inhabit.
By limiting the color palette to shades of gray and blue, this team makes their design statement even more impactful. Outlines of white tie in a custom dining room table that manages to be a center of controlled sleekness, balancing out the organic nature of the mural, while natural wood planks standing vertically add an interesting dimension of warmth to the space. Because everything is so carefully thought out and executed, the disappointing dining room centerpiece stands out even more than it normally would. Giant sculptural leaves are modern but sit too low to the table surface, thereby obstructing eye contact amongst diners. Dan and Nathan should have either gone much taller or much shorter with their centerpiece arrangement.
The lounge area of the dining room, although nice, isn't quite as forcefully innovative and creative as the dining portion of the room. It would have been great to have seen the same combination of simplicity and boldness with accessory choices in this area. Instead of 15 little items on the coffee table and sideboard, it would have been nice to have seen one extra-large and extra-graphic piece of coral or sculpture on each of these surfaces. Overall, this room is fantastic and innovative — and a wonderful start to the competition for these two.
Don't Be Afraid of Hot Pink
Already blessed with great bones, this living room transformation turns into an exercise in restraint and sophistication — with a little bit of edge. Due to the massive scale of this room, it was incumbent of this team to make a few large-scale design decisions to begin anchoring the room. In a very clever move, Antonio decides to paint a series of natural wood-carved geese hot pink, transforming them from being an interesting thought into being the anchor statement in the space. Instantly, these flying geese grab your attention and give the room an original voice.
Beautiful and streamlined furniture selections speak to the simple elegance of this space, and bubble wrap (with a great graphic pattern) hung on the wall demonstrates that a good designer can think outside the box to create art from almost any material.
As the room moves from these great focal points onto the perimeter edges where an explosion of accessories occurs, the simple strength of the design begins to fall apart. Too many accessories litter the landscape whereas fewer but bolder pieces would have been more successful. Although the accessories smartly work together through the common colors of white and silver, there are simply just too many of them. Editing has been overlooked.
Additionally, members of this team ended up spending exorbitant amounts of money on some items that didn't really deliver the bang for the buck. In any situation, a true Design Star will ensure that every dollar spent is visually worthwhile. In the overall evaluation of the room, the uber–low, hot-pink acrylic chair is a questionable design value that ends up eating too much of the budget for not enough design. Without question though, this room is very successful in delivering a controlled understanding of letting fewer carefully chosen elements deliver a significant and memorable design statement.