5 Trends From Berlin Fashion Week That'll Spice Up Your Home Decor
Let these runway looks inspire more than just your wardrobe.
For some people, fashion is a way of life. For the rest of us, finding ways to incorporate the latest looks into our everyday lives can feel a bit challenging. Here at HGTV, we've done the hard work for you, by spotting the latest trends during Berlin Fashion Week Spring/Summer 2018 and coming up with ways to add those trends seamlessly into your home decor. From playful colors to clothes that take a stand, here are our top picks for runway styles to bring to the comfort of your home.
Rich, dark blue was all over the runway, as it was used by several designers - specifically Michael Sontag. This color effortlessly adds a bit of luxury to any wardrobe. Add this same element of luxury to your home decor by incorporating velvet accents like throw pillows, or give old pillows an update with pillow covers like these Luster Velvet Pillow Covers from West Elm in Regal Blue. If you're really into velvet, be bold and go all out with a luxe, velvet couch like the one below. Tour the Space: Stylish Condo With City View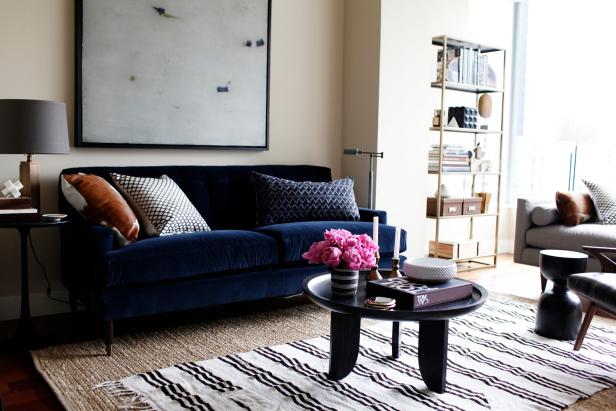 Condo Living Room Features Navy Velvet Sofa
Contemporary with some midcentury modern influence, this condo living room uses a neutral backdrop to allow the furnishings to be the statement of the space. A navy blue velvet sofa with a trio of different throw pillows becomes the focal point in the room, and two rugs layer together to ground the round coffee table decorated with pink flowers and candlesticks.
2. Bright, Interesting Prints
Raquel Hladky is one designer who has a knack for creating incredibly interesting prints and her runway show at Berlin Fashion Week did not disappoint. Her pieces are youthful and invigorating. To bring an element of that youthful energy to your home, try using patterned wallpaper. Our personal favorites are from designer Justine Blakeney and can be found at her shop The Jungalow.
We haven't seen this much vibrant orange on the runway since the 90's, but we're so glad it made its reappearance at Berlin Fashion Week. Inspired by this look from Dorothee Schumacher, this is just the right color to add a bit a playfulness to any home. This Alfred Amber Sofa designed by James Harrison for CB2 is just the item to give your home that cheeky glow.
Odeur Studios hit the runway with tons of gorgeous neutrals, but what stood out the most to us was its timeless black-on-black look. This particular black-on-black look is the perfect blend of street style with a bit of couture. To recreate a similar effect at home, try incorporating black in unexpected places like in your dinnerware for example. We love these all-black porcelain Apilco Reglisse Dinner Plates from Williams Sonoma.
Prabal Gurung is known for creating beautiful, well-made, feminine pieces, but what stole the show this season was his tees featuring activist slogans. From "Revolution Has No Borders" to "This is What a Feminist Looks Like", his tees made a powerful statement. The best way to incorporate the fearless spirit of his shirts into your home is by purchasing activist-centric wall art. We're in love with this "The Future is Female" print found on Etsy.