Trending Now: Mies van der Rohe's Barcelona Chairs
Colors of the year and of-the-moment interior design styles come and go. True classics, on the other hand, look as fresh in modern spaces as they did in their creators' eyes. Learn how the "less is more" master's 1929 showpiece became one of the most iconic (and coveted) chairs of all time.
Though Ludwig Mies van der Rohe's instantly-recognizable Barcelona Chair now anchors interiors around the world, it debuted 90 years ago with a very specific purpose. The celebrated architect was commissioned to design the German national pavilion for the 1929 Barcelona International Exposition, a World's Fair that would showcase contributions from more than 20 countries.
The minimalist, modernist building he created in collaboration with his partner, designer Lilly Reich, reflected van der Rohe's famous contention that "less is more" in both its structure and its contents. The "ideal zone of tranquility" he imagined would ultimately house a single sculpture (George Kolbe's "Dawn," a female nude installed in the reflecting pool)…and two extremely significant seats.
The pavilion would play host to an official reception for German officials and Spain's King Alphonso III. As van der Rohe recalled, he was to create an "important chair, a very elegant chair." Majesty, as it were, was expected: "The government was to receive a king….The chair had to be…monumental. In those circumstances, you couldn't just use a kitchen chair." (Alphonso never actually sat in one of the chairs, mind you — they were for display only.)
A kitchen chair it is not. Putting a twist on the classic scissor shape of curule seats reserved for dignitaries in ancient Rome, the Barcelona Chair's swooping, chrome-plated crossed bars — which were forged as single units, then bolted to two perpendicular pieces at the edge of its back and seat — create a dramatically cantilevered perch. The design world snapped to attention, and the chairs have been in near-continuous commercial production ever since. They have been in mass production, in turn, since 1947, after van der Rohe granted Florence Knoll — his former student at the Illinois Institute of Technology, and a close friend —permission to manufacture his designs.
A Barcelona Chair in production at a Knoll factory in Pennsylvania. In 1964, Knoll shifted to stainless-steel frame production - which van der Rohe said he would have used in 1929, if the technology had been available.
While materials and construction have evolved a bit in the decades since van der Rohe and Reich created their masterpiece — for example, the original Barcelonas' horsehair-stuffed, ivory-pigskin-upholstered cushions are now urethane foam and Dacron polyester fiberfill upholstered in leather cut, hand-welted and button-tufted with material from a single cowhide — its original form has remained.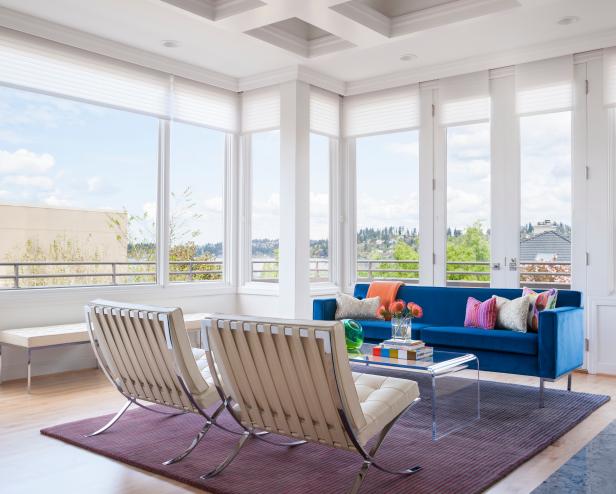 Stunning White Living Room with Panoramic Views
Breathtaking panoramic views of Lake Washington surround this sleek and modern, window-lined living room. A bright blue velvet sofa combines with white leather Barcelona chairs mimicking the natural color palette of the outdoors while a transparent coffee table relates to the windows.
As 20th-century design specialist Michael Jefferson put it, "I'm not sure there's a more singular expression of Mies' aesthetic and rigor than the Barcelona Chair." The architect's biographer, Franz Schulze, agrees, going so far as to call it van der Rohe's "single greatest work" and "thechair of the century."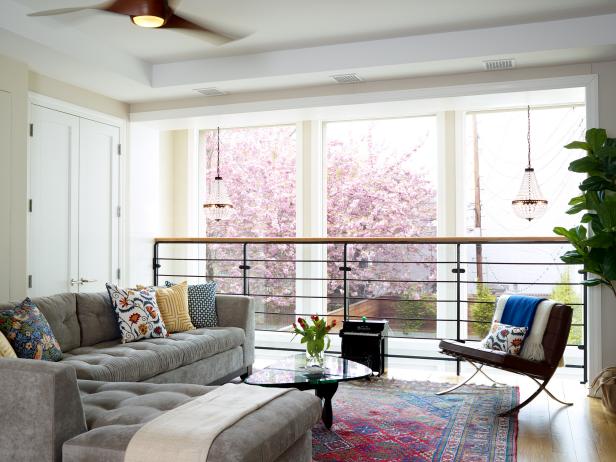 Casual Living Area Is Fun, Stylish
A variety of throw pillows softens the modern lines of the sectional sofa and Barcelona chair in this casual family area. The empire-style pendants near the windows add a traditional touch and a fun counterpoint to the clean lines of the Artemis ceiling fan.
As Urbanology Designs' Ginger Curtis told us, "We love the Barcelona Chair for its timeless designer appeal. It's one of those pieces that's unfussy but well stated; it instantly elevates the feel of a room."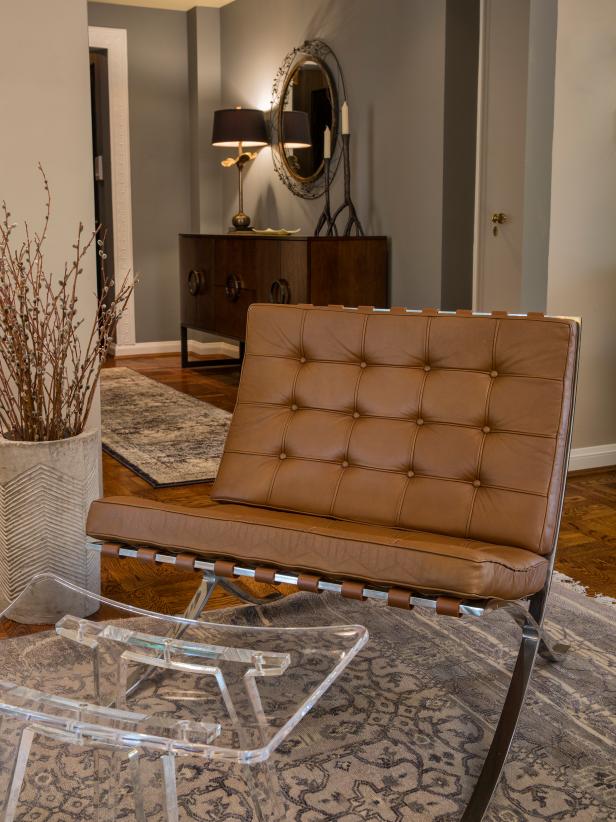 Barcelona Chair and Lucite Footstool in Traditional Room
Mid-century meets modern with this brown leather and metal Barcelona chair and lucite footstool. A traditional neutral rug lies beneath while a console table along the back wall mixes more mid-century touches among a traditional lamp, pair of candles and circular mirror.
As the interior designer Matthew Patrick Smyth told The Wall Street Journal, in turn, "I like to use [the Barcelona Chair] in a very tailored, clean space where it can breathe. But [the decor] definitely doesn't have to be modern -- it can be Louis XIV."
Knoll continues to produce the Barcelona Chair today, and new, licensed versions -- identifiable since 1996 by the logo and signature stamp added to their legs -- now retail for $6,230. (If that sounds steep, consider their value as investment pieces: in 1997, Christie's auctioned off an early German-produced Barcelona Chair for more than $204,000).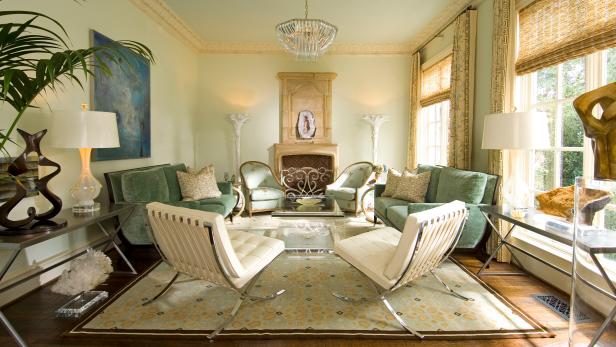 Contemporary Living Room with Traditional Furniture
Classic Mies van der Rhoe Barcelona chairs in white leather contrast with French modern loveseats in linen velvet, and hand-painted linen sheer draperies framing Natural Conrad shades. Hand-painted Nomi fabric on barrel chairs which flank fireplace coordinate with custom wool area rug.
Online sites, antique dealers and estate sales are all viable sources for authentic vintage versions, in turn, but Barcelona-lovers would be well-advised to familiarize themselves with how to identify originals, as the market is also saturated with knockoffs. Is putting the work (and the money) into a real Barcelona Chair worth your while? Well, as Mies himself told TIME in 1957, "A chair is a very difficult object. A skyscraper is almost easier. That is why Chippendale is famous."