Trending Now: Buffalo Check
This bold pattern is an American frontier classic and lumberjack mainstay, but the plaid's origin is much more complicated and more wordly than you may have imagined.
Classic, graphic and gender-neutral, the pattern most of us know as buffalo check is popping up in interiors of all kinds — and, of course, all over the fashion world.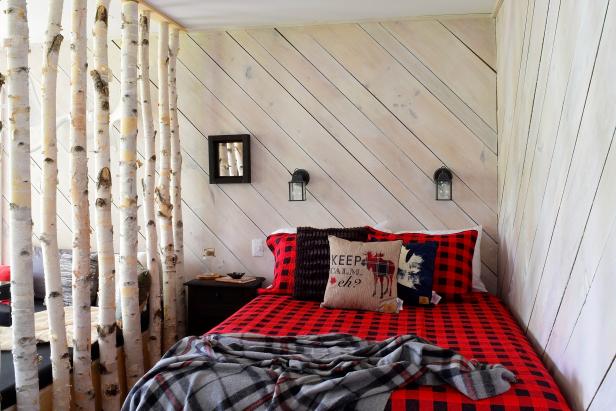 Mix it Up
To give a cabin in the Canadian woods a cozy feel, designer Meghan Price of Maple & Plum turned to natural textures and classic rustic patterns. "Nothing feels more like a cabin retreat in the Canadian wilderness than buffalo plaid," she says. "The bold black and red check pops off of the neutral white-wash wood, birch trees, plywood furniture. And don't be afraid to mix plaids. By layering the gray wool plaid blanket on the buffalo plaid, we added another level of depth and interest to the space."
It's a cabin-chic mainstay, but it's equally eye-catching in more formal spaces (like the sword-studded reception room at the Governor's Palace in Colonial Williamsburg), rubbing shoulders with lavish and ornate furniture.
That's not anachronistic in the least, as it enjoyed popularity for centuries before making its way to America.
According to the National Records of Scotland, the first association between Rob Roy (the Scottish folk hero who was romanticized in Sir Walter Scott's novel and William Wordsworth's poetry) and what is registered as the "Rob Roy Macgregor tartan" appears in portraits from the early 18th century. Tartan historian Peter MacDonald, in turn, points to the first portrait of anyone in the tartan: one Lord Mungo Murray is pictured in a circa-1680 portrait by Michael Wright wearing a pair of black-and-red hose.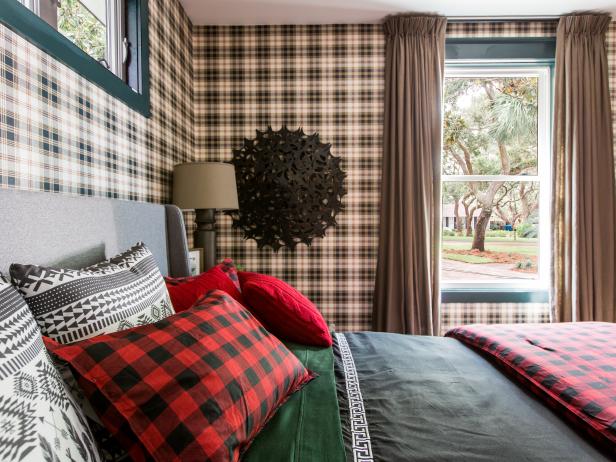 Wonderful Windows
A tall window on the side wall and a long window above the bed bring natural light inside, with draperies that provide privacy and shade when desired.
"Judging by the widespread depiction in portraits," MacDonald writes, "diced checks were more often favoured over more complex designs for hose, probably because the small repeat was easier to weave, cut and match than a larger sett." (A sett is a tartan's tiled pattern, created by repeating numbers and colors of threads along its length and width.)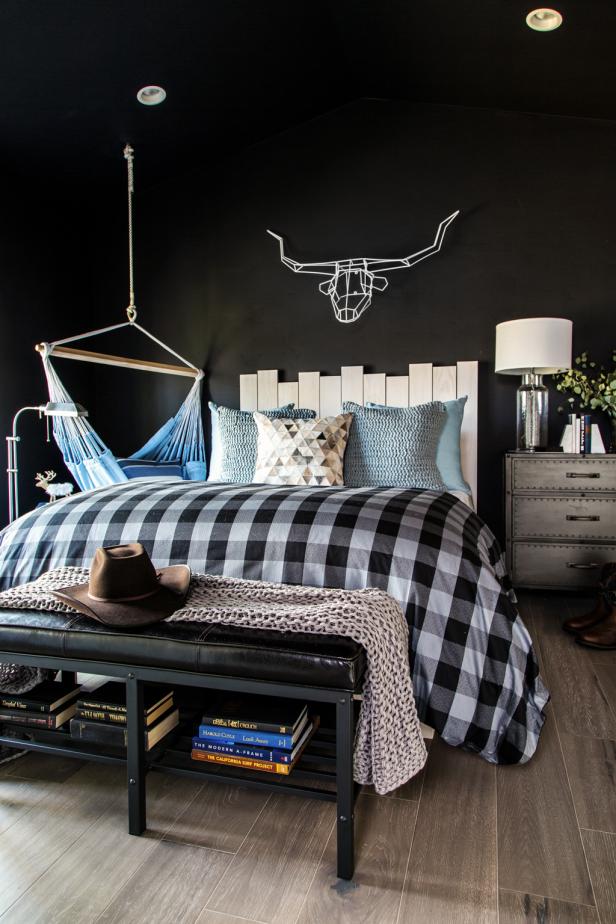 Beautiful Bench
An upholstered bench at end of bed with a cozy throw blanket for chilly nights offers a spot to remove shoes. The bed includes light blue sheets, a wool-filled white cotton down comforter and a 100-percent cotton reversible black and white duvet cover set in a classic buffalo check that offers extra warmth and comfort.
How did the tartan become associated with the MacGregor clan in particular? The clan chief, Sir Malcolm MacGregor, writes that "[h]ow and where this particular sett came into existence is not known… It is possible that due to its easy weave and striking sett that it was adopted by MacGregors during proscriptions [when, following the Jacobite uprisings of the 17th and 18th century, wearing certain forms of traditional Highland dress was prohibited]. Whilst the banning of tartan in towns would have been easy, such a policy would have been very difficult to enforce in the wild and remote highlands."
Standout Kitchen With Buffalo Check Flooring
This kitchen has a blue and white buffalo check tile flooring that makes this space truly standout.
MacGregor's family has worn the tartan since the late 18th century, and it was included in the Highland Society of London's 1816 collection. (He is not fond of the Rob Roy association, which he considers an ahistorical marketing move made after Scott's novel became popular.)
In 1782, England's King George III agreed to repeal the Act of Proscription — which could conceivably have eased some tension in the royal household as well. As historians at the aforementioned Governor's Palace in Colonial Williamsburg have noted, his wife was terribly fond of checked fabric, and the bold patterns sprinkled among their exhibits are known to them as "Queen Charlotte's check." Since the royally-appointed governors in the colonies were representatives of the crown, their Georgian furnishings reflected the family's taste.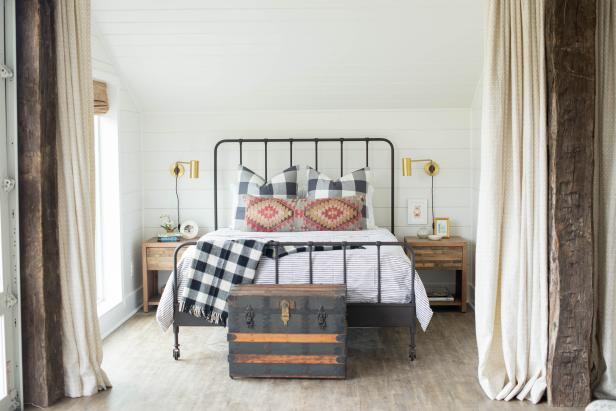 Keep it Simple
"We wanted to turn an old barn into a modern farmhouse for my client to host friends and family," says designer Sarah Moore of Sarah Catherine Design. "In this bedroom, we countered the white shiplap walls with some bolder accents like an iron bed, bamboo shades, vintage chest and lots of buffalo check on the bed. I love how the bright walls and natural light coordinate with some of the more rustic features in this space to give it make it feel like a modern farmhouse cabin."
In becoming "buffalo check," the MacGregor / Rob Roy / Queen Charlotte pattern is the subject of another mystery. Some historians point to a frontiersman from the Highlands who was, as the story goes, a descendant of Rob Roy's. A celebrated outdoorsman who helped settle Montana and the Dakotas in the late 19th century, Big Jock McCluskey developed a working relationship with Native Americans in the west by offering thick woolen blankets — in patterns from his family back in Braeval, Scotland — in exchange for pelts. (Note, as Canadians do, that McCluskey also spent time north of the border; they consider the pattern a symbol of their nation as well.) The Sioux and Cheyenne warriors who did business with McCluskey, in turn, called the blankets "buffalo plaid."
Others point to Pennsylvania and the Woolrich company, which released a red and black shirt in "buffalo check" in 1850. "Legend has it," the company says, "that the designer of this iconic fabric owned a herd of buffalo, so he named the black and red checkered fabric after his beloved herd."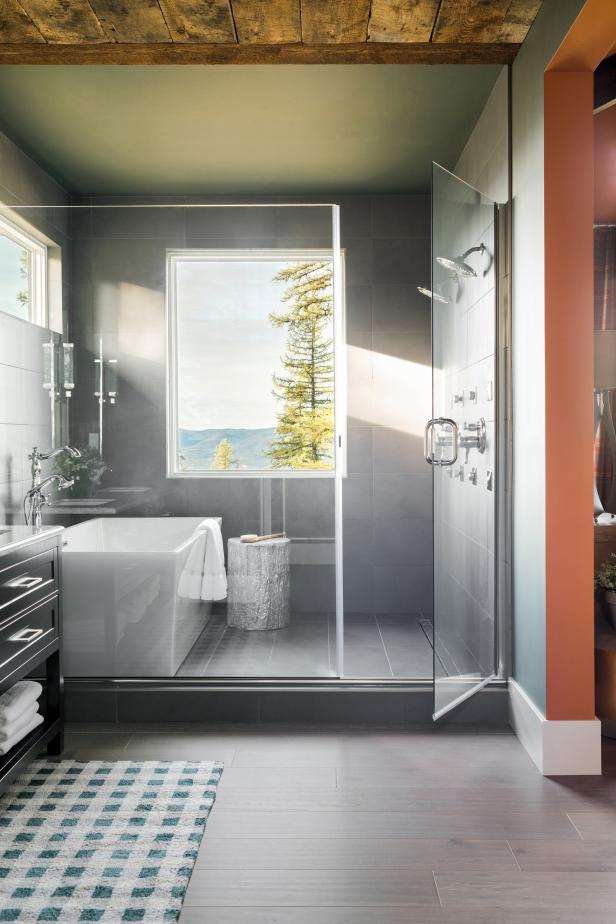 Open Concept
The open concept bath and shower area is a modern take on a master bathroom and defines modern, organic style in this mountain home.
Robert Peterson, Rustic White Photography
MacGregor? Rob Roy? Charlotte? Buffalo? It's appropriate, perhaps, that this bold checked pattern has so many ancestors, given that its descendants look right at home everywhere.
These farmhouse-chic mason jars are the perfect decoration for autumn.
Designers have fallen for these fabrics inspired by foliage.