Take flight with feathers in your decor.
Feathers are a fashionable embellishment, floating from runways into rooms. Nearly weightless, but worthy of attention, feathers have dusted dresses, jackets, shirts and even footwear by designers such as Saint Laurent, Alberta Ferretti, Moschino and Nina Ricci in 2017. Feather fancy is surging in interiors. They tickle upholstered furniture and tables, and appear in artwork and sculptural elements.
"They're very intricate in detail and form," says designer Maria McLaurin. "Something that usually would seem so insignificant, a feather on the ground — we don't think much of it — but it's one of those things of beauty that we can incorporate into our design."

At a Cashiers, N.C., Designer Showhouse, McLaurin Interiors based the palette of an outdoor living area on feather fabric by Brandon Godwin, a south Georgia architect who produces designer fabrics from his wildlife paintings. The pillows echo the natural surroundings of the mountain community.
Feathers don't need to be reserved for outdoor uses only. "Feathers are a bit of a trend right now, especially in artwork," says designer Michele B. Gratch.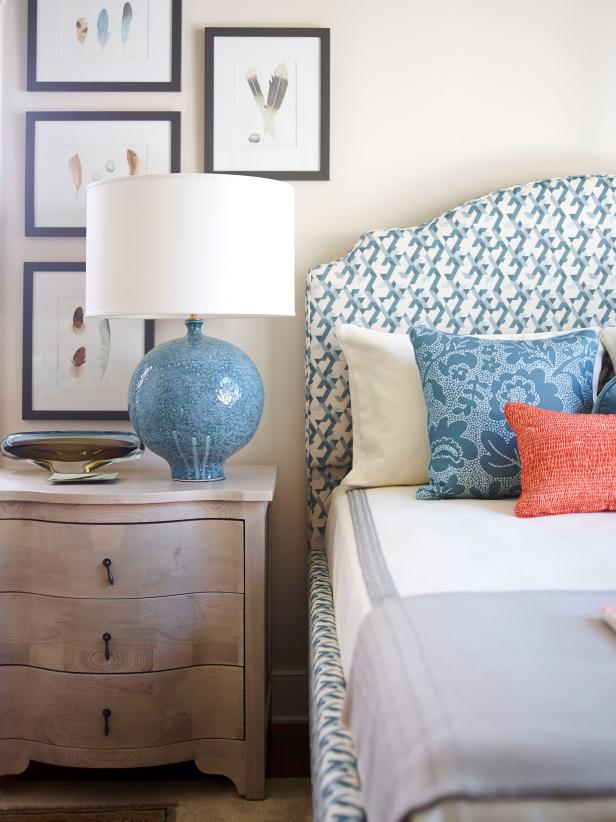 Blue and Neutral Guest Room with Framed Watercolors and Upholstered Headboard
A guest room by Maria McLaurin of McLaurin Interiors features framed watercolors of feathers by Adam Vettraino above a wooden bedside table and next to an upholstered headboard. The Elena fabric by Clay McLaurin is on the large pillow.
In a Cashiers showhouse guest bedroom, McLaurin framed a series of watercolor feathers by Adam Vettraino, a Georgia-based artist.
"I just thought those were so beautiful — soft, beautiful, simple, but gorgeous art," she says.
A duo of antique bird lithographs joins a sweet vignette that includes a bud vase with feathers of varying heights in the living room of a mountain house decorated by McLaurin.
"At home, I have a nature table in my foyer," she says. "If I see feathers, I bring them in."
Feathers can be simple and calming or opulent and elegant, depending on their use.
A trio of panels by de Gournay, which creates hand-painted wallpaper and fabrics, evoke the exotic and exquisite nature of feathers in a master bedroom designed by Tristan Harstan for the Southeastern Designer Showhouse.
Designer Melanie Turner took it to the extreme with a stuffed emu in a stunning living room. "I like using natural elements of the natural world that bring the outside in," she says. "It's also sculpture."
The 12-foot ceilings in a Victorian home meant the dining room could handle a vibrant, graphic paper, so Gratch chose Clarke and Clarke's Indira wallcovering. Fuchsia already was an accent color, and the pattern was traditional yet modern, she says.
"I simply loved the paper and felt like the peacocks would make a bold statement — it's not very often that you see paper like this hung on someone's walls," she says.
And it's not surprising that feathers bring a sense of movement to the chairs upholstered in a bird print in a formal living room designed by Gordon Dunning.
In a Southeastern Designer Showhouse, Ethan Allen designer Cindy Ingram framed feathers that are nestled near the bed in a well-designed guest suite.
"Feathers seem to be making a statement showing texture in nature while having a visual lightness," Ingram says.