Tray Ceiling Ideas: How to Paint Horizontal Stripes
Add interest to a lackluster tray ceiling with painted horizontal stripes.
3 - 5 different shades of latex paint
painter's tape
roller handle
roller sleeve
paint pan
extender pole
drop cloth
detail brush
measuring tape
pencil or marker
craft paper or scrap paper
ladder
detail brush or cotton swab
credit card or burnisher
chalk line
Choose a base color to paint the ceiling as well as the angled tray. Use a roller handle and roller sleeve attached to extender pole to properly cover all surfaces.
Use measuring tape to determine the surface area of the ceiling as well as the height of the angled tray. Jot these measurements down with pencil and paper. Use a calculator to divide the measurements by the desired number of stripes intended for the overall look. The total will equal the proper width for symmetrical stripes.
Based on the dimensions of the tray, create a sketch indicating width of stripes (Image 1). Next, assign a paint color to each of the stripes by dipping a detail brush or cotton swab into the paint can, then dabbing paper (Image 2).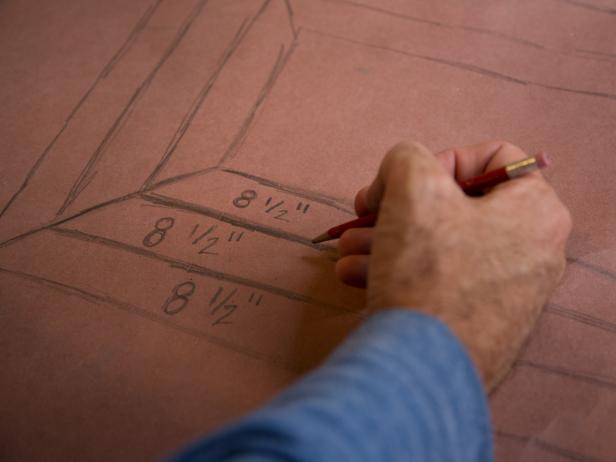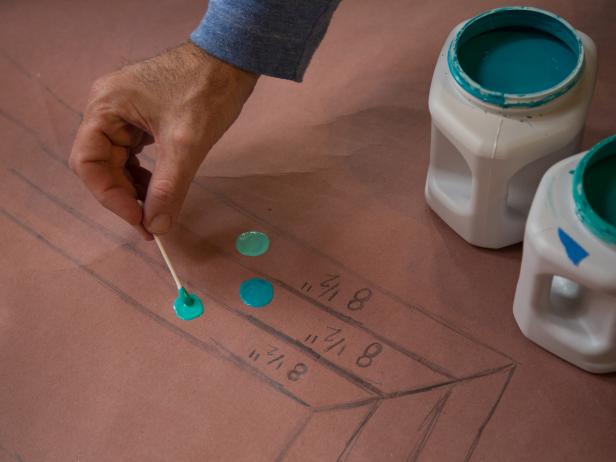 Inaccurate Measurements
Nancy Soriano, former editor in chief of Country Living magazine says, "I can't emphasize enough how an inch or even sometimes half an inch can make a difference. And if your dimensions are off and it's not equal and symmetrical, you're not going to get the full impact and effect that you want. If you're not sure about how to measure or you can't follow the directions, don't hesitate at all to call somebody. Ask them to come over and take the measurement for you."
Use measuring tape and a pencil to measure and mark width of stripes (Image 1). Next, snap a chalk line along the pencil mark to create a straight line for each stripe along the tray as well as the ceiling (Images 2 and 3).
Once a chalk line is snapped for all stripes, use painter's tape to mark stripes that will be left as the base color and those painted with accent colors. To mark base color stripes, position tape along the inside top and inside bottom edges (Image 1). To prevent any bleeding, use a credit card or burnisher to ensure tape lays perfectly flat, void of any gaps (Image 2).
Starting with marked stripes on the ceiling and working downward to tray, apply paint between marked-off areas using a 2-inch angled paintbrush and rollers.
Once all painted stripes are dry to the touch, remove painter's tape and touch up any imperfections with detail brush.
Reinstall any fixtures you may have removed while painting and admire the finished product.