The Future of Solar-Powered Architecture
See how students from around the globe are making huge strides toward energy efficiency in this year's U.S. Department of Energy Solar Decathlon.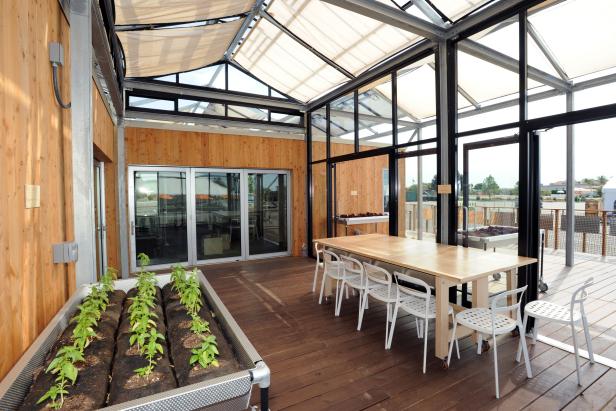 The University at Buffalo, State University of New York's GRoW Home
The "Growlarium" of Buffalo's GRoW Home acts as a thermal buffer between the indoors and outdoors to regulate temperature and conserve energy. The house won second place at the 2015 Solar Decathlon. In the winter time, the space acts as a greenhouse.
Thomas Kelsey/U.S. Department of Energy Solar Decathlon
Think of all the ways you wish your house was more efficient, more minimalist, more sustainable, or, maybe, more mobile. Imagine buying that home at IKEA, in a kit you could assemble yourself.
Chances are, there's a team of students working to solve your housing woes right now, for the 2017 Solar Decathlon, sponsored by the U.S. Department of Energy. Take, for example, the University of Maryland, which is building a modular home that can be easily expanded to accommodate a growing family. Their design, "reACT," features a mechanical core around which bedrooms and other living areas are bolted into place. The core and an in-home greenhouse that connects indoor and outdoor spaces will regulate temperature and energy usage throughout the house.
University of Maryland reACT Design
The University of Maryland's home, reACT, is a flexible, off-the-grid modular home designed around a central "spine" that allows for relatively easy additions. The team hopes its adaptable model could be scalable to accommodate a wide range of family sizes and other uses. An indoor hydroponic wall, outdoor veggie garden, and movable green wall that can be brought inside in the winter time will help make this home's future occupants more self-sufficient for food in addition to energy.
The goal is for no energy to be wasted. That's one of the features the University of Maryland—and 12 other teams from the U.S., Netherlands, and Switzerland—will be tested on when they ship and rebuild their home for the competition in Denver in October. Teams will have to show that their houses produce as much, if not more, energy than they consume.
"Construction is the biggest contributor to waste energy, so we're trying to show people another way in which houses can be built," says Alla Elmahadi, a 26-year-old architecture and real estate development student from the United Kingdom. She's the architecture construction manager for the Maryland team. "You don't have to sacrifice the architecture of the house [to make it efficient]—it can be as beautiful as it can be used in a very efficient way."
A team of students from the University of California at Berkeley and University of Denver has designed a house model that can be stacked three units high to accommodate multiple families on long, skinny infill lots in urban areas, where a more traditional house likely wouldn't fit.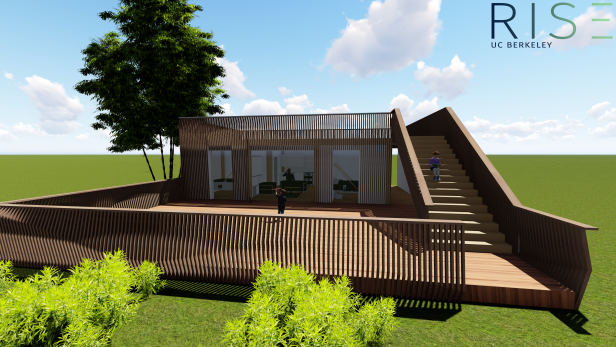 University of California at Berkeley and University of Denver's RISE
Built for long, narrow spaces, RISE has windows on two walls instead of all four. Identical units can be stacked three high without altering the structure of the home, so it can easily become a multi-family home. The large and open staircase was intentional: The team wants to facilitate community between neighbors.
University of California at Berkeley/University of Denver
Their design, called RISE, has features like air-filtering countertops, wool insulation, a rooftop deck accessed by a wide staircase, and a flexible floorplan, thanks to moving walls homeowners can adjust to triple the living room space and shrink the bedroom when desired. The team has been working on the project for two years. In early 2016, the Berkeley students split up into groups with drawing materials and pieces of cardboard to start building model designs, says 21-year-old Joan Gibbons, a junior civil engineering major. She and many other Berkeley students are spending part of the summer in Colorado with University of Denver students to build and rebuild the house in preparation for the competition in October. Afterward, both RISE and reACT will be donated, and real families will live in the houses.
From Oct. 5 to 15, the teams will showcase their homes in Denver at the 61st and Peña Station on the University of Colorado commuter rail. They'll put their homes to the test for tasks like driving an electric car charged via the home's solar system, and compete for cash prizes up to $300,000.
The public is invited to attend the competition to learn more about sustainable design and net-zero housing, and to tour these innovative homes. The U.C. Berkeley and Denver team plans to host family game nights in their house, to show people what it would really be like to live there.
"Our design provides awareness of what's [possible]," says Jack Ross, the 26-year-old University of Denver grad student leading the team. "We're teaching people about technologies they didn't know they wanted."
Changing the World of Construction with Solar-Powered Homes
See All Photos