Shared Space Decorating Ideas
Not sure how to make a small space multifunctional? City-dwellers Sarah Raskin and John Kerl turned their bonus room into a guest bedroom/baby nursery with some smart decorating ideas and storage solutions.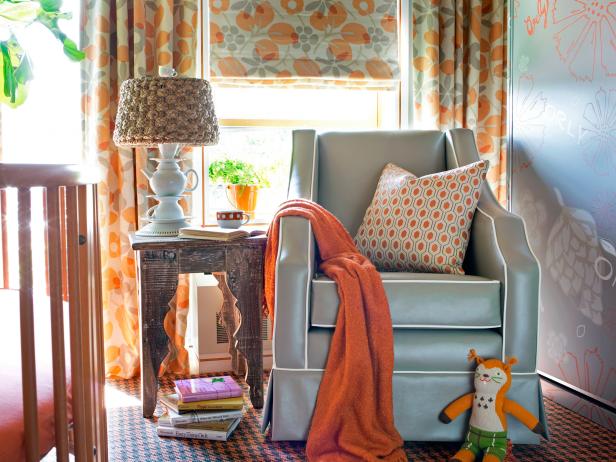 Leather Glider in Gray & Orange Nursery
Although the room is primarily baby Orly's, a concealed Murphy bed can easily fold out for overnight guests.
Although the room is primarily baby Orly's, a concealed Murphy bed can easily fold out for overnight guests.
When Sarah Raskin and John Kerl moved into their Brooklyn, N.Y., apartment, they loved the luxury of having a bonus room, especially for its ability to house extra storage. Then, as more and more guests started to visit, the bonus room took on new purpose as a space for overnight guests. Just a few months later, the room would again need to be re-oriented, this time as a nursery for their newborn daughter, Orly. The excited, yet spatially challenged new mom explains, "We knew that Orly would spend most of her time in our room for the first few months of her life, both to bond as a new little family and to keep the bonus room available to house all of our family and friends who came to meet her and help us. Our plan was to convert the bonus room to a nursery once Orly started sleeping through the night. We knew that using the bonus room as an overnight guest room and then a nursery would mean giving up its storage space, which would also mean doing some serious purging."

After Sarah reached out to my team and me to make the most of the 11- by 10-foot space, we decided to give it a warm, vibrant aesthetic, which is stimulating enough for a baby or toddler, yet muted enough for overnight guests. As far as how we would lay out he space, it all came down to modularity and scale. Although it may seem counterintuitive, the key to furnishing small spaces is going big with furniture, ensuring that both form and function are in check visually and practically.

First up on our list was adding a bed without taking up too much space. Since Sarah and John had recently invested in a Murphy bed, we decided to keep it, but give it an update. Sarah comments: "That Murphy bed was one of the best investments we've ever made. It's been a total lifesaver because we, like most New Yorkers, have lots of visitors but can't afford an apartment with dedicated overnight guest space. It's way more comfortable than an air mattress or pull-out sofa. We liked the cherry laminate finish well enough for a guest space but found it a bit too mature for a baby's room." In order to make the Murphy bed work aesthetically with the room's new color scheme, I decided to have a custom design printed on adhesive, re-stickable vinyl, the same material used on storefront windows. The design features Orly's name printed in several different fonts with a color scheme of taupe, muted orange, bright tangerine and white — the same colors that would be used throughout the space. To attach the vinyl, my contractor and I had to map out exactly where we wanted each portion of the pattern to sit, then position accordingly, cutting away the excess with a utility knife.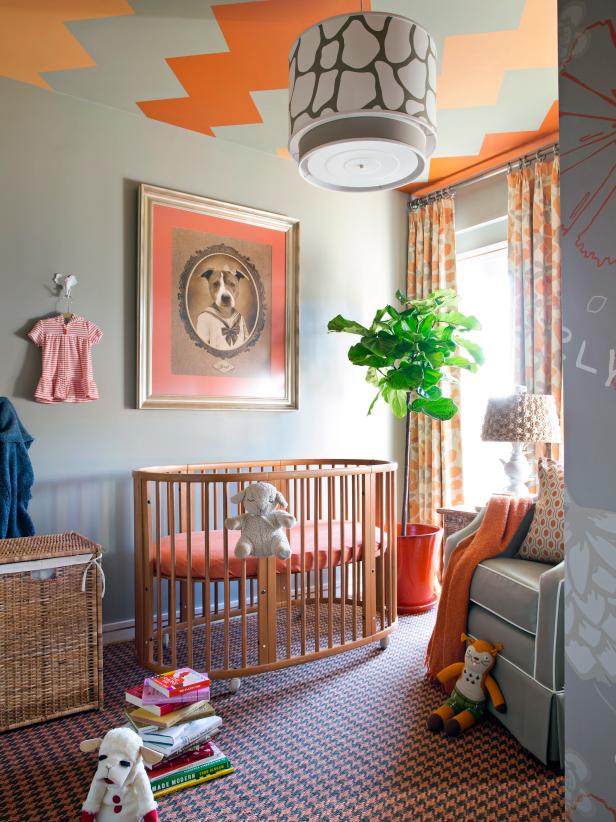 Eclectic Taupe Nursery with Orange Accents, Painted Ceiling
This guest bedroom/nursery features a sophisticated color palette, perfect for both adult guests and baby Orly.
This guest bedroom/nursery features a sophisticated color palette, perfect for both adult guests and baby Orly.
With the Murphy bed update completed, we turned our focus to enveloping the space with color. Since orange tones can be overwhelming, especially in spaces meant for slumber, it was important to use it sparingly. By introducing orange through accents, then covering the walls with a warm taupe, the orange would add just enough energy to the room without becoming too jarring or energetic. To introduce orange, I brought in the following: a bright, lacquered tangerine-toned storage console that also doubles as a changing table; orange crib bedding; custom window coverings with a botanical print in tangerine; muted orange and taupe throw pillows; bedding for the Murphy bed; and a custom piece of artwork featuring Sarah's original baby, rescue dog Scout. "I adopted Scout 12 years ago, well before I met John or had Orly. We love her so much. This design feature really shows off one of our values — to continue to prioritize Scout even as our family expands — in a very personal, if somewhat quirky, way! I love the juxtaposition of placing Scout's portrait directly above Orly's crib. It's like having my four-footed baby keep close watch over my baby girl," Sarah adds.

Now that the color was in place, it was time to work on proper pattern mixing, which I use in spaces to add a lived-in touch of layering. Pattern mixing is also an excellent idea for nurseries, since the recognition of contrast is a key element of early childhood development. At first, my team simply planned to add pattern by installing custom draperies, laying down a houndstooth area rug and refacing the Murphy bed; however, as we started to think about how much time Orly will spend in her crib over the next year, it made sense to integrate pattern into the ceiling. To do this in a style that was just as appropriate for overnight adult guests as it was for a baby, we decided to add a painted zigzag pattern in the same shades used everywhere else: bright tangerine, muted orange and taupe. To do this, the pattern was added directly to the solid taupe ceiling using a pencil, straight edge and tape measure, then taped off with painter's tape and painted with a small roller. Once each color was applied, the painter's tape was then repositioned directly on top of the recently painted zigzag, marking off the proper space for the next portion of the design. Altogether, the ceiling update took about seven hours of labor and three gallons of latex paint in a flat finish.

In order to see the color and pattern clearly, both during the day and at night, it was important to add proper lighting. First up was controlling the abundant natural light that floods in through a glass patio door and small window just a few feet from Orly's crib. By adding U/V-resistant blackout liner to the drapery panels, the room becomes completely darkened when it's time for Orly or any of Sarah and John's guests to sleep. When drawn open, the natural light can stream in, keeping the room bright and airy. To light the room once the sun goes down, we added overhead lighting with a two-tiered fabric drum shade as well as colorful, whimsical table lamps.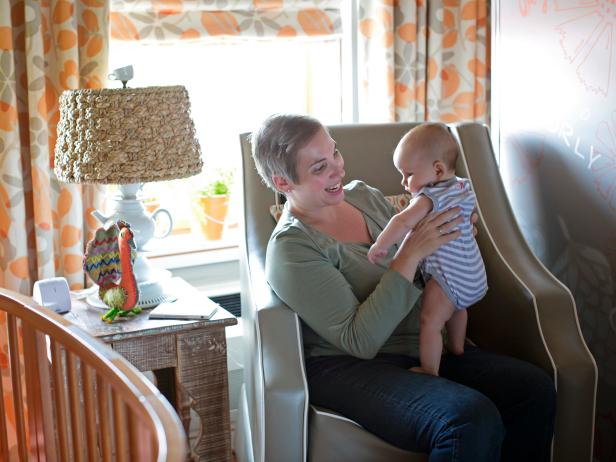 Redesigned With Family in Mind
Now, Mom loves this new stylish and multifunctional space just as much as Orly does.
Now, Mom loves this new stylish and multifunctional space just as much as Orly does.
As the room came together, my team decided to test it out ourselves. Regarding scale and proportion, the four main pieces of the room were all in check, not to mention comfortable and practical. Instead of choosing a childish glider, we instead found one online from Oilo Studio that is upholstered with resilient taupe leather and white piping detail. After testing the glider ourselves, we all agreed it was not only comfy enough for use in just about any room but also timeless in style, so much that it could fit just as well in a living room as a nursery. In order to ensure there was enough space for the Murphy bed to fold out and have Orly's crib nearby, we chose a round, mobile crib that can easily be moved, thanks to casters at the bottom. Whenever guests visit, the crib can simply be wheeled into Sarah and John's bedroom just across the hall, allowing plenty of room for the bed and an area to walk around it. The storage console fit perfectly near the room's entry and not only allows space on top for changing Orly's diaper but also has plenty of concealed storage for all of the baby supplies.

Now that the project is complete, Sarah, John, Orly and even Scout are getting their fair share of family time out of the nursery. And each time a guest comes to visit, he or she feels just as snug as a bug in a rug as Orly...who, thanks to a mobile crib, is sleeping just across the hall. Pleased with her stylish and functional multipurpose room, Sarah has a hard time giving it up, stating, "With its new design, the nursery/guest room is so warm and fun to be in that I'm close to telling our guests to take our bedroom so we can sleep in the guest room ourselves. Especially if they want to keep Orly in her mobile crib and attend to her overnight needs!"