Runway to Your Rooms: Top Looks from NY Fashion Week
These takeaways from designers' spring 2018 collections can easily translate to home design now.
Looks move swifly from the runway to home decor these days. And the spring 2018 collections gave interior and textile designers an array of reasons to be excited about what's next in home design.
"Fashion moves at a faster pace than interiors and changes much more rapidly, but also highlights many trends before they hit interiors," says Holly Hollingsworth Phillips, owner of The English Room in Charlotte, North Carolina, who frequently blogs about her favorite dress-to-room pairings.
Make room in your closet and home for these fashion trends from the fall 2017 New York Fashion Week.
Colossal Color and Pattern
The presence of bold yellow is making a statement in fashion and future home interiors, Phillips says. Yellow was the star of some collections, such as Marc Jacobs' and Delpozo's shows, so look for sunny hues in rugs, artwork, lamps and pillows.

Large-scale patterns and layering of patterns, with stripes, block print and plaid also caught designers' eyes.
The unexpected and exciting prints with bright colors in Jacobs' New York Fashion Week collection could inspire you to let loose in interiors.
"It's really exciting that there is so much pattern coming back where as things have been very zen in the home furnishings arena," says Allison Kettlewell, a New York City textiles designer.
She hopes this means that looks, such as layering colored and printed sheers over a window, soon will become a bigger part of interiors. Designers also are embracing bold pattern play on chair upholstery and pillows, and mixing up primary colors all in one room. Don't forget bright and vibrant orange.
Collections with a sheen, such as luxurious sateens, can spin off into home interiors.
"I love that everyone is using something with a little bit of shine to it," Kettlewell says. "I love the play of really luxurious items with kind of more casual."
For example, Alexander Wang's New York Fashion Week show combined casual fabrics with sequined touches, such as a sequin top with distressed cargo pants.
"Fringe is huge. Trim is back with a vengeance," says Tami Ramsay, a partner with Krista Nye Nicholas in Cloth & Kind, an interior design firm with offices in Athens, Georgia, and Ann Arbor, Michigan.
Sean Drakes/CON, Full Length
The look appeared in a big way on the runway in Bolivian designer Rosita Hurtado's collection for the Fashion Designers of Latin America shows.
Cloth & Kind has been so bold to feature a custom metal fringe on chairs and daybeds.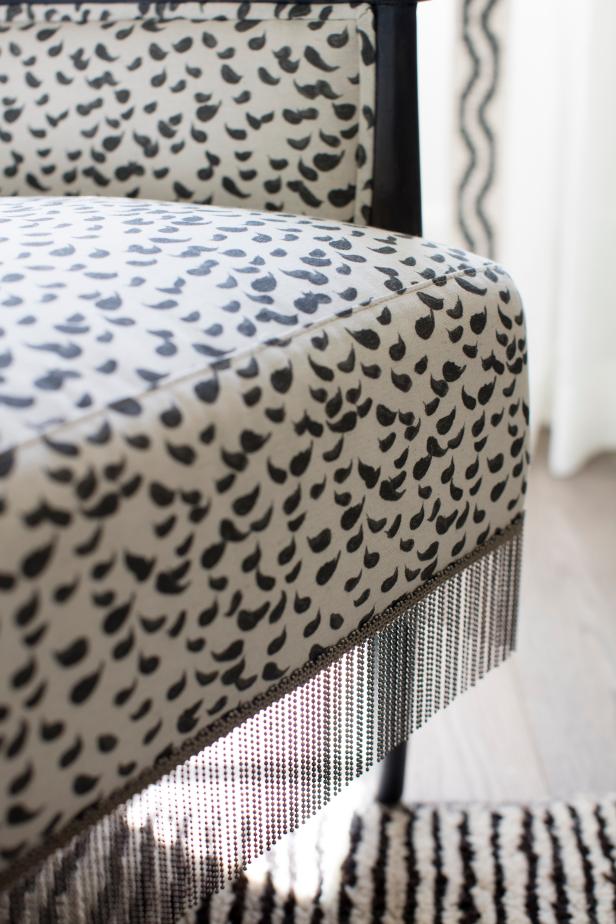 Black-and-White Chair with Metal Fringe
Metal fringe is an unexpected embellishment on a black-and-white chair used by Cloth & Kind, a design firm with offices in Georgia and Michigan.
Diversity was a major part of the fall 2017 New York Fashion Week shows, with models representing different nationalities. You can draw on that for your own home by bringing in furnishings, accessories and textiles from Africa, Japan, India and other parts of the world.
Handmade items and embellishments are on the rise with the return to the artisan, Philips says. Look for them in everything from large tapestries and silkscreens to fringe on chairs.
The huge headbands worn by models in the Delpozo show also show that wovens, like rattan, continue to make a comeback in fashion and decor. Eclectic prints and the mix of textures are elements of wanderlust and globe-trotting that designer Keita Turner says translates to homes.
Kettlewell says fashion translates faster to home interiors today.

"Maybe we'll even get to the point where home furnishings inspire fashion designers," she says. "Wouldn't that be nice?"