7 Boutique Hotels to Inspire Your Home Design
One night in these hotels will leave you wanting to redesign your whole house.
When you're obsessed with interior design, it's natural to look for inspiration even while traveling. For that reason, we've come up with a list of some of the prettiest boutique hotels around the world. The hotels will leave you wanting to transform your home into your own personal, stress-free oasis.
Overlooking Lake Atitlán in the Guatemalan highlands, Casa Palopó offers visitors culture and luxury. The hotel is full of Old World Latin flair and stunning lake views, complete with three magnificent volcanoes. In the suite pictured above, the vibrant electric blue walls complement the hardwood floors and ceilings. If the idea of painting your entire room bright blue makes you nervous, consider using this hue for an accent wall in your living room.
2. Tabacón Thermal Resort & Spa

Get back to nature with a visit to Tabacón Thermal Resort & Spa. Nestled in the Costa Rican rainforest, this hotel is focused on eco-friendly design. This sustainable resort is located minutes from the base of the Arenal Volcano and was built around a network of thermal mineral springs and naturally heated cascading waterfalls. The resort's outdoor spa bungalows are tucked away amid the trees and feature thatched palapa-style roofing made with bamboo. To create a similar jungle vibe at home, consider adding rattan furniture, like this Haylee Mono Rattan Chair from Urban Outfitters, and plenty of tropical plants - the more the better - to your space.
3. The Perry Hotel Key West
The Perry Hotel Key West at Stock Island Marina is the perfect blend of history and modernity. The hotel pays homage to Stock Island's iconic fishing history by featuring an artifact wall in the lobby, showcasing pieces of the past. This boutique hotel will appeal to you if you are interested in modern, minimalist, industrial style. With the interiors designed by Blaire Weiser of JNS Design, the hotel is full of reclaimed teak wood, boat propellers and artwork by local artists, including a hanging installation in the lobby designed to resemble fishing lines. The rooms are painted a bright shade of white, which really accentuates the rest of the dark tones in the room. It's truly a minimalist's dream.
If you love rich, mahogany tones, then you'll feel right at home at Il Salviatino. This restored Renaissance villa is located just outside of Florence and is the quintessential Italian retreat. Centered around a breathtaking 1886 fresco by Bruschi, Il Salviatino is perfect for art lovers, as well as history buffs. The 5-star boutique hotel was built in the 15th century and used as a cultural gathering place for artists, performers, and intellectuals. The beautiful hotel is decked out in rich, Italian furniture and decor, like this leather Chesterfield sofa, giving it the highest level of refinement and luxury. Want to recreate a similar look in your home office? This Oak Leather Settee would be the perfect addition.
The Calabash Hotel located off of the coast of Grenada, is the perfect inspiration for your dream beach bungalow. The hotel is full of beautiful decor in various shades of blue. The hotel penthouse is decorated using colorful turquoise throw pillows and woven furniture pieces. The exposed stone wall gives the room a touch of earthiness, creating harmony between water and land. Recreate the look for your patio or backyard using this Isola 3-piece love set.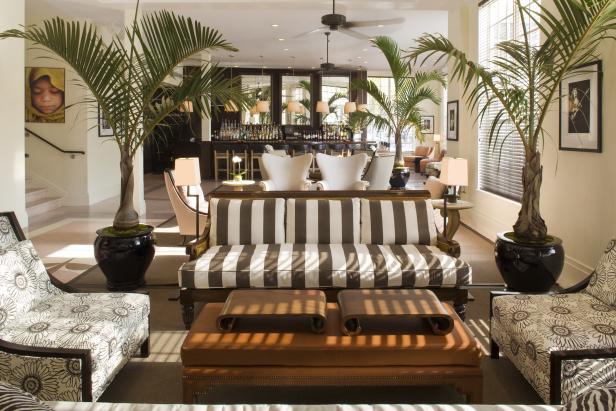 The Betsy Hotel Miami Beach
Filled with artsy corners throughout the property, the Betsy Hotel commits to a sumptuous appreciation of the arts, with quality service and ocean-front views. The hotel offers an extensive program of artistic agendas, providing the unique experience of enjoying a deluxe hotel with an artistic backdrop.
If you're into art deco and vintage decor, you will feel right at home at The Betsy South Beach. This chic hotel is in the heart of the Art Deco District on Ocean Drive. Using fascinating combinations of patterns and texture, this hotel's decor is a vintage lover's dream come true. Are you wanting to add a touch of art deco to your home decor? This Zuni Champagne Gold Wall Mirror is a good place to start.
Giraffe Manor is sure to amaze with its light and airy African-inspired decor complete with bed netting. The estate is full of golden accents, vaulted ceilings and rustic staircases. This historic building is as beautiful indoors as it is out. While you may come for the beauty of the gorgeous hotel, the true highlight of Giraffe Manor is the Wild Rothschild giraffes that roam the grounds and poke prying heads into windows looking for a treat. To emulate the look at home, contrast dark wood furniture with off-white and gold colors and fabrics to create a neutral and sophisticated space.