Pine and Plumbing Supply Shelving System
Add industrial-chic open storage to a space with plumbing supplies and basic lumber.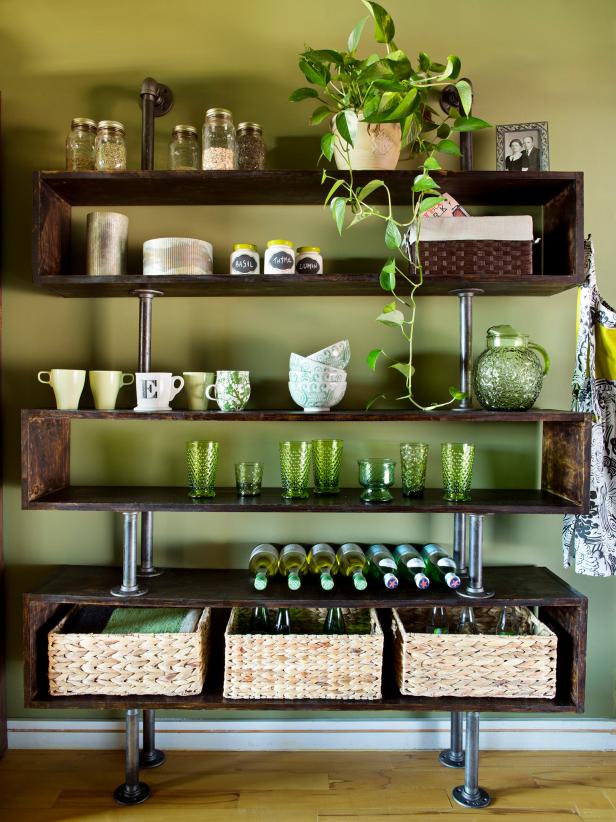 Eclectic Green Kitchen With Pine and Pipe Shelves
We absolutely the eclectic custom creations from Brian Patrick Flynn like this bespoke storage unit.
threaded galvanized metal pipe
threaded galvanized metal flanges
threaded nipples
threaded galvanized metal elbows
wood screws
drywall screws
drill
stud finder
1x10 pine planks
circular saw
degreaser
damp cloth
pencil
wood stain and sealer
paintbrush or stain pad
tape measure
wood filler
spackle knife
electric sander
sanding pads
sanding block
Using a tape measure, determine the available height and width of the wall along which to install the shelving. Take into consideration the placement of outlets and switches that require easy access.
In order to secure the shelving to the wall properly, use a stud finder to locate studs. Use a pencil to mark stud placement.
Determine Height and Width of Shelving Boxes
Before building the shelving boxes, first decide what they'll be used to store. Take into consideration the heights and widths of objects, containers and organizers that will be housed in the boxes.
Referring to wall measurements and desired height and width for shelving boxes, mark pine planks with a pencil, cut them to size with a circular saw, then attach pieces together with wood screws, using a drill.
Sand and Stain Shelving Boxes
Using an electric sander and sanding pads or sanding block, lightly sand the surface of the pine shelving boxes. Wipe dust away with a damp cloth, then add stain using a stain pad or paintbrush.
Degrease Plumbing Supplies
With degreaser and a damp cloth, remove grease from pipe, threaded nipples, flanges and elbows.
Add Threaded Pipe to Flange
To create the legs for each shelving box, connect threaded pipes to flanges. Next, attach pipe and flanges to the bottoms of each shelving box with wood screws, using a drill.
Stack shelving boxes on top of one another, ensuring that each is in the proper place and that the pipes and flanges line up perfectly.
Once in place, attach shelving boxes to one another from below by drilling wood screws up through holes of flanges.
Create a Wall-Mounted Stabilizer
To add stability from the top, create a stabilizer by connecting a 12-inch threaded pipe to a 6-inch threaded pipe, using an elbow. Next, attach flanges to the top of the top pipe and to the bottom of the bottom pipe.
Attach Wall-Mounted Stabilizer
Using a drill and wood screws, secure the wall-mounted stabilizer to the top of the highest shelving box, then attach directly into the wall studs using drywall screws.