Peek Inside a 'Design Star' Contestant's Rustic NYC Apartment
What Dan and Dasha Faires' small NYC apartment lacks in square footage is made up for by convenience, rustic industrial style and character.
In 2007, Arkansas natives Dan and Dasha Faires decided to uproot from the South and try their hand at big city living by moving to Manhattan. "Every inch of New York is filled with inspiration; everywhere you turn, there's a surprise around the corner. Overall, the reason Dan and I moved to New York is for the pulse of the city and its energy. It's such an inspiring place," Dasha adds. Both creative professionals — he's an industrial designer and Design Star season five contestant, and she's in fashion design and marketing — the Faireses found more opportunity for professional growth and development by moving from Springdale, AR, their small town with a population of 70K, to a metropolis with over eight million. As far as adjusting to the massive change in culture, Dan notes, "I think of New York as being a really huge small town. As you get to know your neighbors, all the shops in the community, and how everything is laid out, you quickly realize how much small towns have in common with big city neighborhoods." And although their change of scenery — swapping wide open spaces and homes with oversized floor plans for shoebox apartments and concrete sidewalks — was easy to adjust to, the city's lack of space was a different story.
When the young couple first moved to the New York area, they rented an apartment in Hoboken, NJ, a hot spot for young professionals, but their desire to move across the water eventually took over. Dasha comments, "The draw of Hoboken is the size of its apartments. You end up spending the same amount of money on rent as you would in the city, but you get more space for the money. Although I didn't want to deal with living in a tiny box, I was willing to give up the breathing room that comes with life in Hoboken for the convenience of living on the island of Manhattan." After looking at roughly 10 different apartments, the couple both fell instantly in love with a tiny 375-square-foot one-bedroom on the first floor of a six-story walkup located in New York's Lower East Side — featuring an architectural style referred to as a "shotgun apartment" due to its lack of a central hallway, with rooms leading directly into one another. While the space was definitely tight and much different from their place in Hoboken, what it lacked in square footage was made up for by convenience, style and character. Dan notes, "Within a one-block radius, we have at our fingertips everything we'd find in a 30 mile stretch back in Arkansas. For example, just a few steps outside our door we have access to: a seamstress, organic farmer's market complete with a bakery, a high-end butcher, an imported and domestic cheese shop and locally-grown produce, a boutique wine shop, multiple restaurants, music venues, bars, and green space." In addition to the great shops, markets and parks, they both have easy access to their jobs. Dasha simply walks to work, while Dan takes his bike on the train to his studio space back in Hoboken. "Not having to sit in traffic to get to work is pretty life-changing. I highly recommend it!"
When it came to furnishing their spatially-challenged Lower East Side home, Dan and Dasha were equally excited to put their visual talents to good use. Although the interiors were modest, with rooms only eight feet wide, the apartment offered something most New Yorkers only dream of: outdoor living space. Dasha adds, "We may only have a 72-square-foot living room, but we have 250-square-feet of outdoor living space. In New York, that's unheard of, so we can't complain!" To keep a consistent aesthetic flowing from the entry all the way out to the outdoor living space, the dynamic duo worked in tandem to ensure both of their styles were present.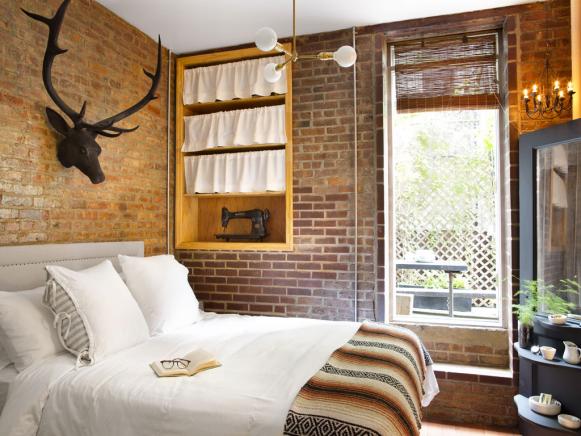 Bedroom with Exposed Brick and Antique Decor
This bedroom features exposed brick walls, a built-in bookcase, a deer head wall mount, candelabra and an antique sewing machine. A tall window lets in plenty of light and is controlled by a bamboo shade.
A large part of Dan's career as an industrial designer involves his signature furniture line, Capsule Furniture. Dan explains, "My pieces are rustic and industrial in appearance, and packed with rich history. In fact, many of the pieces come with an actual glass capsule which houses antique paper telling the history behind its materials. In a lot of ways, the apartment is similar to my furniture: It's packed with texture, history and hints of industrial style." Some of the architectural characteristics Dan and Dasha fell in love with were the interior brick walls, 10-foot ceilings, oak balusters, and exposed pipes.
As the couple collectively came up with an overall direction for the apartment's decor, Dan took full ownership of all custom work including furniture and lighting, while Dasha assumed the responsibility of styling the home with one-of-a-kind details. She explains, "Dan is pretty much the designer, while I'm the stylist. That's the best way to describe our roles."
To create custom pieces for the home complete with his signature rustic industrial style, Dan used reclaimed materials, mostly dark woods, as well as weathered iron and metal pipe to fabricate the following: an outdoor dining table for six, outdoor benches, a storage box made of upcycled barn siding, floating shelf units, chandeliers and pendant fixtures made from repurposed hardware, and a headboard made from a canvas drop cloth, plywood and small, black iron tacks. "I'm especially proud of the headboard; most people are shocked to hear it's made of such basic materials anyone can pick up from the home improvement store and make themselves," Dan says. While the industrial designer put his professional talents to good use by fabricating larger furnishings for the home, Dasha too employed her own creative skills, complementing Dan's rough, industrial style with her personal aesthetic: a more formal, flowing and edgy look mixed with hyper-masculine touches such as tarnished brass or wall-mounted taxidermy, a decorating style best referred to as "modern, organic eclectic." Dasha states, "I like the idea that people can tell exactly who we are by looking at the collection of things in our apartment. Each piece reflects our personality."
Focused on keeping things affordable, practical and chic, Dasha brought in her style by updating simple, everyday items and getting creative with cost-effective big box retailer purchases, something she's quite bashful to talk about, adding "I've been trying to find the right sofa for the living room area, and consider the college-era futon temporary; however, people seem to love it! All I did was add button tufts to the backrest, then drape the mattress with a Victorian style skirt. It totally works, but I'm still looking for something more custom." In addition to her living room seating project, Dasha also added her touch with elements including: dressing the windows with white netting reminiscent of women's fishnet stockings, adding taxidermy, hides and fur to each room, and bringing in accent furniture made from organic materials, many from flea markets. "My favorite piece in the entire home is my West Virginia folk art, a scene of a village made from quartz. I picked it up from Brimfield, a huge outdoor flea market in Massachusetts. Best $50 I ever spent," Dasha notes.
With all of their one-of-a-kind design elements in place, the couple turned their focus to making the most efficient use of space possible with clever space planning. Since the apartment is only eight feet wide, it was important to keep a clear pathway throughout the center, creating somewhat of a galley style home. To keep the apartment both functional and stylish, furniture was arranged along two opposite walls with nothing in the middle, balanced visually with proper scale and proportion. Dasha adds, "It's pretty much a railroad apartment; each room opens onto the next. There's no hallway or way to get from one space to another without walking directly through it." One of the key elements to keeping the space balanced visually was to keep it uncluttered, using texture and shape as the ongoing motif rather than color and pattern. Although the apartment, for the most part, is colorless, it's packed with rich textures and elements of life thanks to greenery and fresh floral, which carries on from the kitchen all the way throughout the outdoor living space.
Now settled in and loving their life in the big city, Dan and Dasha have truly made the most out of their small space. Although the couple still consider themselves Arkansans at heart, Dasha says that she and her husband are equally as comfortable assuming the role of New Yorkers. "New Yorkers are efficient, hardworking and straight-shooters. Southerners are warm, outgoing and more laid back; it's the best of both worlds."