Multi-Stripe Electrical Tape Table Project
Add bold and colorful flair to a basic end table with electrical tape.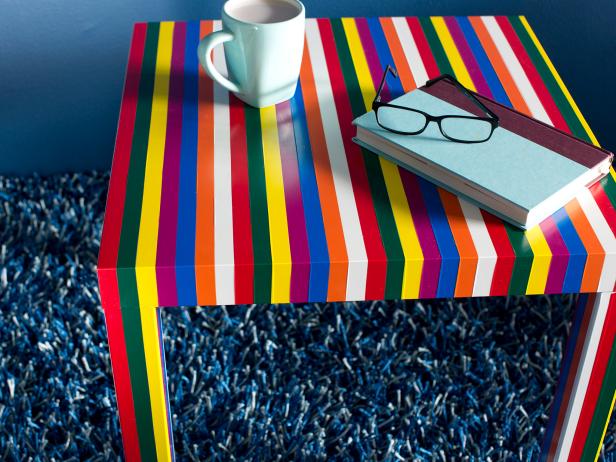 Original_Brian-Patrick-Flynn-Duct-Tape-Furniture-BEAUTY-Table-Top-View_s4x3
colored electrical tape
tape measure
Parsons style table
scissors
credit card or burnisher
calculator
When choosing a table for this project, stick with styles that have clean, simple lines (Image 1). Parsons tables are often the best choice. Tip: Electrical tape adheres best to slick, smooth flat surfaces (Image 2).
Determine Placement of Tape
Before attaching the tape to the table, it's important to plan your design. Lay each roll out, playing with options for patterns -- consistent or random (Image 1). Tip: When it comes to consistent patterns, complementary colors work best since they offer the perfect blend of contrast and balance when paired side by side (Image 2). Consider placing complementary colors next to one another, then breaking them up with a strip of white tape before repeating the pattern.
Determine Amount of Strips Needed
Measure the width of the table top using a tape measure, then divide the table top width by the width of the electrical tape. This total will equal the amount of strips of tape needed to cover the table top surface.
Use a tape measure to determine the center point of the table top and place the first strip of tape directly down the center (Image 1). Tip: Once the tape is rolled out, be sure not to pull it too much or it will stretch, causing uneven lines. Instead, gently pull the tape from the top of the table to the bottom, pressing lightly in a consistent manner (Image 2).
Attach Tape to Bottom of Table Top
With the tape pulled lightly across the top, then down along the side, extend it one inch along the bottom of the table top; cut with scissors.
Slightly Overlap Each Strip
Begin adding strips of tape, slightly overlapping each one by roughly 1/8 of an inch. This will ensure the table top does not show through should the strips of tape swell.
Repeat the overlapping process, one strip of tape at a time, working equally from left to right, starting with the center strip.
Using a credit card or a burnisher, remove any air bubbles that form below the surface of the tape.
Continue the color placement down the sides of the table as well as the legs, cutting pieces to size as needed. To create corners, it's necessary to overlap tape.
Once the strips of tape are all in place, double-check the placement to ensure lines are perfectly straight.