Living Room Style on a Budget
In her favorite room, Emily Henderson, host of Secrets From a Stylist, shares her secrets withHGTV Magazine—from thrift store finds to DIY art.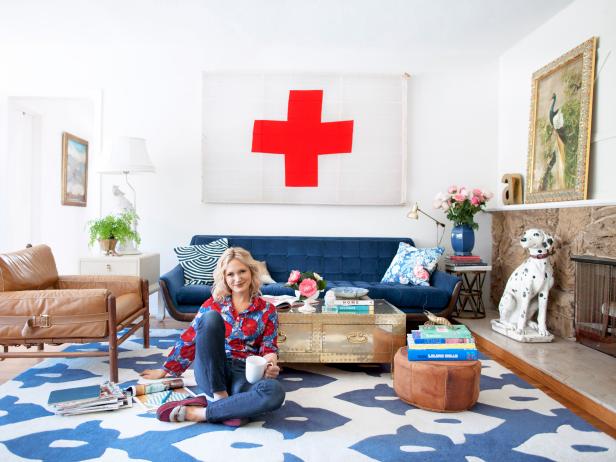 Emily Henderson in White and Blue Eclectic Living Room
Would you guess that Emily Henderson, HGTV's Secrets From a Stylist host, cobbled her chic living room together from flea markets, vintage stores and online retailers? Neither would we!
In the 2012 June/July issue of HGTV Magazine, Emily shares low-cost style ideas from her very own living room:
"No two are alike in my living room. I usually choose opposite styles and different heights. I paired my bird lamp (one of my favorite things in the room) with a $10 brass desk lamp for a fun contrast."
First One at the Flea Market
"I wake up at five to be there at six. I get home in the afternoon, dirty and ready to play with my treasures, like this cool leather pouf, which I got for $40. I'll spend the day rearranging the room with my new things. My hoarding tendencies are strongest at the flea market where there's one-of-a-kind stuff."
Money-Saving Shopping Trick

"This leather safari chair from the '70s was part of a set, but it was expensive, so my friend Morgan and I both chipped in — she took the sofa, I got the chair. I'm attracted to anything '70s. I dress '70s and have since high school."
"I think this is a Red Cross flag. I bought it at a vintage store and didn't want to spend money on framing, so I backed it myself for just $20 using pine planks cut to size and black carpet tacks."
"Look at the shape of furniture before you look at the fabric. I fell hard for this $700 couch from a vintage store in Portland, Ore. I happened to love the navy velvet, but remember: You can refinish or reupholster anything."
Outside or Inside? Who Cares?

"The Dalmatian is a lawn ornament, and it's really heavy, like 100 pounds. Just because something's meant for outside doesn't mean it can't live indoors. My cats, Bearcat and General Meow, sit next to him, and they all look hilarious together."
Love Something? Buy Just One

"Spotting my coffee table was like meeting the love of my life. I recently saw a brass end table that resembled it, but I decided to leave it behind. Something this great wouldn't look as special if it had a match."
Mix It Up for a Happy Marriage

"I can 'go girly' fast, and my husband isn't so into that. So I keep the major furniture masculine. It's much easier to add feminine accents on masculine pieces than it is to do the reverse."
"To balance the small prints and knickknacks, I ordered a large-scale rug online for just a few hundred dollars. Great deal, plus free shipping!"