Leafy Looks for Year-Round Enjoyment
Designers have fallen for these fabrics inspired by foliage.
Leaf-peeping is not just an autumnal activity, but a year-round pleasure in rooms where designers use foliage as a focal point or an eye-popping accent.

Designer Mitchell Hill says leaf motifs, like all florals, brighten rooms. In a kitchen, he used Schumacher's Chiang Mai Dragon print, a leaf and floral pattern in an Art Deco-inspired chinoiserie motif, on the backs of island stools and for the curtains. By keeping the palette consistent throughout the room, he says, vibrant fabrics on chairs, curtains and headboards offer color and texture, just like leaves do in their natural state.
An abundance of leaf-inspired textiles with abstract patterns and unexpected palettes can help you layer the look in a room, even if the rest of the space isn't outdoorsy. The patterns are painterly and loose, interpreted through the eyes of the textile artist, says designer Tami Ramsay of Cloth & Kind, a firm run by Ramsay and designer Krista Nye Nicholas.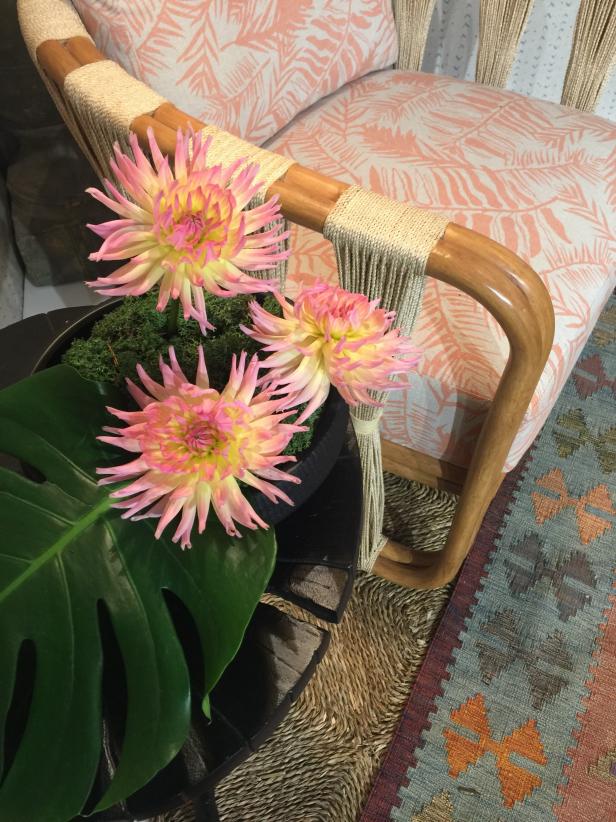 Recovered Leaf-Print Chair with Pink Flowers
This Palecek chair, designed by Cloth & Kind, features the Hutan print by Caroline Cecil Textiles. Hutan, meaning "jungle" in Indonesian, brings leaves into the home in a custom color created in Pantone's soft color palette featuring the 2016 Colors of the Year--Serenity and Rose Quartz.
Cloth & Kind recovered a Palecek chair with the Hutan print by Caroline Cecil Textiles. Hutan, meaning "jungle" in Indonesian, brings foliage into the home with a hand-printed design on linen custom created using Pantone's soft color palette.

"It feels organic, and honestly, it's also playful when you make a leaf pattern coral as opposed to green," Ramsay says. "You're not just seeing things that are a leaf in its normal state but kind of exploited and extracted out, not only in its color, but also in its shape."
Fall has swept leaves off the trees and onto a Donghia chair that Cloth & Kind upholstered in Menna fabric by Katie Leede & Co. The pattern is inspired by fan-shaped papyrus leaves falling in happy abundance, as Leede describes on her website.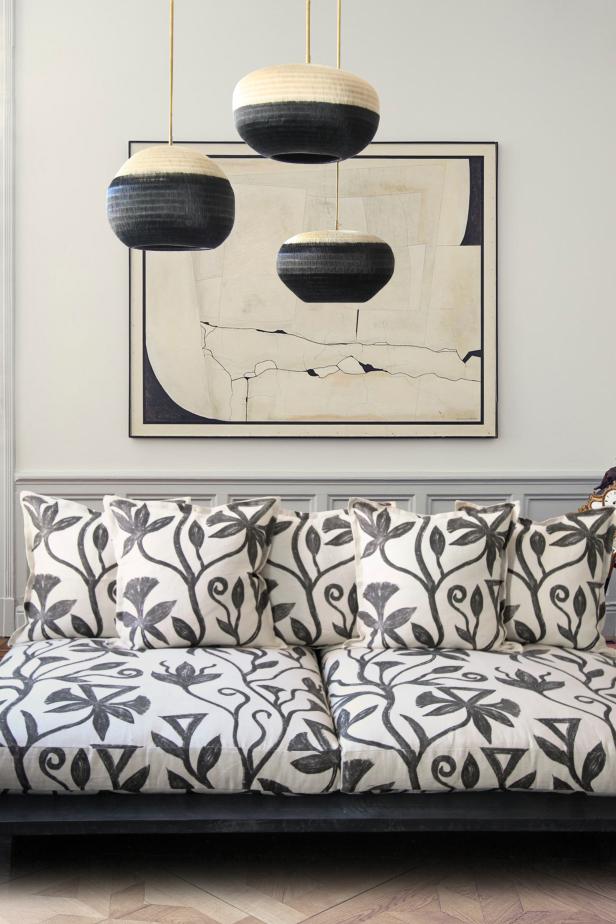 Charcoal and White Khovar Collection in Vine by L'aviva Home
The charcoal and white classic color combination of the Khovar Collection in Vine by L'aviva Home on the couch is inspired by the design in the homes of villages in Hazaribagh in Northeastern India. This print in Vine along in Leaf and Flower was created and commissioned by women who live in the villages.
L'aviva Home's Khovar collection, with patterns called vine, leaf and flower, presents foliage that appears as a hand-painted mural on fabric. Women in villages in northeastern India were commissioned for paintings that resulted in the patterns.
Parker Kennedy Living's preppy style took a tropical twist when it upholstered a CR Laine headboard with a banana leaf print for a Southeastern Designer Showhouse bedroom. Designers Lance Jackson and David Ecton showcased Dorothy Draper's Brazilliance fabric in green and white with bamboo-pattern canopy drapes to channel Palm Beach chic in the Atlanta guest bedroom.
You can use leaf prints in a variety of ways, from upholstery and draperies to framing fabrics and using remnants for cocktail napkins. A pillow, for example, is another simple leafy start.
"Just like it feels fabulous to have fresh flowers or even an arrangement with fresh greenery in it ... adding those types of textural patterns bring a bit of that into the room all the time," Ramsay says.