5 Must-Haves for a DIY Home Gym
Meet your fitness goals, without sacrificing your stylish home in the process.
You want to skip the stares from strangers and reach peak physical fitness from the comforts of your own home. Your dilemma? Figuring out how to store all that clunky exercise equipment after breaking a sweat. It doesn't exactly go with your mod-minimalist style or mesh well with your transitional apartment, right?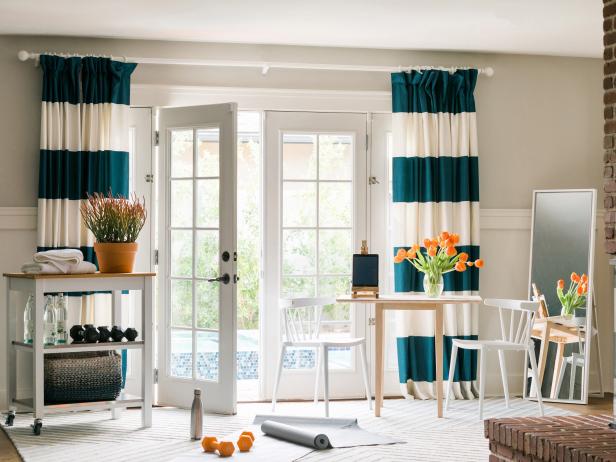 Home Gym
A simple swap of drapery turns the space from bright and dainty to cool and calming. To outfit the same space as a home gym, a cushier rug was added along with a collapsible side table perfect for keeping workout routines front and center while a full-length mirror lets homeowners keep an eye on their form.
Flynnside Out Productions
But don't think you're off the hook just yet, my friend! This is the year of #NoExcuses and not even the tackiest of gear will throw you off your track. Our solution? Sleek storage, creative vision and decor that serves up equal parts style and function.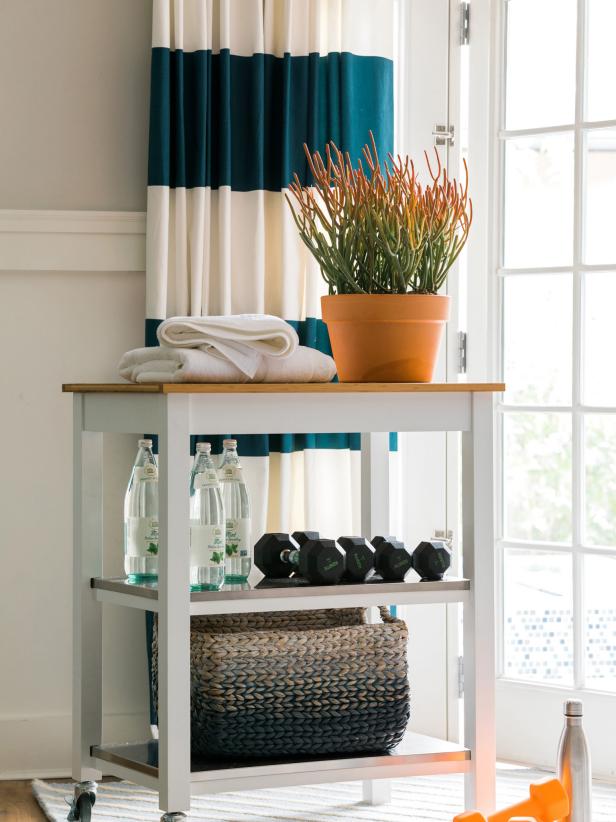 Bar Cart
Bar carts are one of the most versatile pieces you can add to your home. Of all items in this dining space, the bar cart is the one that remains for all three purposes. Here it's outfitted as a drink station and a designated spot for keeping fresh towels within arm's reach as well as bottled water and open storage.
Flynnside Out Productions
Transform that old bar cart into a hydration station by stocking it with loads of H2O. We love the way interior designer, Brian Patrick Flynn, stored fluffy white towels and additional weights on the cart as well. Plus, the oversized, ombre basket serves as an ultra-pretty place to toss sweaty towels post workout or stash less-than-sightly handheld equipment.
Baskets can be used in more ways than one in your makeshift gym. Create easy-access storage with woven or wire baskets for additional (obnoxiously-colored) equipment. Our top tip? Select a basket style that meshes well with the rest of your interior. Bohemian space? Find a fun, fringe option. Farmhouse-chic? Galvanized bins are great!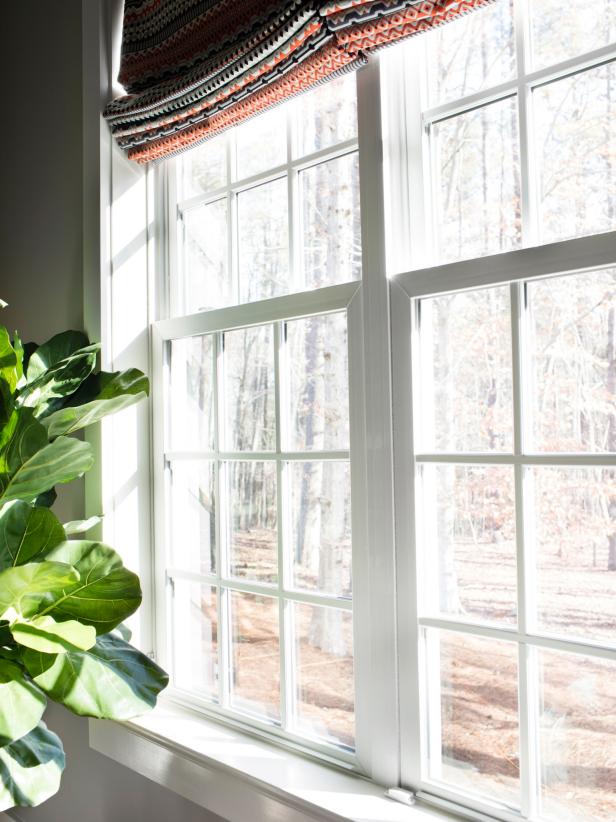 Bright and Airy
Large windows allow lots of natural light inside, that when open provide much-needed fresh air for this serious workout space.
Sarah Dorio/Flynnside Out Productions, 2016, HGTV/Scripps Networks, LLC. All Rights Reserved
Set up your sweat-station near a window or door so that you can easily access cool, fresh air between sets. The windows seen above are ideal because, along with air, they offer a wealth of energizing, natural sunlight.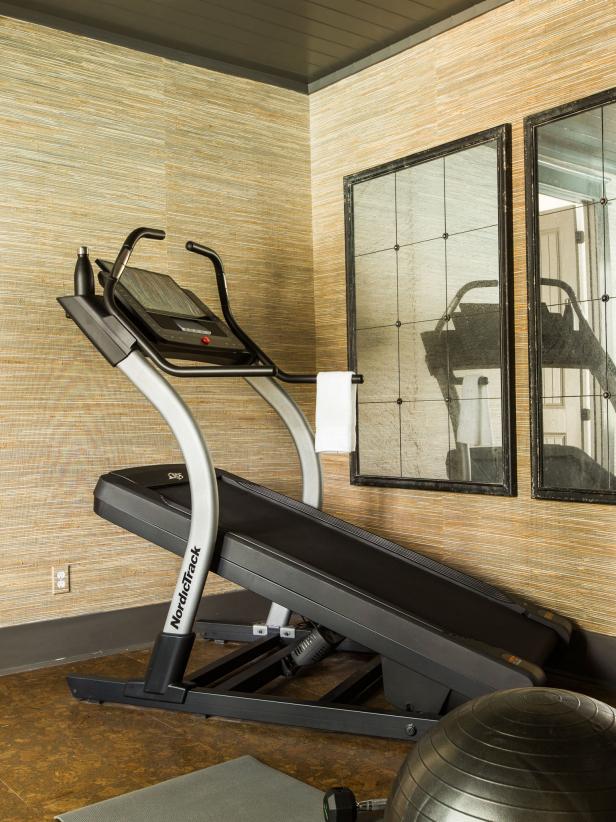 Advanced Incline Trainer
The gym's advanced incline trainer includes a quiet and consistent motor and interactive technology that tracks progress, replicates real-life runs and custom-tailors workouts to meet specific goals.
Full-length mirrors are a must, my friends! All vanity aside, a full-length mirror needs to be a priority in your home for two reasons. Number one, the mirror is a universally stylish decorative piece that adds loads of light and interest to any space. Number two? The mirror will allow you to maintain proper form throughout your workout. You'll avoid injuries and have a sleek spot to take progress pics throughout your fitness journey, too!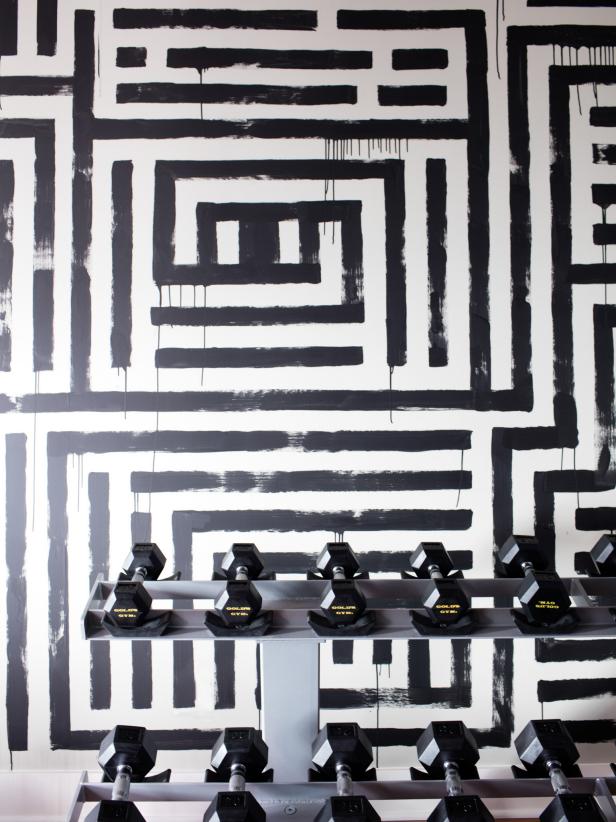 Ready to Go
A full set of weights on a twin tier dumbbell rack are ready for use in front of the exercise room's graphic wall, which creates a dramatic backdrop for the space.
Sarah Dorio/Flynnside Out Productions, 2016, HGTV/Scripps Networks, LLC. All Rights Reserved
Limited on storage space and have no choice other than to keep your yoga mat rolled up in the corner? Totally understandable. Our advice is to keep your space feeling cohesive and organized by opting for neutral-hued equipment as much as possible. Try to coordinate with your home but if all else fails – a soft gray mat, black weights and white towels never look too out of place.