Give Your Kitchen a Colorful Makeover (Without Paint!)
Self-adhesive shelf liner isn't just great for lining drawers, use it to inexpensively give glass-front kitchen cabinets or open shelving a big pop of color and vintage-style charm.
self-adhesive shelf liner (we chose a blue-and-white gingham)
poster board
tape measure
scissors
optional: glue dots or double-sided tape
coffee mug or small round item to use as a template for scallops
If possible, remove your cabinet's shelves to get a more accurate measurement, then cut shelf paper to size. Working from one corner, apply the shelf paper while peeling off the paper backing (Image 1) carefully smoothing the sheet into place while working out any bubbles or wrinkles. Depending on the width of your cabinet, you may need to add the shelf paper in multiple sections. Our cabinet required 2 pieces (Image 2).
To create the shelves' scalloped overhangs, determine both the length and depth (distance front to back) of the cabinet's shelves.
Cut shelf paper to length, based on your measurement. Then, flip paper over and transfer the depth measurement to the back. Note: Most shelf paper's come with a printed grid pattern on the back that helps with this step. Determine how long you want the paper's scallops to drape over the front of each shelf (ours are 2-1/2") then use a permanant marker to draw a dotted line to note where each scallop will end.
Using a coffee mug or similar round object as a template, line up one edge with your previously drawn line, then trace around the cup to create a scalloped pattern. Note: The paper's grid pattern comes in handy here too as it will help you to ensure the same amount of overlap when placing the coffee cup to create each scallop.
Add Shelf Liner to Poster Board
Cut out the scalloped pattern (Image 1). To make the shelf liner more durable and add thickness and a non-adhesive backing to the overhanging scallops, remove the shelf liner's backing and, starting in one corner, press the shelf paper onto the poster board, working out any bubbles or wrinkles as you go (Image 2).
Use scissors to once again cut around the scallops and to cut out the now poster-board-backed section of shelf liner. Note: This piece will not only serve to line one of your shelves, it will also work as a template to make creating the other sections easier (assuming they're all the same size, as ours are).
Create Remaining Scalloped Pieces
Cut more sections of shelf liner to your measured length and depth (including the additional amount needed to create the scalloped edge). Remove the shelf liner's backing and place it on another piece of poster board. Using the first finished section as a template, trace around the scalloped edge and cut out. Create as many remaining sections as you need for your project.
Slide each scalloped section into place (Image 1), then bend and crease (Image 2) the backed shelf liner so it hangs straight over the shelf's edge (Image 3). Note: Glue dots or double-sided tape can provide a little extra staying power to keep each scallop hanging perfectly straight (Image 4).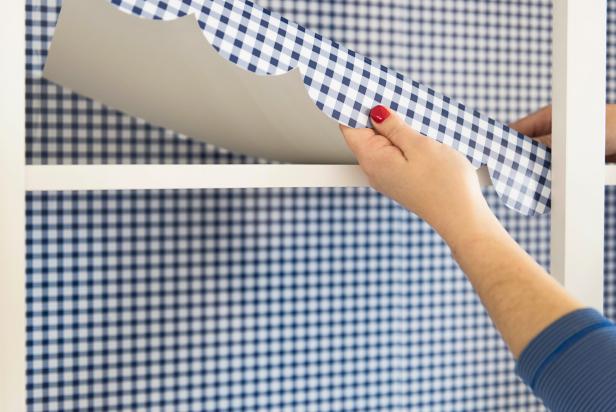 Sarah Busby; Styling by H. Camille Smith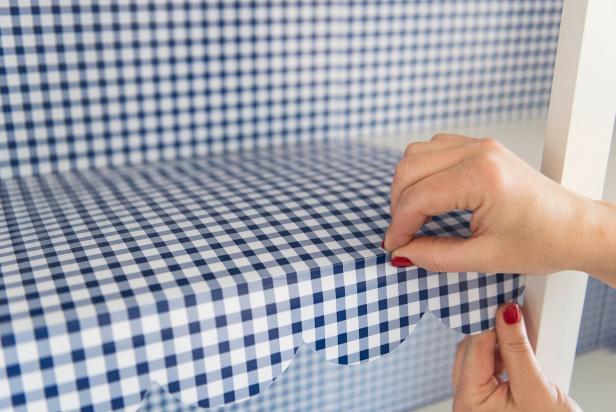 Sarah Busby; Styling by H. Camille Smith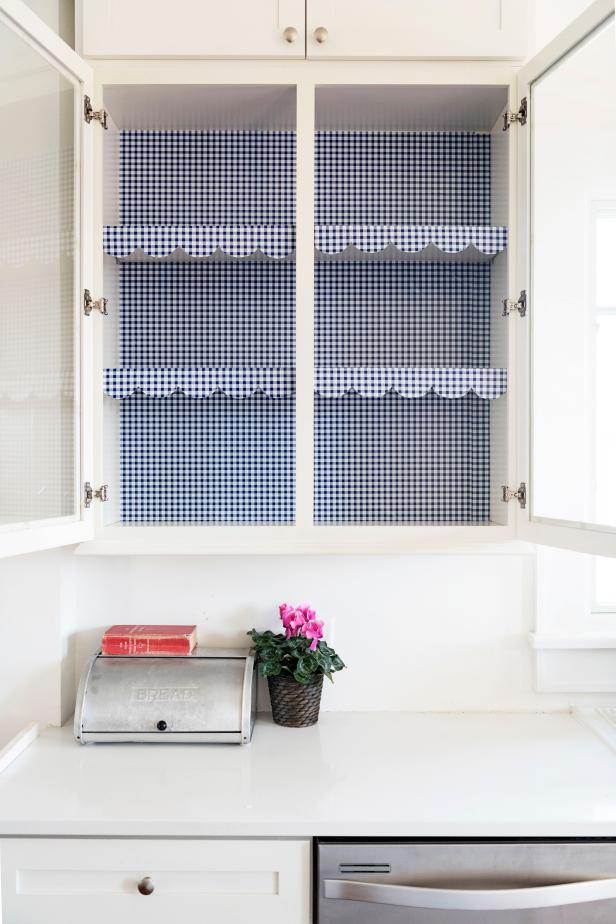 Sarah Busby; Styling by H. Camille Smith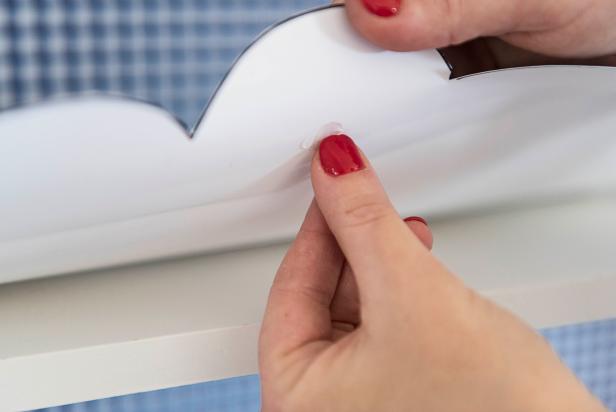 Sarah Busby; Styling by H. Camille Smith
Put Your Favorite Pieces on Display
A kitchen cabinet with this much vintage-style appeal is perfect for displaying your favorite thrift store scores or family hand-me-downs.
Create a Cohesive Palette
We stocked our shelves with pretty pieces in shades of blue and white that beautifully coordinate with our cheery gingham pattern.
Really Rock a Vintage Vibe
And, continue the look with more vintage countertop accessories (Images 1-3).