Genevieve's Design Tips: The White Room Challenge
In episode three, the Design Stars show off their talent in the white room challenge. See what Genevieve says they did right, did wrong and how she could have done it better.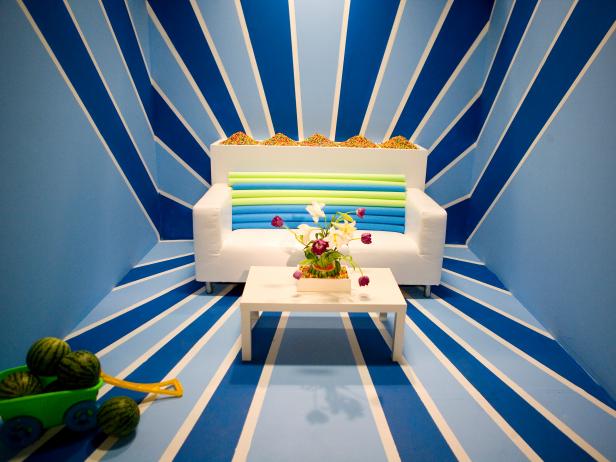 Living Room With Visual Impact
HGTV Design Star contestant Antonio's experience with world-renowned photographers like David LaChapelle and Annie Leibovitz is a huge asset on this challenge. Like on many photo shoots, the goal of this challenge is to create visual impact quickly and innovatively. Maybe more so than any other contestant, Antonio smartly takes advantage of his two cans of paint by creating a dynamic pattern of rays that provide direction and a clear focal point. With two shades of blue and the existing white, he employs a sophisticated palette that also seems fresh. Problems begin to arise, however, in the remainder of the design. Watermelons stacked in a plastic wagon (placed at the periphery of the room) do not showcase the beauty of this produce. Furthermore, all of Antonio's focused rays demand a payoff at the center and a sofa with flotation "noodles" with a bookcase filled with mountains of cereal behind it are a disappointing conclusion. A haphazard flower arrangement on the coffee table further distracts from the laser-like style of the beautifully painted lines. Overall, this room looks like it could have benefited from better time management. A great beginning with a strong paint statement concludes with a disappointing end with poor incorporation of grocery-store elements. It would have been fantastic to have seen the painted lines continued on to the coffee table and sofa with a single "throw pillow" at the center created out of a round slice of bright-red watermelon. Instead, Antonio's unbelievably creative paint job is diminished with last-minute grocery accessorizing.
On a graphic and technical design level this room is really special. To create the illusion of a grander depth, a narrowed perspective and land it on one big bull's-eye in the middle of the space? Tricky, interesting and difficult to execute well, but Antonio pulled it off. Where he lost me was in the most important point of the room, the bull's-eye that he created. All these wonderful stripes lead me to a bunch of Froot Loops and some pool noodles? I want a bang, pow, shazam! When I have all this amazing stripey buildup, the bull's-eye is a bit of a letdown. This space looks like it should have fallen out of a comic book or off a cereal box labeled "new and improved." If Antonio had kept the momentum that he started with the stripes it would have been so much more wonderful. I do like what he did with the couch by adding a headboard of sorts; it increases the vertical and changes the entirely too recognizable form. By hand tiling the whole piece in Froot Loops, adding a couple of accent pillows in Captain Crunch and perhaps a neutral Cornflake pillow or two for some balance, the interest and textural level would've risen substantially. I think the wagon of watermelons in the forefront is a lovely vignette. However, the floral arrangement is a huge disconnect from this pop art-like treatment of the rest of the space. A giant bowl of milk as a coffee table, perhaps?*
*Remember these rooms aren't at all about function, just pure unadulterated creativity.
Create a Beautiful Wallscape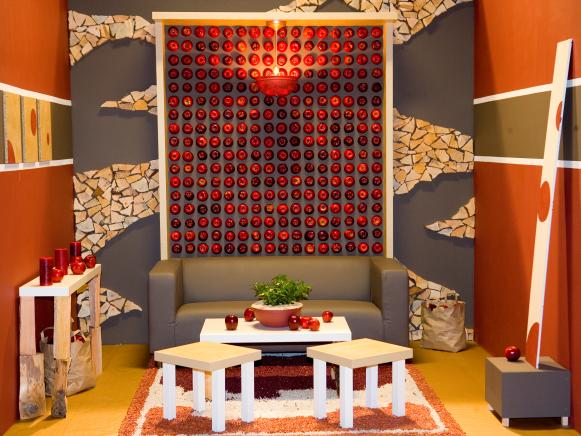 Stylish Living Room on HGTV Design Star
In HGTV's Design Star judge Vern Yip's opinion, this is the single best solution to any design challenge put forth in the history of this series and is a near-perfect response to the issues raised. The level of creativity, innovation and skill demonstrated here is stunning. This particular shade of orange-red paired with the deep chocolate brown selected is a warm combination that organic elements will naturally look good in, so contestant Dan has already made some bright paint choices. The solid chocolate wall with floating slices of firewood, ingeniously formed to appear almost "cloudlike," is magical and alone would be a stunning focal point. Layered within this wall concept, however, Dan integrates a controlled grid of deep-red apples that create height and a concentrated core of color. The execution of this wall shows an understanding of restraint, balance and texture – and the fact that the extent of the apples lines up with the length of the couch is no accident. Another smart move is made by painting the white sofa brown, thus maintaining clear focus on the back wall. The deconstructed bookcase helps simultaneously provide architectural interest, canvas for art, a console and surplus furniture. An organic rug in shades of orange-brown and white further demonstrates a repurposing of grocery materials while pulling in all of the subtle nuances apparent in the paint selections.
A perfect example of a designer with a concept who followed it through to execution. This is what design is all about, no matter what the style. Design only works well when there is a true concept and well-done execution, and I think Dan delivered this very strongly in this design. Working off of a Johnny Appleseed-esque concept, you can see that Dan really played in this space and that translates into joy as the observer. In a space with such a small footprint, he did exactly what you're supposed to: averted our eyes to the vertical with a beautiful wallscape of red apples framed by a lovely chopped-wood pattern. The room looks bigger than any of the others due to this detail alone. Spilling out from underneath is a beautiful floor treatment with what looks to be kidney beans and black-eyed peas which neatly designates the conversation area. I think a pendant in the middle of the space would play up nicely to the rug instead of the wall mount, and the artwork is completely unnecessary. Other than those two small details, the room is a huge success.
Add That Something Special
I would've killed to get a challenge like this. How beautiful is produce and all that Mother Nature designs? And a challenge that forces you to use the grocery store as supplier of your medium? Unfortunately, I just don't see much of that beauty in this room. This was an invitation to play but it doesn't look as though Jany let herself play. The turquoise banding brings your eye up the wall to make the room seem larger and wider, and the brilliant yellow stripe is a nice contrast in color and direction, but where are these two colors brought out in foodstuff? It was a good start, a nice framework for something special but, unfortunately, the special didn't arrive in this space. By adding an additional accent color, perhaps a coral or a kelly green, we could add a bit more depth and variance in this stagnant space. The plates on the back wall are a good juxtaposition of all the straight lines and boxes, but more curves would've balanced it even better, like a large bowl of bananas as the table centerpiece. I loved what Jany started on the back wall with those Cheerios chains; I wanted more of that. By flanking the yellow stripe with voluminous Cheerios chain-like curtains, the room would come alive with texture and the back wall would be so much more important. Pillows of sliced lemons and limes with two poufs made of marshmallow instead of the wood boxes could have been really fun and embraced this challenge better.
This room hurts a little bit. OK, a lot. I love where Jason started. The matzo is a really fun medium; however, more as a side dish and less as the entree. The reason being that it's bland in color, in shape and, well, even in flavor. It would've worked wonderfully as a parquet floor tile or used as a faux woodgrain instead of the focal point on the wall. Couple the matzo with a food that has a larger presence, big color and some depth — like produce and meat products — and it could've been much more powerful. Unfortunately, Jason chose dog food as matzo's partner and, well, he lost me completely. The bright yellow walls are great but also need some partners to balance out the sting, like a base to an acid. This yellow needs a creamy charcoal, some ivories and some rich blue accents to cool off that hot color and work as a balanced team. The yellow on its own with just beige and a bit of white is just too sharp and unbalanced.
Quirky and Whimsical is Ok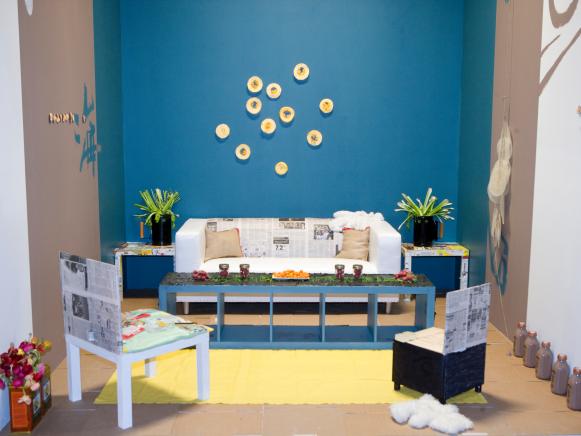 Design Star White Room Challenge by Jen
Completely incohesive is the impression that this effort Jen from Design Star conveys. As in last week's challenge, Jen has incorporated a plethora of color in relatively even amounts, leading to a final result that lacks focus. Jen is a talented color specialist but seems to be having difficulty translating her forte in design challenges. This room is an even balance of blue, tan, white and yellow – accented by newspaper print, a cacophony of red, orange and pink flowers, and an accent of sliced vegetables on the wall. Produce on the seaweed-covered bookcase (on its side to function as a coffee table) is merely displayed instead of transformed. Bottles of chocolate milk lined up like soldiers against the side wall are merely that. Very few elements are utilized innovatively in this solution and that plus the lack of focus is the ultimate downfall of this room. Newspaper can be employed smartly, and Jen definitely begins to show signs that she is exploiting what is interesting about this material. Similarly, covering the bookcase top in seaweed could have been the start of something wonderful in her space, but it never quite gets expressed. There is no question that Jen is a talented designer with a real understanding of color. Ultimately, this room fails to showcase the talent that has gotten her so much professional recognition and is the reason why she could have been a potent competitor on this show.
When I see this room, I know an artist has been here. I'm sure it feels far out to many a viewer but I think there are some really stunning moments here. The gorgeous blue wall with the squash rounds on the back wall feels dreamlike and almost as if you're living in a painting. Compositionally, I think Jen really nailed a powerful focal point through color and form. The wing-like, rice spring-roll wrappers casually hanging off the wall that then lead the eye into a row of chocolate milk bottles is so curious. It feels as though there are many little beautifully crafted stories in her space that make me smile. Olive oil can vases on the ground and mushroom caps on the wall are all intriguing and fairy tale-esque. The shell of this room to me is perfect; it's the contents that need improving, as all of this excitement surrounds a bit of a disappointing middle. The bouquets on either side of the couch could easily have been big, overflowing and tightly grouped arrangements of beets to add that fuchsia pop that she was going for on the coffee table. The couch, if wrapped completely in a foreign-language newspaper (so it becomes more of a pattern and less of a read), could've been a beautiful and subtle pattern to add a little depth but not take away from the color. Poufs, or some sort of cube chair in the foreground instead of the chairs used, would've created a more seamless look. On the whole, I really enjoyed this space for the pure quirk and whimsy of it.
Push the Design Boundaries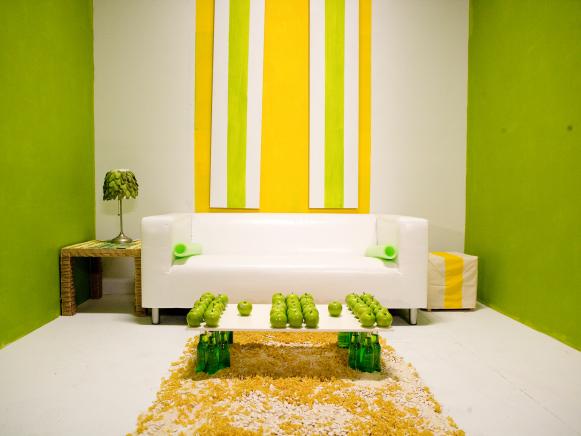 Zesty Apple Green Living Room
Little sparks of inspiration are showcased throughout this solution, but they ultimately aren't enough to make a big design statement. HGTV Design Star contestant Lonni continues to demonstrate that she is a seasoned designer with plenty of experience under her belt to pull things off in a pinch. The color combination of moss green, citrus yellow and bright white instantly conveys that this room is supposed to be airy and fresh. Yellow sugar packets covering the side table and artichoke leaves layered onto the lampshade are all nice textural elements that help transform these standard-issue furniture elements into something interesting to discuss. I especially like the use of green water bottles in lieu of legs for the coffee table. These ideas, however, need to be extended to the rest of the space, which unfortunately reads a little bland and empty. It would have been wonderful to have seen the entire base of the coffee table supported by these water bottles, with a light element buried in the center to illuminate the glass and water. Additionally, the layering of artichoke leaves onto a large form made from paper plates could have created an amazing pendant fixture. The organic rug is also a nice addition – but again, a little too small. Overall, there is evidence of original thoughts, but they aren't nearly pervasive enough to make a statement.
Coulda, woulda, shoulda. This room feels very unfinished to me so it's a bit hard to judge completely as I know what Lonni intended to do with this space originally. If she had set forth and completed what she had planned, it would've really been great. However, what we are looking at is what it was and I can only judge on this. What Lonni did with the lampshade in the corner is more of what I was hoping to see from everyone on this challenge, of really USING the medium in fun and creative ways. I wish more of the artichoke-like lampshades were used in the space, too. The sugar-packet side table is brilliant and leaves me wanting more. Beyond that highlight in the corner, it is very stagnant and flat. Why not bring in some big bags of rice and use them as throw pillows? If you're going to use glass bottles as a table base, commit to it completely and fill the whole base with bottles and let them contrast the bright white floor and couch behind it. Instead of lining up the pasta rug with the stripe, fill the floor and emulate a Persian or Kalim. I'd have rather seen the back accent wall take on the color of the apple and become a strong focal point rather than two bold planes of color ending in a disappointing flat white; the couch would've popped and the eye would've been drawn in. I think the apple is a wonderfully designed fruit, but it's also a fruit that many others thought of using as well. This should make a designer think to themselves, "unless I have an amazing concept to use these with, I need to push myself harder" past that first inspiration.

Modern Black and White Living Room With Chandelier
HGTV Design Star contestant Nathan blows the judges away with his capiz-style chandelier made of orange slices and a textural wall treatment of black paint and stripes created by squirting milk down the walls.
What a wonderful surprise of a room. It's incredibly sexy, inventive, textural and plays with all tones of color. Nathan blew me away with this room. He really had me at white paint dripping down black walls and an orange-slice chandelier. The white paint cascades onto the black base coat and almost gives the illusion of beaded chain; it's kinetic and such an amazing illusion. The orange-slice chandelier centerpiece plays with scale and satiates that immediate search for color after looking at the walls. Additionally, he brought in some more curves to juxtapose the lines on the wall with typography, a great solution for a complementary pattern to the wallscape. The only thing I might change is the tables. The roped base and tapers become a bit redundant with all of the stripes on the wall. While I love the turquoise, wrapping a bowl with the foil of gum wrappers to give the illusion of a mirrored piece beneath the chandelier would've been so much sexier. Absolutely my favorite room of the week.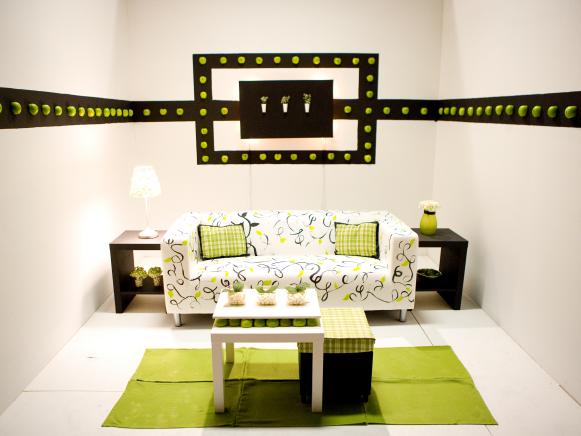 Design Star White Room Challenge
"Pleasant enough" were the words that came to Design Star judge Vern Yip's mind when he saw this white room challenge design by contestant Tashica. Utilizing a color palette of black, white and apple green, this room initially appears fresh and bright if not a bit bland and unoriginal. This room lacks a "big idea," and although it is complete, it ends up feeling hollow and lackluster. Sliced Granny Smith apples nailed onto thin black stripes create single lines that terminate in a rectangle out of the same materials. Like contestants in seasons past, Tashica dismantles her bookcase to create a central dimensional element that is backlit. In general, the judges look for original ideas rather than repeats of ideas showcased in past seasons. Her sofa is transformed with an overall pattern of organic black swirls terminating in green leaves. Everything is pleasant enough in this room solution, but nothing stands out as original or thought provoking. A bolder and broader use of color, pattern or scale would have taken this room to the next level. Painting all the walls black and doing an overall mural using green apples nailed to the walls would have been magnificent. Better yet, extend this concept to the floor. The most important missing ingredient in this solution is an original and inspired voice. In the end, this is a pleasant room but a little short of what is expected of a Design Star.
Oh no! It's the apple again! There is a lot going on in Tashica's space and initially I have a hard time figuring out where to focus my attention. With such a focused and powerful graphic stripe running around the perimeter of the room, landing in a tiny little bull's-eye in the back, it needs to be spot on to function at all. Once I get to the bull's-eye, the eye wants a payoff; a new color or a larger scaled item would've given it the punch it needs. Moving down from the box focal point, it's easy to get lost in overly complex patterns and predictable but strange space planning. While these rooms don't need to be functional, why set up the couch and two side tables in such a traditional fashion but then set up a nesting table sequence at a far distance in the foreground? If Tashica had striped the entire space vertically in back and run her apples down the stripes, it could've had a lot more balance. Why not cut the apples in half (rub with lemon) to stretch the budget and then have that apple make more sense within the contents of the room? Fruit crates, applesauce jars and other apple products could've made this a lot richer and given it a sense of humor.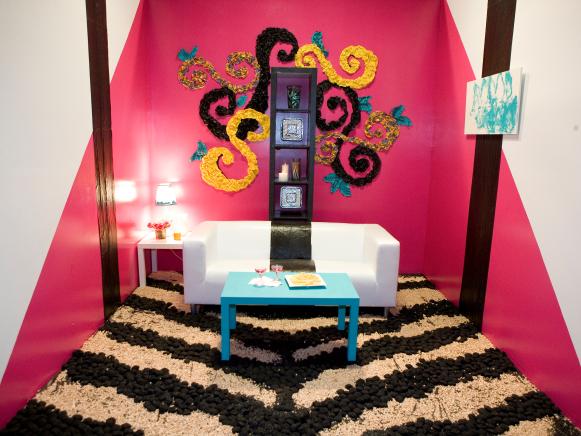 Vibrant Living Room With Textured Rug
Of all the solutions presented on this go around of the white rooms challenge, contestant Torie's may be the most surprising. By selecting a bold pink and pairing it with black elements (tape, charcoal and napkins), Torie sets a definitive tone that is both feminine and modern. A stunning zebra-print rug, ingeniously crafted from grocery store elements, extends over the entire floor and weights the space with graphic and bold pattern. Further injecting turquoise blue and a bright citron yellow is a brave choice, but one that has a huge payoff. A mural made from crumpled napkins shows ingenuity and adds needed texture to contrast with the sleekness of her walls. Although this room is largely a success, it would have been nice to have seen the same bold hand that created the rug and picked the colors handle the room's accessories and addresses the provided furniture. I love the fact that Torie painted her coffee table turquoise blue, but her furniture largely remains intact. Small accessories on her bookcase and some abstract art on a side wall detract from the big statements that she is otherwise making and appear distracting in the overall evaluation of the space. Fewer elements, but making them bigger and more extensive, will always create a stronger impression.
If play were tangible I think it might look like this space. What a mood Torie has set upon first glance. By using a larger scaled pattern in the zigzag rug it enables her to give balance to the tightly constructed art piece on the back wall. The linear, black-and-white quality also sets the curves and color coming into the focal wall ablaze. Her use of garbage bags and napkins, charcoal and puffed rice are inventive and extraordinary. I think some sort of arrangement that would pick up on the colors of the focal point could live very happily on the coffee table (a bowl of colored eggs, rhubarb fashioned into flowers, or perhaps just using some of the same medium of napkins and garbage bags to create an arrangement, etc.) would've made the piece even more exciting. Overall, I think Torie did an amazing job.