Genevieve's Design Tips: The Final Challenge
Antonio and Dan go head-to-head in the biggest Design Star challenge yet: making over a deserving family's entire home. See what Genevieve says they did right, did wrong and how she could have done it better.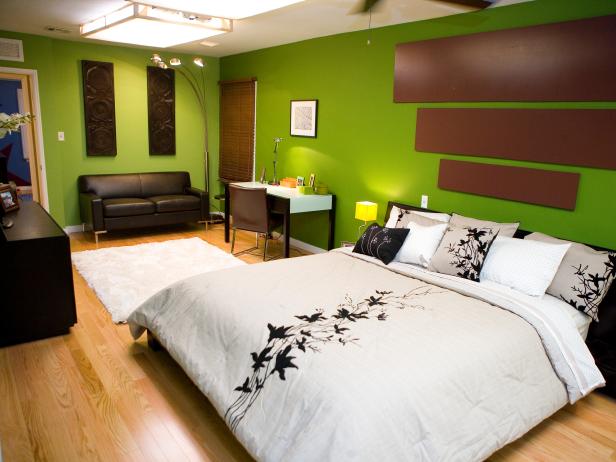 Bedroom With Interesting Headboard
"The horizontal bands only serve to make a long wall even longer and the varying sizes, from small to large, bottom to top, seems just plain odd," says designer Vern Yip. "A floor-to-ceiling upholstered headboard would have covered the window and provided a dramatic and comfortable setting for the bed."
Make Your Bedroom Intimate
We have a long, narrow, oatmeal room here with a tiny little window and a whole lotta mirrors — not easy. What Antonio did by adding a rich, bright mossy green and zoning the room into two different task areas was smart. Using this long room's grandeur to the homeowner's advantage was key to this room's successful transformation, and I think Antonio accomplished that. Where I think Antonio missed some opportunities were the headboard, the window treatments, accessories and a couple of spatial composition possibilities. A taller, sexier headboard, working its way up to the inconvenient window that he covered, along with a custom roll, could've balanced out the soft side of this room, which feels a bit sharp at the moment. A matching embellished roll on the opposing side of the room would have brought the eye over to the desk/TV area a lot more gracefully. Simple throw pillows, books and the life details are missing a bit in this space.
As the most intimate rooms in the house, it's good to make bedrooms own that title immediately and outright, no matter what their style. Spatially, if Antonio had closed off the L shape to the bathroom and turned that into the closet/changing room leading into the bathroom, he could've gotten rid of those mirrors altogether, simply placed the bed against the short end of the room and had a lot more space to play with. As it is now, I think the room is indeed a big improvement.
In A Tiny Space, Go Vertical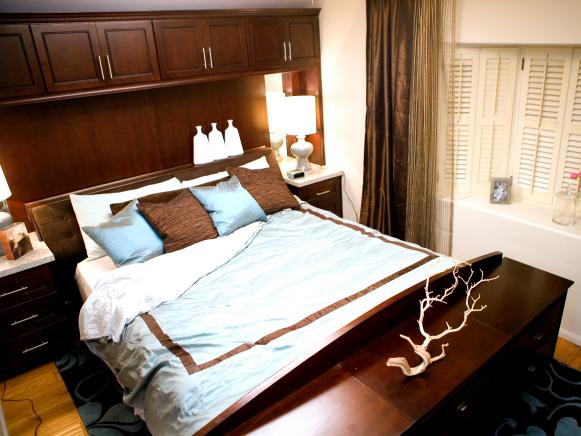 Small Bedroom With Dark Wood Furniture
This bedroom maximizes space by placing the dresser at the foot of the bed. "The downside to so much of the same wood — cabinetry, bed and dresser — is that it starts to get monotonous," explains designer Candice Olson.
A tiny master bedroom indeed! There are a lot of storage issues and floor space issues in any tiny space, and in knowing that, I think Dan did the right thing by going vertical. A great trick for space-saving in a small bedroom is also placing the dresser at the foot of the bed, and Dan has definitely done his homework. What I can't get over, though, is that these are the exact same cabinets and counters from the kitchen: it almost feels a bit like leftovers were chosen to furnish this space. Changing finish and stone would have helped immensely, and while vertical storage is great, perhaps open shelving, delicate displays and lush textural displays instead of the heavy envelope of dark wood could've taken a little bit of this RV aesthetic and really translated the space into a true tiny master suite.
The bay window is a lovely architectural element in the room, and lightening it up and framing it with beautiful window treatments was a good idea. We need all the light we can get in a small room. The bouquet of tulips is a wonderful accent, and I wish he could've brought that blush in as another accent color as well.
Mirrors are our great illusionists, and by placing them behind the lamps, Dan is elongating these tight quarters. Well done!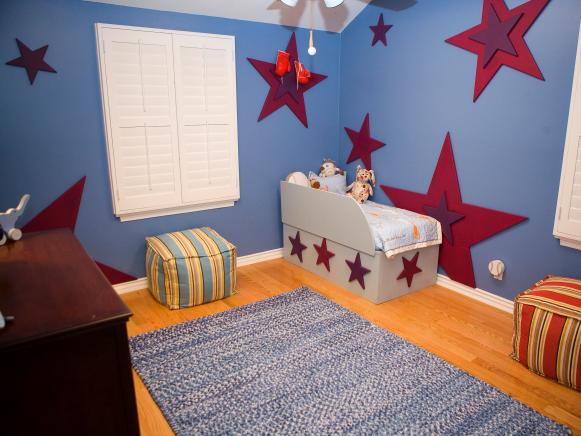 Kid's Bedroom Filled With Color
"As graphic and exciting as this room is from a color and pattern perspective it falls short, very short, on function," explains designer Vern Yip. "Kids come with a lot of junk — bright red, yellow and blue plastic brain-forming junk that needs to go somewhere. Bins, baskets and buckets are every parent's savior when it comes to conquering kid clutter."
A dynamic wall treatment brings this room into the right frame of mind. For a 2-year-old, stars are just about right, and I enjoy the play Antonio demonstrated on the walls through color, shape and dimension. He was on the right track, working his way down to the woven rag rug and the beautiful, thickly piped cubes. Then, I think, Antonio took a little nap and didn't come back. Where are the toys? The window treatments? The storage options? Um .... What makes me mad is that I know how good this room could've been had he simply finished. A great start to an unfortunate finish?
Be Imaginative As Well As Functional
Perfect room for a teenage girl. This casual but luxurious style is basically what all we ladies think we're about at 13. Velvet is a fabulous fabric for window treatments: it's regal, feels a bit more
grown up and, yes, it's a little flirtatious. Too bad he gave this girl high-water drapes! They are not quite reaching the floor ... ugh. The raising of the bed with extra storage space and a pullout desk is brilliant for another small space Dan had to deal with. On the color front, I wish he could've stepped out of the box a bit and explored beyond the lavenders and pinks, as it is in the rest of the house and is a bit contrived for this demographic. Taupes, charcoals, yellows and Kelly greens are just as femme but aren't as expected. While I think Dan steps out of the box on a functional level often with his design, I keep wanting him to deliver the imaginative aesthetics he
brought to us with the nursery. It's in him; it just selectively chooses when to make an appearance.
Don't Be Afraid to Go Casual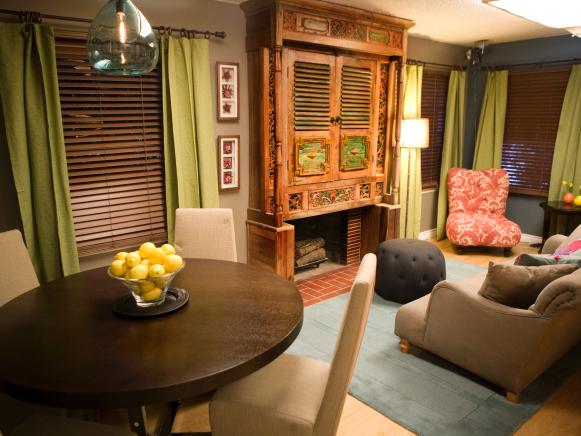 Living Room With Grand Fireplace
"The sofa positioning in front of the fireplace and television is a logical choice; however, it creates an unappealing "hallway" behind the sofa, wasting valuable space," explains designer Vern Yip. "A console storage table behind the sofa would help anchor it in the space and provide a surface for table lamps."
Yes! Here is my Antonio!! Thinking on all fronts, details addressed, adventuresome use of color, beautiful marriage of vintage and contemporary, and some wonderful pieces that really pop out of the frame. Let's start with deconstruction of a vintage armoire and turning it into a mantel and fireplace surround. This piece grounds the colors he's used in his rooms, colors that, frankly, I would have never seen coming together in a million years ... but it works! It grounds the slate blue, sandy beige (surprising, Antonio), pear, fuchsia, red, graphite and bright yellow — et voila! We have a room that feels richly enveloped and accented through its palette, gorgeous slipper chair, tufted ottoman and pops of lemon but extremely casual through use of linens, low seating and cropped family photographs — a nice juxtaposition. I think fabric is Antonio's Kryptonite, but for once, I see him digging into the challenge. His window treatments are simple but fitting; the modern sphere of an ottoman with its vintage-style tufting and the classic slipper chair form with a contemporary fabric covering are some of the best points of the room. Antonio's spatial composition gives the homeowner a room that has two defined living areas (dining and living room), while the back of the couch now creates the hallway for flow of traffic that was missing before. I like this room; I like that it pushes how we think of color and the whole idea of what is casual.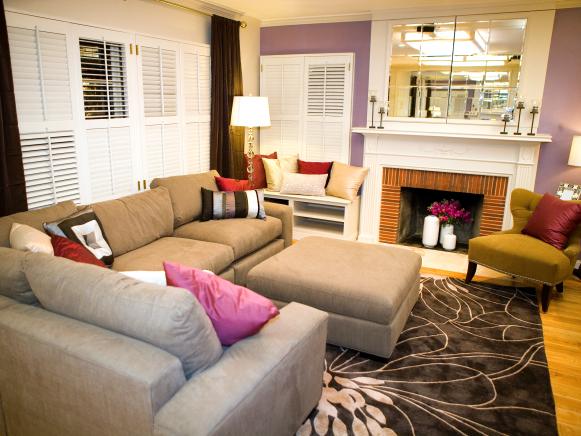 Living Room With White Shutters
"The mirrored doors above the fireplace add depth and interest on their own; the fact that they conceal the TV is a bonus," says designer Vern Yip. "The severe lines of the shutters are softened by simple drapery panels that also help frame the large sectional.
A great solution for what seems to be a homeowner with traditional tastes. The sectional placement really opens up the whole floor plan by facing the focal wall as well as the dining room; it gives the whole room a larger sense of grandeur. Covering the television with a sliding mirror-fronted door is better than looking at the TV over the fireplace, but when it's repeated on the opposing wall, it begins to look a bit inexpensive instead of interesting. When one material is used over and over again throughout a house, what it appears to viewers is as if there were a big closeout sale somewhere. And right now, I'm seeing the same paint colors, the same throw pillows and now the same mirror tiles on multiple occasions throughout the house. I wish Dan could've pushed the shopping a bit so his picks could match the power of his true creativity. The area rug was a great selection for the space — plush, femme — and grounds the darker hues of the room in a lovely charcoal. The dining area is a lovely thought but, if turned the other way, could make better use of such a narrow space.
Balance Different Finishes
Gorgeous! I think this is Dan's best room in the house. The dark cabinets are well balanced with his selection of neutral granite, a highly textural backsplash and a light-colored floor. I love the sunken counter beneath the window; its odd height welcomes creative displays or seating options. It looks as though everything was well executed and well thought out in this odd L of a kitchen space. I missing a little soul, though: kitchens are sexy and food is such a beautiful, sensual medium that I wish I could've seen how food could live in this space a bit more thoroughly. What I mean is, show me a big, beautiful cutting board next to your pile of red onions, a strong and contemporary presentation of knives, put the toaster away and give me ladles, whisks and beautiful cookware. The accessories of the kitchen are so functional and so beautiful, I wish they could've made it into this space. The good news: Dan really did all of the hard work, and he did it well. It's now up to the homeowner to finish the personal details.