Genevieve's Design Tips: Design a Hollywood Home
In episode one, the Design Stars made over their gorgeous Hollywood home. See what Genevieve says they did right, did wrong and how she could have done it better.
Accessories Should Never Be an Afterthought
Fireplaces are easily one of the most popular focal points around which to base a room. What I thought was so brilliant about the use of this particular fireplace wall was the unexpected hot-pink ducks. Not only do they add a beautiful whimsy and a powerful accent color, but they are using the most important space in the room, the vertical.
This room is enormous, and this simple decoration really made the space for me.
The large area rug and chic sectional really anchor the room in a manner that doesn't feel overly heavy or clumsy — with such a large space, that is an easy trap to fall into, and this trio avoided it. As a secondary focal point, the lattice-sprayed graphic atop the bubble wrap, is simply stunning. The playful vibe started with the flocks of ducks continues with this inventive use of an ordinary material. Done incorrectly, this wall could easily feel too "crafty," but I feel this was done just right and adds to the primary focal point.
What didn't work for me was the selection and distribution of accessories in the space. Accessories are usually the smallest elements in the room but often some of the most powerful; they should never be an afterthought, and this is what they feel like to me in this living room. By gathering 90 percent of your accessories on one wall, like a collection of anything, they lose their power. By playing with scale, color and varied styles, the eye dances around the room instead of getting stuck on one accent wall.
The secondary seating in the space is also a bit confused: while the couch works perfectly on its island in the middle, the stray accent chairs around the room create too many solitary moments. I love a good reading chair in the corner in its beautiful little world, but when there are three or more solitary opportunities, there is too much competition and not enough function. The built-in window nook at the end of the fireplace is a good idea — it needs a bit more to be a fully functional nook. A small coffee table or an ottoman along with some modular seating could have made this a truly sweet conversational area. Overall I think this space was a success for me — you had me at the pink ducks.
Push Design to New Territories
Ahhhh, the old blue-and-brown combo, indeed a familiar sight. While I think this color palette is pretty, it's also entirely too predictable. We've seen this combination for years, and unless the designers are going to push this palette into a new frontier of shades, of possibilities, my first glance at this space is a bit of a boring sigh. Yes, it is safe and also pretty; we've seen this room many times from many different people. As designers, we are in charge of reinventing and pushing the familiar to new territories. I'm left at a place I've already been in this room.
While I think symmetry is something to keep in mind in every space, overdoing it with three of the same bed, with the same throws, comforters, accent pillows, headboards and benches is a bit much. Play with that vertical and get creative with the headboards. Losing the swag canopy and creating a tall tufted headboard in a powerful fabric or repurposing something from architectural salvage would've been a great opportunity here. Mixing patterns and creating a trio of beds that connected through different elements and pattern instead of just matching them would've created a richer, more complete space.
I think the delicate lighting above the bed was a nice idea, but the visible cords keep me from loving them. Individual storage for each roommate is great as well, as a large dresser on the opposing wall is necessary in any bedroom — I'm glad they addressed this. I love the pair of lamps they used to light and the small pause of beauty created as a display. The window treatments are well done and embrace the vertical with the stripes.
I wish this duo would've brought in a nice area rug to ground the space a bit more and would've focused more on the distribution of the weight of the room so it felt a bit more balanced. As it is right now, all the weight is on the wall with the beds, while we have a lonely wall with a tiny clock and a mirror. Overall, it's a safe, pretty room that leaves me wanting a whole lot more.
Don't Be Afraid to Be Playful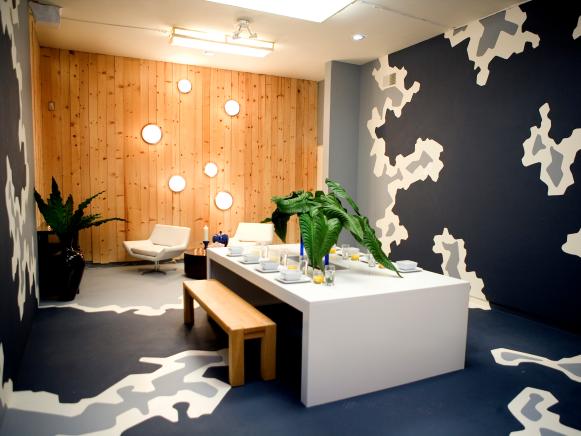 Abstract Mural in Modern Dining Room
For one of the HGTV Design Star challenges, an eclectic dining room features a fun abstract mural that flows from one wall across the floor to the other wall. A large white table is paired with light wood benches for dining.
Wow! This is a dining room that is packing a punch! By using a darker graphite color as the base in the dining room, I think, it immediately creates a sense of sophistication contrasted by the playfulness of the graphic that cascades off the wall across the floor. While this would be a very bold and almost difficult pattern and style to live with permanently in any home, that was not the task they had to design for. Being that this is a temporary space for a group of designers for six weeks, I think this really suits the problem they needed to solve.
The large cut-out dining table was well executed; however, for the number of people they needed to seat, it could've easily been extended to seat the whole cast. What I feel the space is really missing is a grounding pendant light that would add note of elegance as well as task lighting for the space — how does one eat in the dark?
The lounging area in back adds warmth to the cool graphic with the vertical wood pattern. The side table could have been put to better use by dressing it as a buffet; every dining room needs this space for extra storage as well as room for food. The round wall sconces also contrast nicely with the craggy lines of the graphic in the front half of the dining room, though tea lights feel much like a TV design faux pas. They are a cheap filler to an otherwise fun and very well-executed space.
Take Advantage of Windows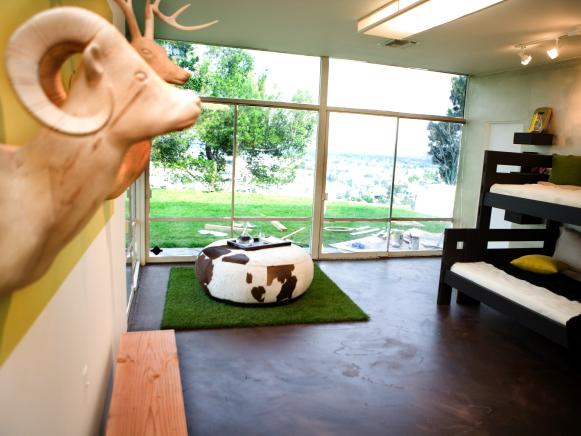 Stylish Bedroom With Adult Bunk Beds
"I love the sense of whimsy that (Design Star contestants) Jen and Jason have created in this room, from the adult bunk beds to the 'green pasture/cow' vignette," says designer Candince Olson. "It's also a room that is very current and on trend — typography and faux-taxidermy are hot, hot, hot right now. That said, this room is very concept driven and I found it needed explaining in order to understand it. No room should have to be explained — the design should speak for itself. This room also presents itself as very bland. Placing the metallic letters and deer heads on a dark charcoal wall would have packed more punch from these great decorative elements. This room has a great corner-window view of the grounds; the large cow ottoman is fun but not so functional for this area. Positioning the beds at the back would have allowed room for the creation of a more functional and comfortable lounge area with a loveseat and chairs placed around the fab cow/green pasture at the window. This room has no clothing storage whatsoever. A long dark dresser would anchor the area below the wooden heads and prevent those horns from being used as kitschy hooks for socks and undies. Gauzy, barely there sheers that pull across the window at night would add some softness by day and prevent the feeling of living in a fishbowl by night."
Typography and wooden taxidermy? Beautiful is what I think at first glance. This room feels very happy, spring tones and a minimalist approach to the entire project. Less can be more when done very carefully. I think there are some definite hits as well as misses in this bedroom/lounge. While the wooden taxidermy is a beautiful, contemporary focal point backed by a lovely spring-green box, the bench below leaves me wanting to sit somewhere else. A leather or fabric upholstered piece could've kept the same style present but would've contrasted nicely with the wooden medium on the wall.
Painted floors can be wonderfully efficient and incredibly chic; they just need to be done with the right paint (a marine paint works best) and all the glue from previous floors need to be completely removed or you're never going to get that perfect plane. I think the painted floor could've been executed a bit better with more attention to detail as well as a color choice that differed more from the original shag carpet, perhaps a storm gray or dove.
The most valuable real estate in this space is the area in front of that gorgeous window. While I really like that ottoman, I'm not sure what the designers what us to do in that space as there is no additional seating or purpose beyond the aesthetic. The faux grass is a nice textural and color accent — enlarged to house modular seating and really take advantage of that window space, it would have been great.
I have no problem with bunk beds for adults barely sleeping in six weeks of design competition, but placed where the desk is now, moving that desk and enlarging it to fit the wall where the beds are now would have been a better composition, in my opinion. Though the desk chair is right aesthetically, it doesn't function with the present desk as no one's thighs are 3-inches thick; something adjustable would've worked much better.
Overall, I really liked that Jen and Jason played with their space; they took some risks, some paid off and many didn't. If you're going to go minimal, make sure every piece in that space functions perfectly for the tasks at hand. It's a lot of pressure to accomplish this style; there is not a lot of room for error.
Good Concept, but an Execution Fail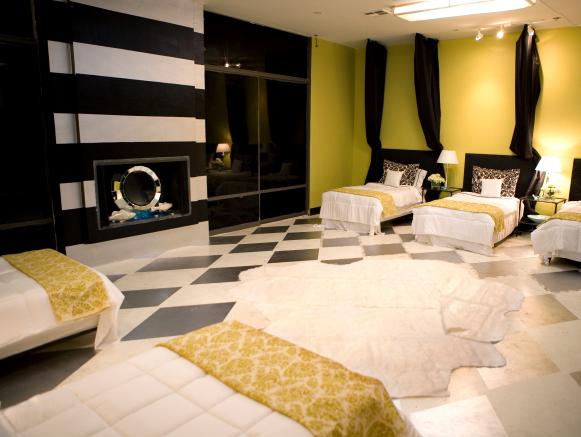 Hollywood Glam Bedroom Design
"This room has some really beautiful moments: the bold, striped fireplace commands attention; the combo of zebra, white leather, mirror and crystal set against a moody black backdrop is pure Hollywood glam; simple, two-tone damask patterns add a sense of tradition and comfort that tempers the sharp lines of the very modern wall and floor patterns," says designer Candice Olson. "However, I think this is a case of both too much and too little. Too many patterns — stripes, checks, zebra and damask — all scream for attention. Undertaking such an ambitious painted floor with very little time prevented Design Star contestants NataLee and Tashica from really finishing this room, and it shows on so many levels, from the shredded bedding to the perplexing mirror/aquarium placement in the fireplace. I would have simply let the striped fireplace graphic be the star; painted the floor white to contrast the black and yellow walls and brought in a large zebra-patterned carpet for interest in the center of the room. This duo's predictable perimeter bed placement reminds me a bit of summer camp — a little more swanky, mind you. I would like to have seen a few beds dressed as sexy daybeds positioned in the center with cocktail tables beside and a spectacular chandelier above, very LA-luxe (in much less time)."
What an amazing room to design! Beautiful picture windows flanking a gorgeous fireplace focal point, incredible vertical lines to play with — accomplishing this space in the time allotted, no easy task.
Conceptually, I love where this room could've gone: the color palette is balanced and a lovely, classic homage to the era of the home. The idea for the patterns in the floor and the fireplace could've looked incredible if executed well; however, this room really missed the mark on almost every level. The beds are lovely with their complementing patterns of textiles — the gold married with black and white is timeless. Like the blue bedroom, I wish NataLee and Tashika would've played a bit with the bedding as it is the jewel of the bedroom; matching is not necessary, complementing is. Vary the bedding styles, fold that comforter down and show a beautiful damask sheet, bring those headboards up the wall in varied styles and lose the taped-up fabric from the ceiling.
I adore the black accent wall and feel like the display was well executed; it's really the one area of the space that feels finished. Beveled mirrors and floral with a zebra throw is a lovely display; now if only that comforter had a duvet cover on it, we would've started to cook. The floor pattern is great, the color perfect, yet all of the pulled-up paint from the floor takes away its entire effect.
An area rug was indeed needed, and the placement is great, yet it's just not a rug: it looks like a piece of fabric thrown on the floor. A great chunk of sisal over embellished shag could have solved this dilemma a bit more elegantly. The striped fireplace is stunning, yet I can see the crooked paint lines and am a bit confused by the fish in the fireplace. Use it as a true fireplace and tape those lines out exactly to get the proper effect intended. Overall, a lovely concept in theory but a really big disappointment in execution.