Give Your Clay Pots a Makeover With These Easy Ideas
Don't get me wrong, I'm grateful for everything you've done for me. You've invited me into your home and trust me to hold your wonderful plants, flowers and herbs. That's a big honor. But I think I speak for all your clay pots when I say we've been in a rut lately and would like to try something different. Maybe you didn't know we can do plenty of other things outside the garden, but we're lots of fun in the kitchen, bathroom and even the bedroom. Here are a few ideas, but you're so creative I bet you can think of even more. Did I mention how smart and funny you are, too?

Sincerely,
Tara
Tara Cotta (and the rest of the planters)

By the Numbers – Why nail metal numbers into the wall when you can paint your house numbers on pots and stage them close to the front door? It's an eye-catching design element whether there are plantings in them or not.

That's a Crock! – Set a pot or two beside your stove and use it as a catch-all for the utensils you use most.

Turn the Tables – Getting married this year? Then let us plant this idea in your head: Tiny terra cotta pots make great bases for table numbers or wedding favors. Painted gold and filled with bright aquarium pebbles and succulents, they make a great table centerpiece or favor.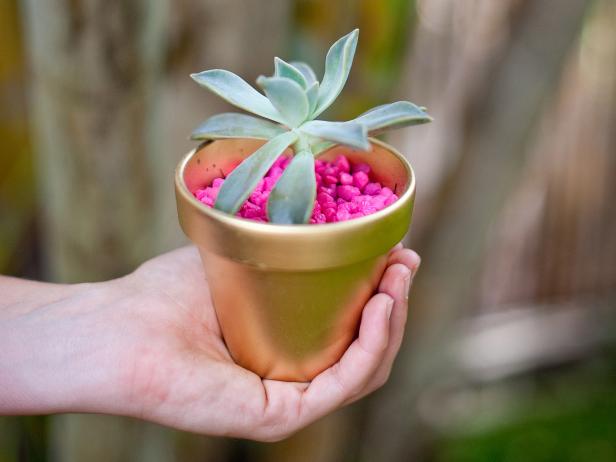 Succulent Favors
Each guest at this Florida bridal shower for HGTVGardens community manager Mallory Colliflower took home their own miniature succulent. The bride's sisters spray painted miniature terra-cotta pots with metallic gold paint and added hot pink aquarium rocks for a punch of color. The shower was hosted by the bride's sister, professional photographer Courtney Ortiz.
Image courtesy of Courtney Ortiz
Now Serving – A cake stand made of clay pots? We are eating this idea up! Glue or caulk the bottom of a 10-inch pot base to the bottom of a 4-inch pot, spray paint and seal. It's a piece of cake!
Edible Ornamentation - Small unglazed pots can make great, garden-themed vessels for puddings, cupcakes, brownies and other sweet treats.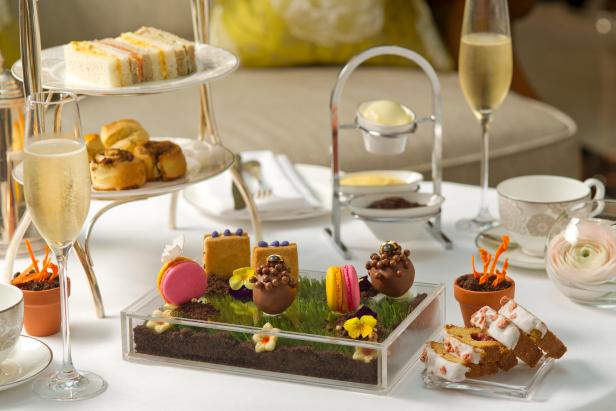 Glorious Garden Tea
During the Chelsea Flower Show the Conrad London St. James hosts a Glorious Garden tea featuring floral-infused sweets and mini-veggie savories including carrot cake baked in a tiny terra-cotta pot. To find out about more themed teas in London, head to the website Afternoon Tea UK.
Image courtesy of the Conrad St. James

Rustic Chic – Lend the right balance of refined and rustic by using whitewashed terra cotta pots filled with festive ornaments for instant holiday decor.

Hold That Thought! – Enhance an outdoor picnic or party with terra cotta pots used for holding utensils.