Designing an Industrial Modern Los Angeles Loft
Peek inside a TV and film producer's 1,200-square-foot industrial modern loft in Los Angeles and steal his best design secrets.
Mark Taylor moved from New York, where he was born and raised, to the West Coast in 1995 for his first producing job. His first L.A. home was a 1920s bungalow that had been renovated by a friend who is trained as an architect and works as a production designer for film and TV. "The timing was impeccable because he was leaving town for three months to work on a film and asked me to housesit. It was incredibly small, but everything was so well thought out that it never felt cramped. Living in that space was inspiring because there was so much thought behind everything."

Living at the beach makes everyday life feel like a vacation, but the amount of time spent driving into Hollywood for work and a social life for someone used to riding subways, buses and taxis was unappealing. Mark notes: "The biggest difference between New York and Los Angeles, aside from the weather, is the car culture. In New York everyone carries a bag stuffed with umbrellas, books, water bottles and whatever else you'll need in the course of a day. But in L.A., your car is your purse." After three months of housesitting in Venice, he packed up and moved 18 miles east to an older Jewish neighborhood known as The Fairfax District, which was slowly being gentrified. "No matter where you live in L.A. there's a lot of driving, so I decided that I wanted to live as centrally as possible. Whether I'm going to the beach, the valley, downtown or the airport, it usually takes half an hour. Also this is one of the neighborhoods in L.A. with strong diversity. There are old people, hipsters, Hasidim, gays, families, Russian and Ethiopian immigrants, all living side by side. It's a bit of NYC on the West Coast!"
After a few years renting a one-bedroom in a historic 1936 courtyard building, Mark decided to look for a home of his own. "I spent a year looking at houses in the hills and then my office moved from Century City to Santa Monica. So I looked in Venice, but the area had become too expensive, and I didn't know how long I'd be working on that side of town. After seeing so many houses in so many neighborhoods, I realized I didn't want a house and all that comes with it. I was traveling a lot for work, so an apartment that I could simply lock up and walk away from for weeks at a time made more sense."
The building was still under construction when he first visited the space, but he immediately fell in love with the 1,200-square-foot, three-story, one-bedroom plus den, two-bathroom modern loft built by architects Pugh + Scarpa. The producer adds, "I still can't believe I spent so much time looking at houses all over the city and ended up in an apartment six blocks away, on the exact same street."
Although the five-unit building was still under construction, after seeing the interiors of his would-be loft up close and personal, the producer was architecturally smitten. Mark specifies: "The first floor has a glass garage door, which rolls up to the ceiling and separates the living room from the patio. When I first entered the space, it was just a gaping hole with plywood and tarps flapping in the breeze, but when the developer described the door, I was sold! It's a true embodiment of California indoor/outdoor living. Since the weather is so mild, I raise the door year round." In addition to the glass garage door, there are numerous details that make the space stand out from typical condos: polished concrete floors, a floating steel-and-wood staircase, skylights in the master bathroom and at the top of the stairwell, a first-floor bathroom with sliding frosted glass walls and ceilings that range from 14 to 20 feet.

With the keys to his new home in hand and his boxes all unpacked, Mark went about designing the interiors himself. "I'm one of those design obsessed people who re-arranged furniture as a kid and drove my parents crazy with 'suggestions,' but I didn't anticipate how cold and uninviting the loft would feel at first. It has 20-foot ceilings, and the developer went a little too far with the industrial elements to keep costs down. There were fluorescent tube fixtures in the bathrooms and kitchen (like you'd find in a garage), industrial carpeting on the second and third floors, and everything had been painted a stark, cold white. It was like living in an empty swimming pool. I decided to live in the space for a few months before doing anything so I could get a feel for the space and learn how the light changes at different times of day."
Though he spent a lot of time looking at new furniture, Mark started with classic modern pieces by George and Ray Eames, Corbusier, Milo Baughman and George Nelson. "Some of my favorite pieces are from the apartment I grew up in. My brothers and I were lucky to be gifted with some beautiful furniture after our parents split up. I'm really confident in my tastes and very comfortable mixing high-end and low-end furnishings. My place has new and old, expensive and cheap all jumbled together, but I'd rather have an empty room than buy anything I don't love and want to live with for years."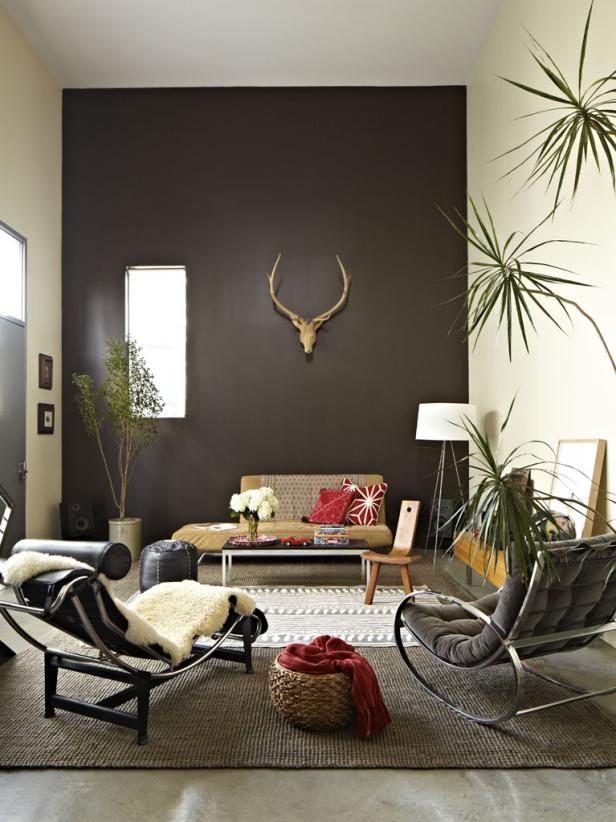 Eclectic Living Room with Chocolate Accent Wall
A chocolate brown wall in this living room ties together an eclectic array of furniture, including two metal upholstered chairs, a low tan sofa, tripod floor lamp, potted trees and a mounted wooden deer head sculpture. Other decor includes a black leather chaise longue with chrome accents and a faux fur throw, as well as a gray tufted reclining chair.
Though he's put a lot of time and effort into furnishing his home, he doesn't consider any of it to be precious. When he initially adopted his 8-month-old boxer/pit bull/catahula mix named Lulu, she was his first dog and he feared the worst. "I'm pretty easygoing and grew up with cats, but when I got Lulu, I worried about my home becoming a kennel. She's allowed on all of the furniture except my bed and a couple chairs but has never damaged a piece of furniture, article of clothing or pair of shoes. She had a couple pee accidents and chewed one lamp cord when I first got her, but she quickly learned the house rules and has been a well-mannered lady ever since."
In addition to furnishings, Mark also added color in small doses throughout the loft. All of the walls are painted Dunn-Edwards Navajo White, which changes color throughout the day and subdues the intense California sun. Using one color throughout also creates a visual flow between the interconnected levels. "The only doors are on the bathrooms, and you can see from one level to the next, so I wanted to create as much cohesion as possible." The focal wall of the first floor is painted a shade of brown called Black Walnut from Dunn-Edwards. "I wanted a brown that was almost black to temper how bright it gets during the day and to feel really subdued at night." For a burst of energy in his neutral master bedroom, he painted the wall behind the bed Red Contrast, also from Dunn-Edwards. "Though red is one of my favorite colors, I prefer it as an accent because it can easily become overwhelming." But the customization didn't stop with paint. Mark turned the 16-foot-wide, 14-foot-high wall of his master bedroom into a floor-to-ceiling library-style closet. The frame and doors are made from bamboo plywood and the interior is an off-the-rack closet system he ordered online. The upper cabinets are accessible with a rolling library-style ladder. Of all purchases for the home's design, the closet was the biggest splurge and required the most planning. Mark notes: "There's not one closet downstairs, so I needed to build something upstairs that could hold everything: clothing, linens, art and all the other household items that need a hiding place. Memories of the time spent in my friend's bungalow in Venice reminded me to keep only what I needed and loved. Having only what's necessary, but out of sight and well-organized, is incredibly liberating."
Mark is getting more than his fair share of use out of the industrial space. His favorite part of the loft is having friends over to hang out. And although he loves almost everything about his home, there are a few things he'd change. Mark says, "Although I like the simple aesthetic of the kitchen, I've outgrown the limited counter and storage space. I've never been much of a cook, but I've been taking classes and could use more functional space. I plan on replacing the dining table with an island and counter seating around it." Of course there's one thing he wouldn't change: trading New York for Los Angeles, palm trees and all.