Designer's Q&A: The Art of Design
Architect Andreas Charalambous looks at a room with an artist's eye -- and the results are true masterpieces.
Light, angles, color, space — the elements that go into designing a beautiful and welcoming room are the same that go into creating a magnificent painting or photograph. Architect and artist Andreas Charalambous creates distinctive spaces that are livable works of art — a spiral staircase in a perfect nautilus-shell curve leads to a downstairs yoga room; a ten-foot tall photograph of an angel sculpture against the sky mimics the cloud formations outside a loft's giant windows.
The ability to look at a room with an artist's eye can help even novice designers see differently. "It's part of what we do. Not consciously, but it's always there," says Charalambous, principal architect of Forma Design in Washington, D.C. "We are not decorators who come in and focus on the color of a sofa or a swatch of fabric. The first thing we do is look at what the house is all about and what's appropriate to the house. The architecture is already telling you what it needs to see happen."
Here, some insight from Charalambous on redesigning spaces with an artist's eye:
1. See what your room really needs.
Look at a room the way a sculptor looks at a block of marble, trying to envision what lies beneath. On one project, the clients wanted a streamlined, zen feel to their traditional Colonial home. Charalambous removed the crown molding throughout the house except in the living and dining areas, where the crown molding, tailored furniture and fabric window coverings gave the rooms the more formal feeling they demanded.
2. Layer your room the way an artist layers paint on a canvas.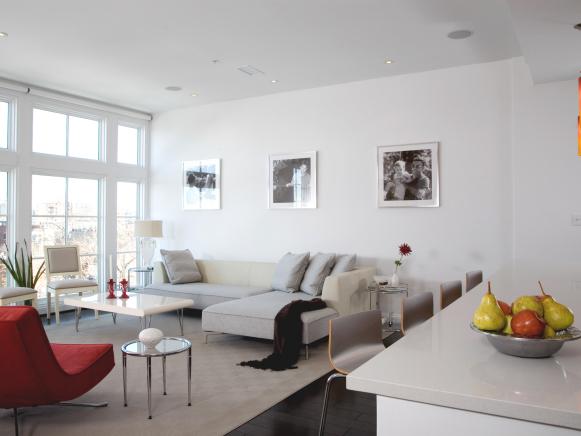 Contemporary Monochromatic Living Room with Pop of Red
A single dash of red from the side chair animates this quiet, subdued living area. The two-tone sofa plays warm against cool for a contemporary offbeat palette, while a trio of framed black and white photos hangs above.
First, make sure the architecture works. Then, focus on the interior design. "Choose furniture so the scale is correct," Charalambous says, "laying it out so you have views, and flow. Then choose the finishes on the furniture, then the art and accessories. After that, choose the paint colors. Design is a process."
3. Use color very carefully.
Charalambous worked on one project in which the entry level of the home was all red, the second level all in brown, and the third level in green. "But all the colors were the same values and same hues, so they worked well together." In his own home, a duplex apartment in Washington, DC, all the walls are painted in one of two shades of the same cream color. Because the space also functions as a gallery to show his paintings, "I wanted the envelope to be neutral to let the art itself do the singing."
4. Get rid of "visual noise."
"This is a problem I see in a lot of homes," Charalambous says. "The client likes antiques, so the whole house is jampacked with antiques. Your eye goes from one to another to the next and it gets tired." He suggests taking everything out of the room and then putting in furniture so that it works with the room's basic architecture, a piece at a time. You can also eliminate eye clutter by carrying flooring, paint colors and furniture finishes from room to room. In his own apartment, wood furnishings and even picture frames all have the same dark finish, the flooring (a light hardwood) is the same throughout the house, and the same burnished concrete forms the countertops in the kitchen and baths.
5. Pay attention to light.
Just as light informs all art, from painting to photography to sculpture, so does it affect physical spaces. "If you wash a house consistently in the same value of light it puts you to sleep," says Charalambous. "You need accent lighting to bring out special things you want to show off." He prefers to have all lights on dimmers, so the intensity can be changed.
6. Create art for the ages.
In other words, don't follow trends. Charalambous is often told that his designs have a "timeless" feel. How to do that? Focus on the specific issue the room demands, whether it's flow or lighting or clutter, and solve that problem; ignore whatever the latest design craze may be. "A well designed space that feels good to be in and has good proportions and good lighting is not going to go out of fashion," he says.
You've heard it often enough, but Charalambous provides a compelling reason. "Clutter absorbs energy, and nobody has too much energy to give away. If it's not immediately needed, put it away, get it out of sight."
Kathy McCleary is a frequent contributor to HGTV.com. Read more of her Designer Q&As here.