5 Designers' Favorite Furniture Trends for 2018
Velvet, mixing materials and the return of game tables are among the new ways to update rooms.
Look around your room. What's missing? If it's a piece of furniture, check out these designer takes on interior trends for 2018 before you start shopping or embarking on a DIY project.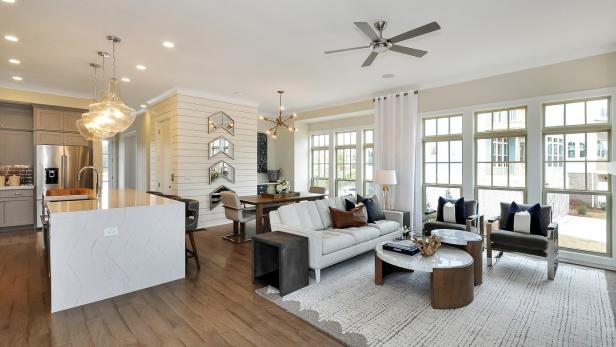 Modern Farmhouse Sitting Room and Kitchen Accented with Marble, Concrete and Wood
A white, brown and gray modern farmhouse style sitting room and kitchen. A white couch, concrete table, gray and metallic arm chairs, white and gray rug, a pair of marble and wooden tables and white lamp fill the sitting room. Shiplap adorned with herringbone mirrors decorate the wall next to a wooden table with chairs. A marble island centers the kitchen with a trio of glass pendant lights.
She's excited about: Raw wood mixed with cement for an edgy artisan look, furniture with Lucite legs, sheepskin on the tops of benches and more dramatic colors. For example, she used bright orange swivel chairs in a contemporary condo in downtown Cincinnati.
"The mid-century modern pieces are very in this year as well," she says.
For example, her firm, Amy Youngblood Interiors, paired a brown leather and metal Barcelona chair and Lucite footstool in a recent room.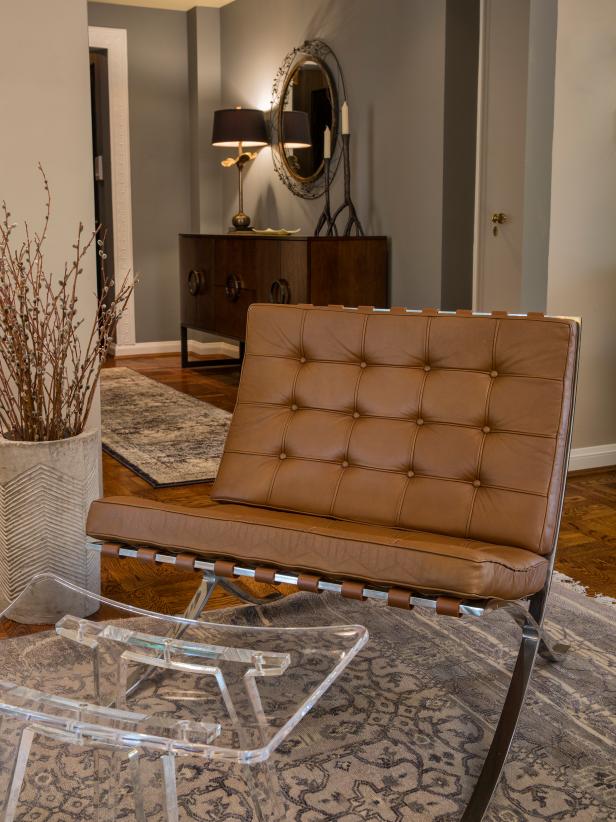 Barcelona Chair and Lucite Footstool in Traditional Room
Mid-century meets modern with this brown leather and metal Barcelona chair and lucite footstool. A traditional neutral rug lies beneath while a console table along the back wall mixes more mid-century touches among a traditional lamp, pair of candles and circular mirror.
She's excited about: A love affair with color, especially blue, and the return to game tables.
"I think it's a part of a resistance to technology," says Howard, who owns a design firm and two boutiques — Mrs. Howard and Max & Co. "I see a lot of my clients using puzzles and games and squeezing game tables into breakfast rooms and family rooms and using them."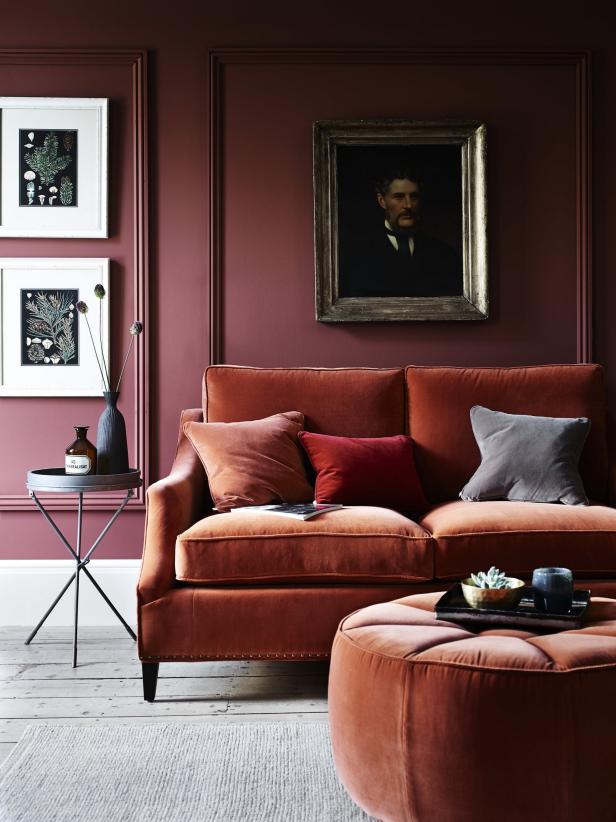 Contemporary Living Room with Velvet Sofa and Ottoman
Deep, wine-colored walls, along with the rust-hued velvet sofa, ottoman and coordinating accent pillows, give this living room a rich, contemporary feel. A metal tripod side table keeps things simple, holding only a vase and glass jar, while a traditional portrait, done in oil, and two botanical prints add interest on the wall.
She's excited about: Velvet—especially in warm, saturated colors like watermelon, rust and wine—and fringe. "Recently, I used it around the bottom of a leopard print settee and it really took the piece to another level," she says. "I plan on using it more in 2018."
She's also seeing classic chairs reinvented in bright colors, like the porter chairs by Brabbu. "I would put these around a rustic farm table," says Duckworth, owner of Duckworth Interiors.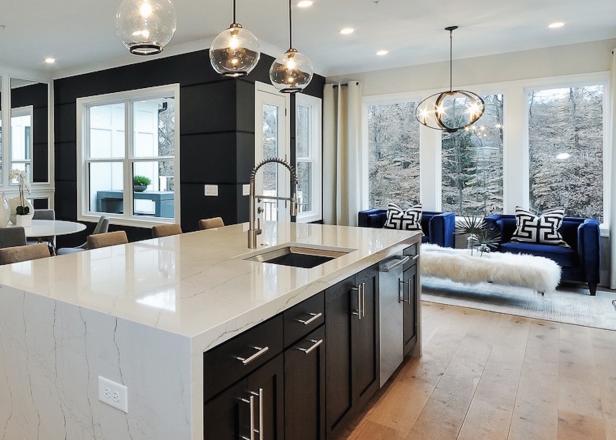 Contemporary White and Black Kitchen with Sitting Room and Breakfast Nook
A classic black and white kitchen opens to contemporary sitting and breakfast areas that incorporate colorful accents and varying textures. White waterfall marble counters cover the island's black cabinetry, as glass pendants hang above. In the sitting area, velvet chairs in a deep cobalt color, accented by pillows with bold geometric prints, sit in front of a trio of large windows. A smooth lucite coffee table is topped with shaggy, sheep's wool, and is anchored by a neutral rug. Mirrored panels in the nook reflect the room's natural light, and the white table and mid-century dining chairs add subtle modern touches to the classic space.
She's excited about: Raw, natural materials such as wood and concrete, mixing chrome with wood and coffee tables with marble or onyx. "Concrete, onyx and marble have a strong presence," says Nuessle, a designer with Pulte Homes.
Velvet, seen in statement sofas and club chairs, as well as drapery and accent pillows, also is at the top of her list of furniture trends for 2018.
"Velvet also lends kind of a nice, warm texture to the interiors and so I was surprised by really the velvet movement and the strong kind of graphic floral statements that are still going to be popular," she says.
Jason Oliver Nixon and John Loecke, Madcap Cottage
They're excited about: Patterns such as florals on upholstery and bold hues, such as green and yellows. "What I think you're seeing now is much more loosely interpreted floral," Loecke says. "They have more hand-blocked look to them."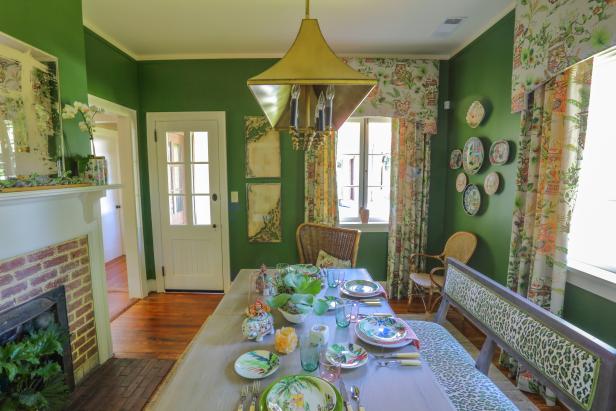 Dining Room with Asian Influences, Green Walls
Asian influences in this vibrant dining room mingle with a trendy leopard-print bench and wicker chairs tucked under a pale dining table. Floral curtains, brightly colored plates, artwork and a brass light fixture accentuate the green walls, conjuring a tropical feel.
There's also a swing back to decorator details, such as trim and pleating, along with more attention paid to the look of welting, flanges and zippers, say the duo, who own Madcap Cottage.
"There's a thoughtfulness to design now of 'Let's create some of that sparkle and differentiate ourselves," Loecke says.