Designer Q&A: 6 Ways to Jazz Up Your Home
Designer Andrew Flesher, the master of mixing it up, gives us a lesson in decorating with impact.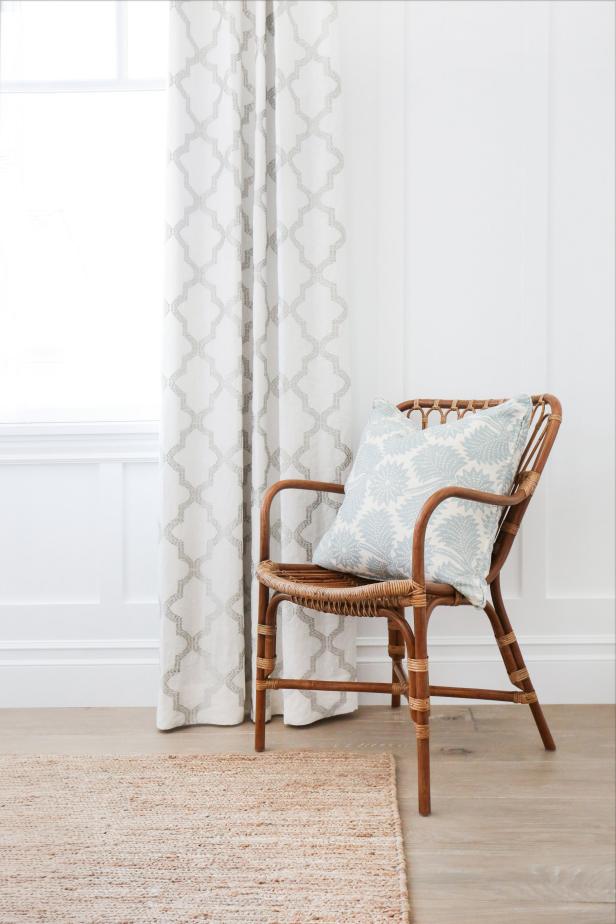 Side Chair With Blue Graphic Pillow
White on white makes a strong statement. Design by Blackband
Tessa Neustadt
White on white makes a strong statement. Design by Blackband
Do you ever walk into your house, look around and just feel bored? Admit it, once in a while we all long to do something more dramatic with that lovely living room or cozy family room — to make a statement of some kind, to decorate with impact. Andrew Flesher knows that feeling, and more importantly, he knows what to do about it. Flesher of Gunkelman Flesher Interior Design in Minneapolis, once lived in an all-white loft he designed — white painted walls, white cabinetry, white epoxy floors, white furniture. "You have to listen to what you like," says Flesher. "I know hardly anybody would have wanted to live in a white loft. I didn't care, because I loved it."
That may have worked for Flesher, who doesn't have kids, but can those of us who aren't quite ready for something as intense as an all-white loft still make a statement? Of course, says Flesher, whose credits include a spot on House Beautiful's "25 Top Young Designers" list in 2003. Here, his advice on how to jazz things up:
"What really makes a statement is when you have a strong concept from the very beginning about the direction you want to go," says Flesher. Too often, people will buy a sofa they love and then try to make their old armchair work with it, and then toss in Aunt Jessie's antique corner cupboard. Instead, Flesher advises, define a concept up front that you carry through all the way to the end of the design process. In his loft, for example, the dramatic architecture (high ceilings, a 50-foot long living room, walls of windows) cried out "art gallery" to Flesher. "My concept was to make a gallery and fill the space with objects, from furniture to countertops, that would act as art." Your concept can be simple. When he designed a bedroom for his then 8-year-old niece, Molly, her concept was straightforward: Pink.
2. Use materials in unexpected ways.
In Molly's bedroom, "I really wanted something unique and different," Flesher says. "I wanted to make a statement with color and material." So he took her favorite color, pink, and painted it in bright horizontal stripes along one wall, with intense tangerine orange stripes in between. He covered another wall with quilted green Astro-turf and silk daisies. "I used materials, like the Astro-turf, that were relatively inexpensive to create a big impact." Similarly, you could turn an old ceramic flowerpot upside down and use it as a drink table, or have a stand made for an antique tray to turn it in to a whimsical side table. "Use things that other people might not use, and use them in ways that are not expected."
3. Limit your color palette.
While it may sound contradictory, using fewer colors is actually a bolder move than using a wide range of color. "Sometimes the most effective rooms are just two colors," Flesher says. "Say you love blue and white. Do the whole room in blue and white and don't vary from it. Once you make that decision, stick with it."
Use the same fabric, whether it's floral or solid, on every piece of upholstered furniture in the room. "The furniture almost recedes, and then you notice the shape of the furniture itself," says Flesher. If you've got a patterned fabric, make a statement by using it in huge quantities. Once Flesher decorated a room entirely in Fortuny fabric, a hand-blocked yellow damask with a "mottled, very beautiful texture." The draperies and upholstery were all in the same fabric, and he even blew up the pattern for a rug in the adjoining room.
Intentional minimalism makes an impact, Flesher says. What doesn't: A room crammed with so much stuff you don't know where to look first, or a room that's spare because you're not finished with it and you don't know what to do. "Intention is when you have the right objects in the right places." When you buy items and bring them home over time, you lose the big picture, says Flesher. "It's easy to add one more thing and then add one more and before you know it, you've got too much. The eye has a way of ignoring things you've seen for a long time." Flesher suggests removing everything from all the surfaces in a room and then putting them back one at a time, in different spots. "Inevitably, you'll have stuff left over when you're done."
Just because you live in a classic 1930s Cape Cod-style house doesn't mean you need to furnish your home with traditional pieces. While Flesher says it's important to be true to your home's architectural style when doing anything to the shell—moldings, bathroom fixtures, kitchen—"you don't have to match your furniture to the period of the house. Many times, that's what makes it interesting, the surprise of seeing contemporary furniture in a Tudor house."