Behind every great designer is a lady of high style and discerning tastes — their mom. Our favorite designers share how their mothers influenced their style.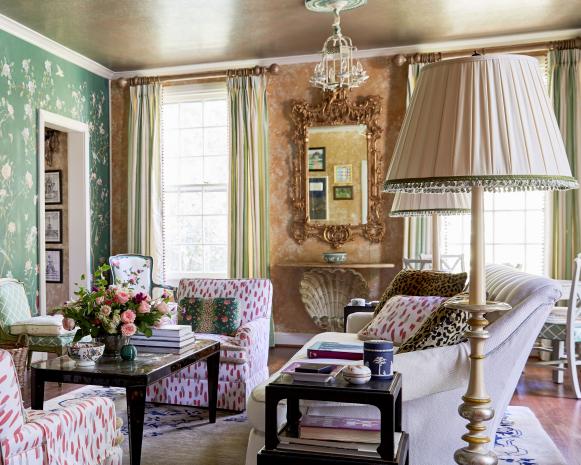 Antique Living Room with Eclectic Flair
The antique gold leaf mirror in this whimsical living room adds drama and 19th century opulence. The inviting space is elevated by a gilded ceiling, which reflects natural light and further brightens the print-filled room with sofas, arm chairs and wallpaper by Madcap Cottage.
How did you mother's design style impact your own aesthetic?
Erinn Valencich, Omniarte Design: "My mother has very eclectic taste and she adores antiques. But more than she loves the antiques themselves, I think she loves the thrill of the hunt — a beautiful dish or a new oil painting for the entry is so much more beautiful when it has a great story and a tale of bargaining. We had a routine every weekend: If it was Saturday, we'd stop at each and every garage sale in sight; if it was Sunday, we'd hit the flea market. These weekend trips spent searching for the diamond in the rough, which my mother would then bring home to clean, polish, paint, repair then display proudly certainly developed into my current appreciation of antiques."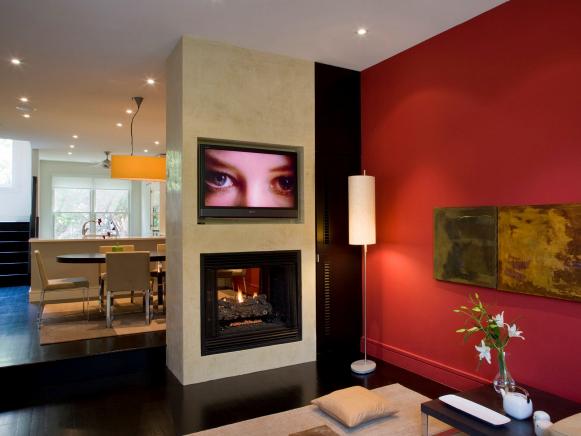 Red Modern Living Room With Fireplace
Designer Andreas Charalambous creates memorable spaces.
Designer Andreas Charalambous creates memorable spaces.
Andreas Charalambous, FORMA Design: "From an early age, Mom instilled in me the importance of style and good taste in everything, whether it was adding a fabulous shawl over a plain dress she wore to go to the grocery store, or having fresh-cut flowers in the house at all times. Our home was always impeccable, ready to receive guests at the drop of a hat, with accessories and furniture in place for maximum impact at all times. 'Always be ready in case the paparazzi appear,' she would say." See how Andreas readies spaces for the limelight at Designers' Portfolio.
Joseph Pubillones, JP Interiors: "Since I was a child, I can always remember my mother being extremely fashion-conscious. Always well-dressed from morning to night, her keen fashion sense was visible in our home. My childhood home was always fashionable — from the mod '60s filled with Danish teak furniture, to a more traditional style in the '70s with flocked damask wallpaper and sculpted velvet sofas, to the '80s featuring sleek contemporary Italian furniture and Curtis Jere accessories. Our home transitioned from one design to another, while integrating a few pieces from one decor to the next. My mother's design sense taught me about the evolution of trends and that the most important thing is that true style is timeless." See more of Joseph's timeless style in Designers' Portfolio.
Don Raney and Jaymes Richardson, Civility Design: "Our mothers taught us to favor quality over quantity. The tried-and-true theory instilled in both of us by our mothers is that when it comes to furnishing your home you should always buy the best that you can afford, educate yourself and learn how to maintain and care for those furnishings. This will guarantee that your pieces will last a lifetime versus throwing your money at disposable furniture which will eventually end up on Craigslist. As Mom would say, 'If it doesn't take food off the table or clothes off your back, you can afford it.'
"Also, our Moms would say, 'Anything worth doing is worth doing right.' Take pride in your home, the projects you undertake within it and commit to doing the best job possible within your personal budget. Don't let the excuse of having pets and children stand in the way of having a complete, beautiful, functional and pulled-together home for everyone who lives there — adults, children and pets alike. Both of our mothers were appalled by other mothers who allowed children to take the entire house hostage with their toys, bikes and worst of all, outdoor play equipment in the living room (you parents know who you are!)." See more of Jaymes and Don's style in Designers' Portfolio.
What are favorite design tips or tricks that you can credit to Mom?
Andreas Charalambous, FORMA Design: "You don't need to spend money to show good taste. It's a matter of being selective and editing what you have to work with to create maximum impact. Not every wall needs to have artwork, for example, as all the pieces would fight for attention for a net-zero effect. Put some in storage; rotate items as needed but let each piece have its moment in the spotlight. Make it memorable!" See how Andreas creates memorable spaces at Designers' Portfolio.
Don Raney and Jaymes Richardson, Civility Design: "As Mom would say, 'Don't be afraid to do it yourself!' Many people are afraid of choosing just the right colors for their walls and the thought of actually doing the painting themselves can paralyze many. It's only paint, people, and it's the easiest and least-expensive material to apply to effect real change in your home. So, if you can do only one thing to change a room completely, paint the walls a fresh, new color. It works wonders for both your spirits and the appearance of the room." See more of Jaymes and Don's style in Designers' Portfolio.
Designer Joseph Pubillones designed this fashionable living room, with couch and chairs with pillows, coffee table with books and decor, side tables, and artwork.
Joseph Pubillones, JP Interiors: "Two design tips that I can credit to my mom are: 1) To always hold onto some pieces from your past decor when redecorating. Inevitably trends in home decor, like fashion, will come back in style and you'll be able to appreciate them once again. 2) In dressing a room, just like dressing oneself, put everything on and then take something away. This is always a great way to avoid being overdone." See more of Joseph's fashion-conscious style in Designers' Portfolio.