Design Ideas for Chic Spaces
Solve common decorating dilemmas with fresh advice from designer Kim Myles.
Design Dilemma: You've chosen colors for every room in your home, but you don't know how to make them "flow."
Kim's DIY Solution: Forget the flow!
As long as you've chosen colors that complement each other, forget about the need to make your entire house flow. A matchy-matchy style is the quickest way to get bored with your interiors, so release yourself from the design police and do what makes you feel good about your space.
Design Dilemma: You don't have much closet space but you need extra storage.
Kim's DIY Solution: Storage in (almost) plain sight
Create storage instantly and anywhere by choosing the shortest wall in a room, and hanging a curtain rod from the ceiling about 2 feet from the wall. Hang a wall-to-wall curtain to conceal this space. Choose any material: a pattern, silk, velvet — anything but a sheer so you can hide the storage within the space you've created.
Alternatively, if you have a bland armoire or storage closet, consider it a part of the room's design by treating the doors with decoupage, beautiful paper or an artistic paint treatment.

Design Dilemma: You rent and can't paint, but want to bring color to your apartment's bland walls.
Kim's DIY Solution: Fabric wallpaper that doesn't damage walls
1. Buy inexpensive, colorful fabric — enough to cover at least one wall.
2. Wash the fabric first so the color won't transfer.
3. Apply liquid starch onto the wall with a paint roller. Note: The starch adheres better if the paint isn't an eggshell finish.
4. Smooth your fabric onto the wall and apply a second coat of liquid starch on top.
5. Let it dry — instant wallpaper.
6. When it's time to move on, dampen the fabric with a sponge and peel it off.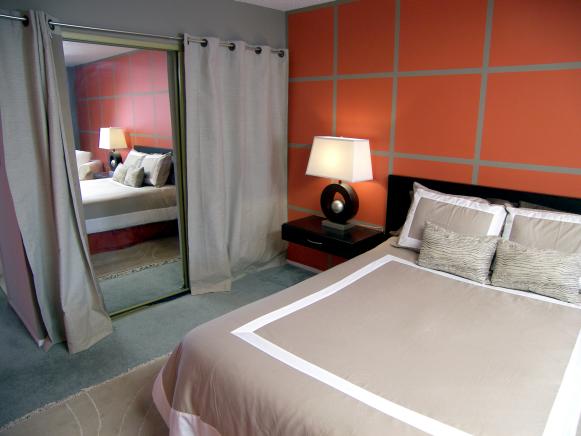 Design Dilemma: You can't decide which shade of beige to paint your walls.
Kim's DIY Solution: Think gray, instead.
Neutral walls are great for highlighting colorful furniture and accessories within a room, and make it super simple for changing seasonal decor. However, if you're overwhelmed by which shade of beige to choose — or really aren't that crazy about the color to begin with — try gray instead.
Gray can be masculine or feminine, depending on what accent color you choose. The best part is, almost everything goes with gray: canary yellow, white and black, plum, chocolate, lavendar and red to name a few. Keep it from looking clinical by choosing a warmer shade, like brushed nickel, rather than a harsh, stainless steel tone.

Design Dilemma: My large bathroom mirror is an eyesore, but I don't have the money to replace it right now.
Kim's DIY Solution: Add a frame.
The simplest option is to frame out the mirror. Visit your local frame shop to find the perfect frame style for your bath. For example, wide plank, rustic wood evokes an antique style; or you could go baroque with a gilded, Louis XIV-esque frame. By framing the mirror you're changing how your eye sees the object as a whole; you'll be surprised with the results.

Design Dilemma: Even though my room has overhead lighting, it still feels so dark.
Kim's DIY Solution: Light it up with uplights.
Uplights are a fantastic, inexpensive way to add interest to different areas of your design. Lots of uplights makes a space look commercial and modern, so select just a few to highlight special parts of your space. Your children's artwork and other art pieces will take on a new life when lit from below. Remember to include the three types of lighting in all your spaces: ambient, task and accent.