Candice's Design Tips: The White Room Challenge
In episode three, the Design Stars show off their talent in the white room challenge. See what Candice says they did right, did wrong and how she could have done it better.
Modern Black and White Living Room With Chandelier
HGTV Design Star contestant Nathan blows the judges away with his capiz-style chandelier made of orange slices and a textural wall treatment of black paint and stripes created by squirting milk down the walls.
Nightclub and hotel owners nationwide, take note — give this man a quart of milk and a bag of oranges and he'll create the hippest urban lounge this side of the meat freezer.
A "wow, what is that?" drizzled-milk wall treatment (please don't tell my kids) combined with the warm intimacy created from the orange slice chandelier are moody, dramatic and, dare I say, even sexy. Add the whimsy and humor of the graffiti-style sofa treatment and folks, we have a contender.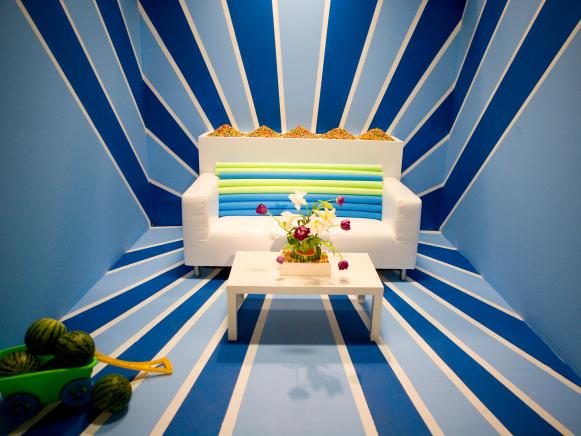 Living Room With Visual Impact
HGTV Design Star contestant Antonio's experience with world-renowned photographers like David LaChapelle and Annie Leibovitz is a huge asset on this challenge. Like on many photo shoots, the goal of this challenge is to create visual impact quickly and innovatively. Maybe more so than any other contestant, Antonio smartly takes advantage of his two cans of paint by creating a dynamic pattern of rays that provide direction and a clear focal point. With two shades of blue and the existing white, he employs a sophisticated palette that also seems fresh. Problems begin to arise, however, in the remainder of the design. Watermelons stacked in a plastic wagon (placed at the periphery of the room) do not showcase the beauty of this produce. Furthermore, all of Antonio's focused rays demand a payoff at the center and a sofa with flotation "noodles" with a bookcase filled with mountains of cereal behind it are a disappointing conclusion. A haphazard flower arrangement on the coffee table further distracts from the laser-like style of the beautifully painted lines. Overall, this room looks like it could have benefited from better time management. A great beginning with a strong paint statement concludes with a disappointing end with poor incorporation of grocery-store elements. It would have been fantastic to have seen the painted lines continued on to the coffee table and sofa with a single "throw pillow" at the center created out of a round slice of bright-red watermelon. Instead, Antonio's unbelievably creative paint job is diminished with last-minute grocery accessorizing.
Antonio has worked as a set builder/stylist with some of the world's top photographers and it shows. Here he masterfully executes a graphic, one-point perspective pattern that draws the eye inward, creates the illusion of depth in this little box, and establishes the sofa as a definite focal point, seemingly exploding off the wall. This design is strong, bold and has an edgy excitement, just like Antonio.

However, as much as this room gets an A for impact it gets an F for honoring the challenge. Rather than actually "creating" with his grocery items, he's simply used them as props. Rather than relying on paint, I would have loved to see Antonio's graphic pattern made from rolls of garbage bags outlined with breakfast cereal, hot dog buns, spaghetti noodles; the end result would be the same, but it would have shown some ingenuity. Knowing Antonio's bad boy rep, I really expected him to embrace "dangerous" perishables like cheese and meats simply for the stink factor.
Step Outside the Comfort Zone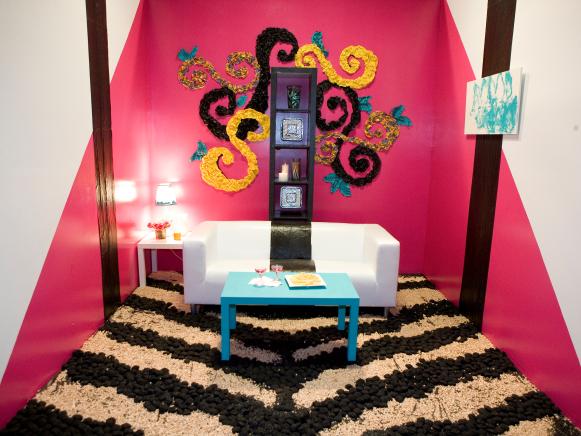 Vibrant Living Room With Textured Rug
Of all the solutions presented on this go around of the white rooms challenge, contestant Torie's may be the most surprising. By selecting a bold pink and pairing it with black elements (tape, charcoal and napkins), Torie sets a definitive tone that is both feminine and modern. A stunning zebra-print rug, ingeniously crafted from grocery store elements, extends over the entire floor and weights the space with graphic and bold pattern. Further injecting turquoise blue and a bright citron yellow is a brave choice, but one that has a huge payoff. A mural made from crumpled napkins shows ingenuity and adds needed texture to contrast with the sleekness of her walls. Although this room is largely a success, it would have been nice to have seen the same bold hand that created the rug and picked the colors handle the room's accessories and addresses the provided furniture. I love the fact that Torie painted her coffee table turquoise blue, but her furniture largely remains intact. Small accessories on her bookcase and some abstract art on a side wall detract from the big statements that she is otherwise making and appear distracting in the overall evaluation of the space. Fewer elements, but making them bigger and more extensive, will always create a stronger impression.
OK, I'm a girl from the North and I have to say, those girls from the South never cease to amaze me. Torie has been the picture of poise, Southern sweetness and demure design restraint. Then came the white room challenge and this Southern belle dug deep, real deep. By channeling her inner Prince, Austin Powers and Barbie, Torie has created a luscious, glamorous, shagadelic lounge out of humble old garbage bags and beans — wow! Who knew?

Now, this challenge is purely design for design's sake — no clients, no practicality, no real world — a designer's dream. I think I had as much fun seeing Torie create this room as Torie had creating it. We should all be so lucky, whether we're designers or not, to step outside our comfort zone and create with such reckless abandon. Torie, you go girl!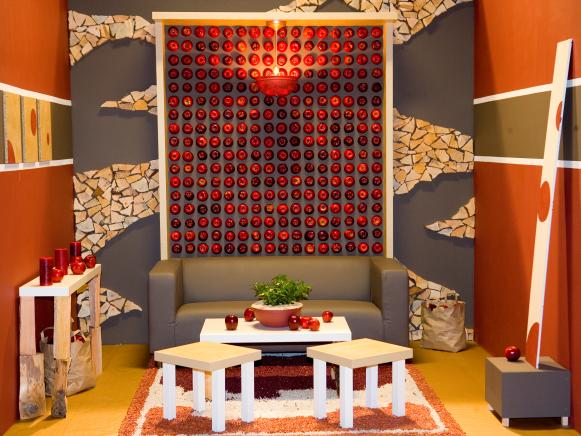 Stylish Living Room on HGTV Design Star
In HGTV's Design Star judge Vern Yip's opinion, this is the single best solution to any design challenge put forth in the history of this series and is a near-perfect response to the issues raised. The level of creativity, innovation and skill demonstrated here is stunning. This particular shade of orange-red paired with the deep chocolate brown selected is a warm combination that organic elements will naturally look good in, so contestant Dan has already made some bright paint choices. The solid chocolate wall with floating slices of firewood, ingeniously formed to appear almost "cloudlike," is magical and alone would be a stunning focal point. Layered within this wall concept, however, Dan integrates a controlled grid of deep-red apples that create height and a concentrated core of color. The execution of this wall shows an understanding of restraint, balance and texture – and the fact that the extent of the apples lines up with the length of the couch is no accident. Another smart move is made by painting the white sofa brown, thus maintaining clear focus on the back wall. The deconstructed bookcase helps simultaneously provide architectural interest, canvas for art, a console and surplus furniture. An organic rug in shades of orange-brown and white further demonstrates a repurposing of grocery materials while pulling in all of the subtle nuances apparent in the paint selections.
Is it just me or does Dan, just by being in a room, make it all that much better looking? But, I digress. As a newbie-judge on Design Star and a veteran of the design biz, I was hoping to be, at the very least, inspired by my Design Star experience.

This challenge is the first opportunity for contestants to show their individual talent, and if we're talking creativity, talent and honoring the challenge, Dan pushed all the buttons and then some. The strength of this room is its strong narrative. It starts with an element — an apple — and tells the story of the apple, its origins and its destiny. Everything in this room has purpose and meaning as it relates back to the original design element and concept. This approach is the cerebral side of design that is rarely spoken about and it's what makes truly great design. This space is not only respectful of the challenge, creative and beautiful, but on a purely personal note, it is inspiring.

I found this room very dry and bland, which I think is to be expected when a room is designed around matzo crackers. I like that Jason was committed to his design and not only created a dimensional wall pattern with the crackers but also used a stylized interpretation of it as a painted wall graphic. However, these rooms are all viewed at a distance and have to have impact. The yellow and brown color scheme only washes out the neutral color of the crackers. A scheme of black and red would have given the cracker beige some much-needed contrast and punch. Frankly, in an entire grocery store filled with colorful fruits, vegetables and packaging, the choice of bland, boring matzo crackers as the jumping–off point for Jason's design has me puzzled.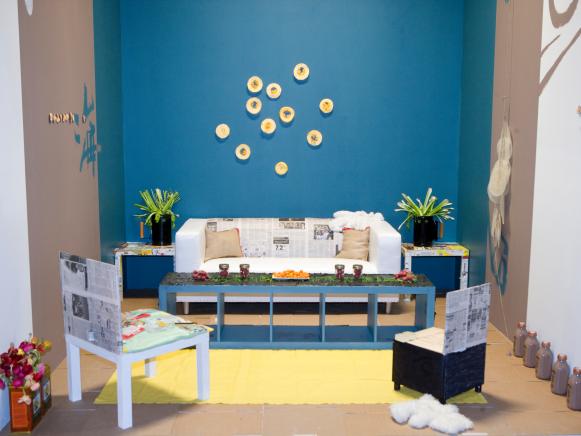 Design Star White Room Challenge by Jen
Completely incohesive is the impression that this effort Jen from Design Star conveys. As in last week's challenge, Jen has incorporated a plethora of color in relatively even amounts, leading to a final result that lacks focus. Jen is a talented color specialist but seems to be having difficulty translating her forte in design challenges. This room is an even balance of blue, tan, white and yellow – accented by newspaper print, a cacophony of red, orange and pink flowers, and an accent of sliced vegetables on the wall. Produce on the seaweed-covered bookcase (on its side to function as a coffee table) is merely displayed instead of transformed. Bottles of chocolate milk lined up like soldiers against the side wall are merely that. Very few elements are utilized innovatively in this solution and that plus the lack of focus is the ultimate downfall of this room. Newspaper can be employed smartly, and Jen definitely begins to show signs that she is exploiting what is interesting about this material. Similarly, covering the bookcase top in seaweed could have been the start of something wonderful in her space, but it never quite gets expressed. There is no question that Jen is a talented designer with a real understanding of color. Ultimately, this room fails to showcase the talent that has gotten her so much professional recognition and is the reason why she could have been a potent competitor on this show.
There are some really great individual elements in this room. First I love the painted wall graphic — it's very bold and in a color that you wouldn't expect in an Asian-inspired room. The transformation of the end tables with Asian newsprint is also on my hit list. However, this room seems manic and disjointed. I have a hard time figuring out what a row of chocolate milk bottles, strewn teddy bears and a sliced melon have to do with the Asian theme; I'm all for eclecticism but this is too fractured. I would have created a huge capiz shell-inspired chandelier out of the translucent rice paper circles (stunning!); used multiple Soya sauce cans to make a long, low, graphic coffee table; covered the sofa in printed burlap bags from bulk rice; and used the rice to create a high-contrast carpet that sat on a floor of dark nori wrappers.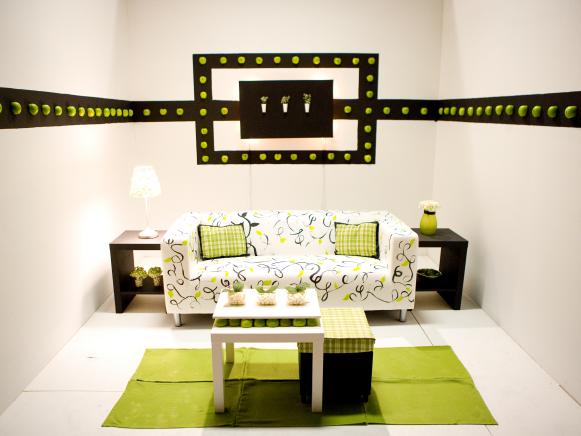 Design Star White Room Challenge
"Pleasant enough" were the words that came to Design Star judge Vern Yip's mind when he saw this white room challenge design by contestant Tashica. Utilizing a color palette of black, white and apple green, this room initially appears fresh and bright if not a bit bland and unoriginal. This room lacks a "big idea," and although it is complete, it ends up feeling hollow and lackluster. Sliced Granny Smith apples nailed onto thin black stripes create single lines that terminate in a rectangle out of the same materials. Like contestants in seasons past, Tashica dismantles her bookcase to create a central dimensional element that is backlit. In general, the judges look for original ideas rather than repeats of ideas showcased in past seasons. Her sofa is transformed with an overall pattern of organic black swirls terminating in green leaves. Everything is pleasant enough in this room solution, but nothing stands out as original or thought provoking. A bolder and broader use of color, pattern or scale would have taken this room to the next level. Painting all the walls black and doing an overall mural using green apples nailed to the walls would have been magnificent. Better yet, extend this concept to the floor. The most important missing ingredient in this solution is an original and inspired voice. In the end, this is a pleasant room but a little short of what is expected of a Design Star.
This is a room that is good but not great. The bold graphic grabs your attention and forces your eye to the back of the space. The sofa treatment helps break up the monotony of all the straight lines and symmetrical composition. However, this is a room where Tashica should be engaging all of her creative energy and, on that note, it falls short. It's not meant to be a room that is lived in and that's why we expect to see something free and artful. Filling the entire back wall with apples and using several radiating black and green apple stripes coming off of the wall would have given this room more wow factor. I would have created a wall-to-wall mural of swirling oranges, apples, eggplants, lemons, artichokes — any and all colorful fruits and vegetables grouped in a big, beautiful, abstract composition.

This color scheme of turquoise, lemon and white just reads like a breath of fresh air. The fretwork pattern with the paper plates grounds the sofa and adds dimensional interest. This room is perfect — and 'perfect' in design is not always a good thing. The symmetry and rigidity of the elements renders it a bit characterless; where's the soul? One ray of hope is the small art piece on the left. Imagine if that square at the back of the room contained a super-scaled version of this vegetable and flower composition; it'd be more creative, dynamic and interesting. Jany is playing it safe right now and safe means boring. She needs to take a lesson from Torie in that department.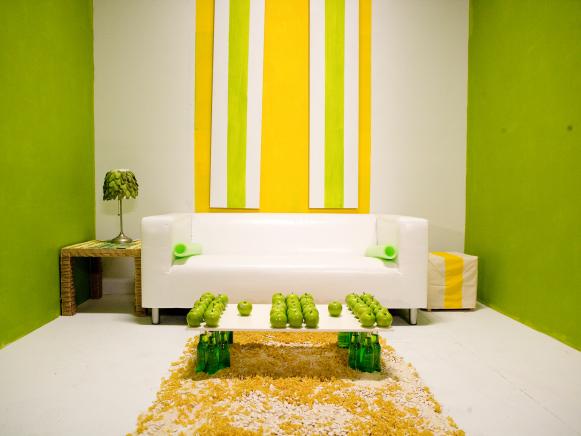 Zesty Apple Green Living Room
Little sparks of inspiration are showcased throughout this solution, but they ultimately aren't enough to make a big design statement. HGTV Design Star contestant Lonni continues to demonstrate that she is a seasoned designer with plenty of experience under her belt to pull things off in a pinch. The color combination of moss green, citrus yellow and bright white instantly conveys that this room is supposed to be airy and fresh. Yellow sugar packets covering the side table and artichoke leaves layered onto the lampshade are all nice textural elements that help transform these standard-issue furniture elements into something interesting to discuss. I especially like the use of green water bottles in lieu of legs for the coffee table. These ideas, however, need to be extended to the rest of the space, which unfortunately reads a little bland and empty. It would have been wonderful to have seen the entire base of the coffee table supported by these water bottles, with a light element buried in the center to illuminate the glass and water. Additionally, the layering of artichoke leaves onto a large form made from paper plates could have created an amazing pendant fixture. The organic rug is also a nice addition – but again, a little too small. Overall, there is evidence of original thoughts, but they aren't nearly pervasive enough to make a statement.
This room has some great beginnings — the beginnings of some really interesting surface treatments. Gotta love the artichoke lamp, the bottle-leg table and cereal carpet. I know Lonni experienced some "technical difficulties" and I feel for her; every experienced designer feels for her because we've all gone through the sickening feeling of the unexpected sabotaging the success of our design. However, on Design Star you need to think fast on your feet and have a plan B because there is a LOT of the unexpected; nothing ever seems to go as planned. I think Lonni started with a great concept but if you don't finish, your design voice can't be heard. Unfortunately, this room is just a whisper.