Candice's Design Tips: Homes of the Brave
In episode five, the Design Stars make over living areas for two deserving military families. See what Candice says they did right, did wrong and how she could have done it better.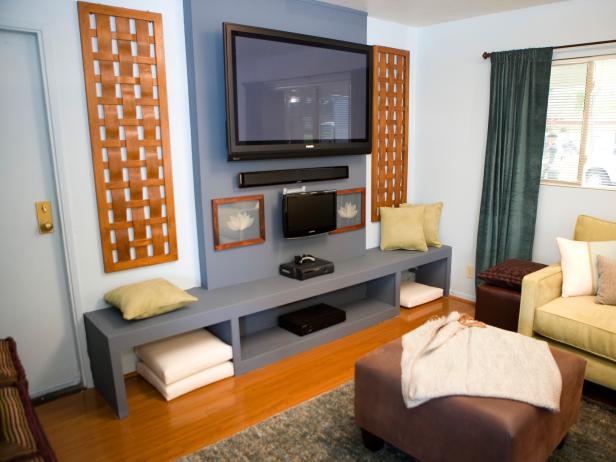 Contemporary Neutral Living Room With Mounted Wall Accents
Several solid colors come together in this contemporary living room. Braided wooden panels are mounted on the wall beside a blue accent section that connects down to a low bench and storage unit. Yellow pillows matching the yellow sofa contrast with the blue. A brown ottoman and green curtains complete the room.
Marry Beauty With Function
In this competition there are challenges that are pure fantasy, like the white-room challenge, and then there are challenges where the design involves real homes and real people, where a successful design marries beauty with function.
To that end, this space truly demonstrates the impact that good design can make in changing people's lives for the better. This living room configuration makes the most of the awkward, high-sill windows. It also offers a ton of flexible seating solutions and a strong focal point in the custom media wall, which also provides extra seating, storage and a strong textural and color statement that grounds the entire living room. On the downside, I know our competitors are always on the hunt for bargains, but I think this team may have fallen victim to a "buy 1 get 3 free" ottoman deal. I like the big, coffee table-type ottoman but the choice of ottomans as end tables is, well, just too much of a good thing. Without end tables there are no surfaces for things like table lamps; this space has no lighting whatsoever and I fear that after dark, this homeowner will be left with only their daytime memories of what a great living room this team has created for them.
Over in the work and activity areas, more great ideas are to be found. I like the concealed writing board idea but the concealing surface is a missed opportunity for something more meaningful: perhaps an inspirational verse repeated in vinyl stick-on letters, family names or photos. Underneath, more ottomans. OK, so they bought in bulk, big-time!
The office area is a stroke of brilliance with two end tables acting as supports for the long work surface – thank goodness there's not an ottoman here. However, it seems a bit unfinished however. Simple wooden blinds would tie in to the wood tables below, provide some much-needed light control and help to soften the hard lines of the window.
Add Personality to Your Space
This team's space also has a great start with its planning: lots of multi-functional seating from both the sectional and storage ottoman. I also love that strong bold patterns were incorporated in the accent pillows to play against the solid upholstery fabric.
I do have a problem with the cabinetry in this space — both built and assembled. With the upper part of the custom unit being the same scale as the lower, it feels clunky and top heavy. A long, linear, box-style shelf (the height of DVDs) would provide visual levity and storage, in addition to an ample display area above. More importantly, I don't see the connection between this unit and the adjacent wall of low, asymmetrical cabinetry. With all this open storage (in addition to that provided by the custom unit), this area looks cluttered and chaotic – I'm thinking back to my milk-crate storage system in college, and this isn't far off! The composition of wall shelves with precariously perched, sentimental (and breakable!) family mementos only adds to the wall of clutter. A large wall like this needs a composition that suits its scale, not little bits scattered along its length. A long storage console with doors and tall table lamps, flanked by additional dining chairs to pull up when entertaining, could frame an edited, closely grouped display set securely atop the console.
I would have installed the fan above the main ottoman in the living room rather than above the dining table; flat wire molding that can be painted to match the ceiling allows you to put power where you need it without a major undertaking. A beautiful bronze and crystal-glass chandelier hung 30" above the table would provide a more intimate dining experience and detract from the stark opening of the window.
I am a fan of bold wall treatments to add personality to lifeless spaces, and this herringbone pattern does just that — no easy feat on the uneven textured walls.

Now for the windows. The continuous drapery valance makes the windows look squat. A simple iron rod hung midway between the ceiling and window casing would visually stretch the look of the windows. In the living room, I would continue the rod past the window to align with the sofa. This makes the windows seem larger and, with less view covered, the room more spacious. The drapes would also relate better to the sectional by framing it in a more balanced manner.