The Best Travel Souvenirs to Use in Your Home Decor
Turn your foreign finds into the ultimate home decor.
If you hate clutter as much as we do, sometimes the thought of bringing home souvenirs from your trips can be a bit overwhelming. As if shopping isn't already hard enough, it can incredibly difficult finding items that are both visually appealing and practical. For that very reason, here at HGTV we've done the hard work for you and have compiled a list of the best items to collect while traveling to incorporate your home decor. Leave the keychains and small license plates at the tourist shops, and collect these awesome items instead.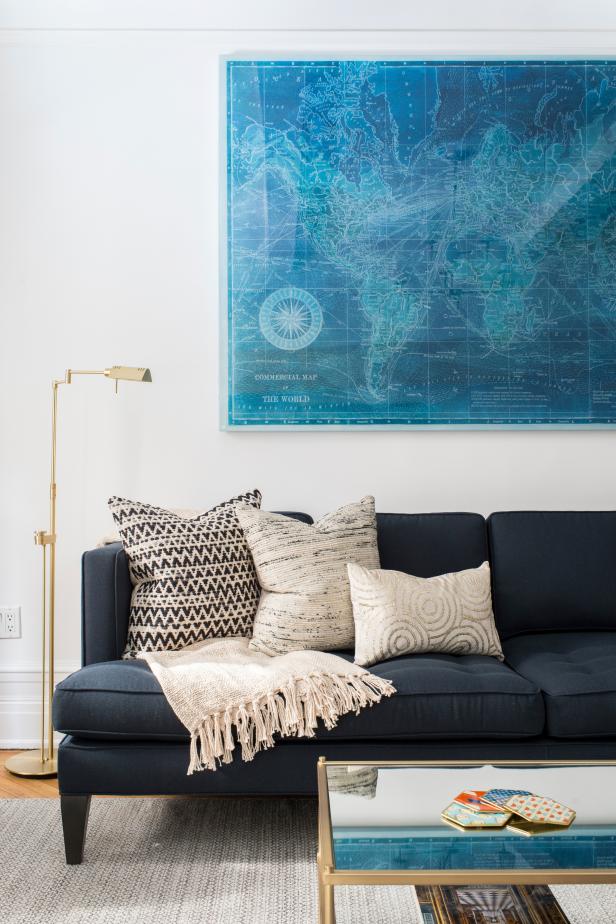 Layered Pillows Make Stylish Statement on Navy Sofa
Layered patterned pillows adorn the sofa in this living room, creating texture and a stylish sense of coziness. Above, a world map in beautiful shades of blue adds interest and color.
Sammy Goh, for Homepolish
Maps are great items to collect while traveling because they're easy to carry and they're very affordable; you can often find them for free at a visitor center or information desk in the city you're visiting. Create a gallery wall in your home by framing the maps you've collected from your travels. It'll be an instant reminder of all the exciting places you've visited, and it'll also be a great conversation starter for guests when they arrive. If gallery walls aren't your thing, give your old coffee table books an update and use your maps as book covers.
If you return from your trip with a pocket full of change, put those coins to use! Turn your coins into eye-catching magnets by purchasing small black magnets from any craft store and super gluing them to each one of your coins. The coin magnets will instantly upgrade the front of any fridge.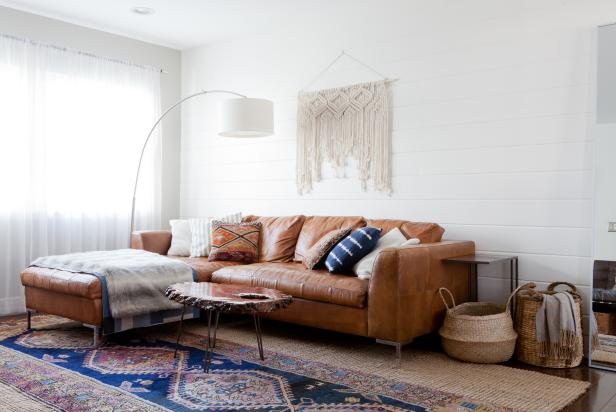 Bohemian Style Contemporary Living Room With White Ship Lap Wall, Brown Leather Sectional and Macrame Wall Hang
The DIY coffee table is made from a broken clock face transformed into a live edge table with hair pin legs. A white ship lap accent wall creates a white on white texture display with the unbleached macrame fiber art. A large leather sectional is decorated with a mix of patterned pillows and throw blankets. Wicker baskets provide decorative storage.
Throw blankets are the perfect items to bring back with you from your travels (and they'll keep you warm on the plane)! They can add a pop of color to any couch or bed, and they will definitely get used the next time you're binge-watching House Hunters on HGTV. Pick up a beautiful throw the next time you're on an excursion. When shopping for throws abroad, avoid shopping malls and visit locally-owned markets where the textiles are made by the people who are selling them to you.
This sounds a bit odd, but hear us out first. Instead of buying items like shot glasses and lighters, purchase coffee cups, utensils and bowls that are authentic to the area you're exploring. If you're visiting Thailand, grab a set of bowls made from bamboo and use them to store your fruit when you arrive back home. Are you taking a trip to China? Be sure to pick up a set of handcrafted chopsticks and use them on your next date night in. Plates also make a great a travel souvenir. They can be used for utility or as decor, displayed on a stand or hanging on a wall.