Dramatic + Dreamy: Baroque and Gothic Design Inspiration
Turn your home into a castle from the 1600s.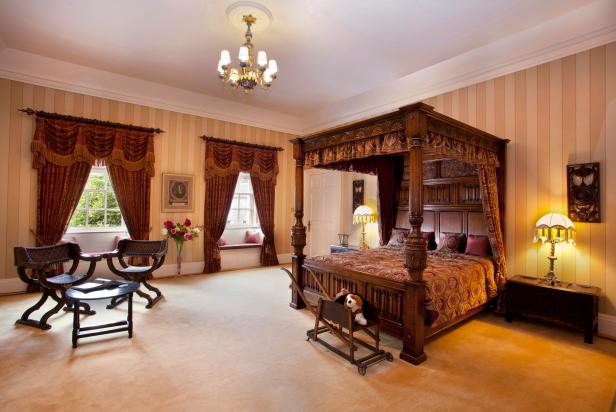 Tulira Castle, Ireland: Bedroom
A national landmark and one of the finest examples of an Irish Castle set within 101 hectares of mature woodland and parkland.On c. 101 Hectares (250 Acres)Tulira Castle is without doubt one of Irelands most historically significant Castles, with a rich architectural heritage. One enters Tulira Castle through an impressive entrance gates which were brought from Dunsandle House in 1950. The Castle is approached by an immaculate three-quarter-mile avenue, lined with 95 lime trees.The Castle comprises three main buildings, a medieval tower, courtyard buildings and the Victorian Castle. The original structure, a medieval tower house, rests 12th century foundations. A castellated house was added to the tower in 1882 by Edward Martyn, a leading figure in the Irish Literary and Artistic revival, he commissioned George Ashlin as his architect. Ashlin, a renowned ecclesiastical architect, had only completed two smaller houses prior to designing Tulira, and consequently it became his star project. A large stone set over the main castle door dates the Victorian addition to 1882.The Victorian CastleEdward Martyn's large collection of papers and documents relating to Tulira have not survived, however, it is known that the Castle stands on the ruins of an earlier house that was destroyed by fire. The front façade of the castle is in the Gothic Revival style and is striking from every angle. It is believed that Tulira is the only castle in Ireland that never been invaded, attacked and ransacked and the beautiful Gothic interior attests to this.The Great HallThe monumental Great Hall with its 40ft high timber ceiling is the centrepiece of the castle. There are several fine Irish marble columns, varying in style from Irish Black to Connemara Green. The capitals which crown the columns are of carved stone upon one of which an unknown craftsman carved his own likeness. The chimneypiece was designed by Pugin, who famously designed the Palace of Westminister. In 2000, the magnificent stained glass window was added; the design was taken from Pugin work. The main hall window was never glassed, until the present 12-piece stained glass and was installed in 2000. Its design was taken from Pugin work.The Reception RoomsApart from the Great Hall, all rooms in the castle have pitch pine floors, which were imported form the U.S.A.The Drawing Room has hand-made wallpaper to a design by Pugin for Nowton Hall, Suffolk. There eleven original stained glass panels in the upper windows, the remaining four were made to the same design in Galway. The ceiling quadrant decoration stands out by its detail and intricacy. The large marble and carved stone mantel piece with gold over mantle mirror are the centre piece of the room.The Dining Room has the original wallpaper from the 1880's. The upper windows in the bay contain six stained glass panels with the crests of the Galway tribes.The Library is dominated by an oversized limestone mantelpiece; two andirons in the fireplace carry the Martyn family crest. There are three original stained glass panels in the upper windows. The Bay has a stained glass portrait of Edward Martyn flanked by Irish provincial crests.The Morning Room is the brightest room in the castle. The mantelpiece is very large, similar to the library and would most likely have been moved to Tulira from a nearby Tower House.In the East Wing there is a fully furnished and equipped kitchen, with an AGA, marble tiled floor and small Dutch wall tiles of varying colours. The Wing also contains a study, workroom, and laundry room.The BedroomsOn the first floor of the castle, there are seven substantial bedrooms, the master has a large dressing room and bathroom. Five of the bedrooms have private ensuite bathrooms, and one has a large dressing room. There is also a large family sitting room in the East Wing. Many of the bedrooms contain fireplaces with unique tile motif surrounds depicting various different scenes. On the second floor of the main castle, an oak stairway leads to a sitting room in the tower.The Medieval TowerWhile the castle was being built Edward Martyn decided to make the tower habitable. The stone spiral staircase leads to the first floor room with timber floor and ceiling, a fireplace and an adjacent vaulted and brick-clad room. Edward, man of the arts, poet and author, founder of the Palestrina Choir, always worked standing up, and a reproduction of his tall desk is witness to this. There are five panels of stained glass made and signed by Edward Frampton, 1883. The chapel, on the second floor is furnished with an altar and a set of eight oak pews. On the top floor of the castle is the banqueting hall.Gardens and LandsThe walled garden, which was fully restored in 2006, extends to approximately 2 acres.250 acre lot.
Ganly Walters, a member of Luxury Portfolio International
There's something about Baroque and gothic design that's both beautiful and haunting. With Halloween right around the corner, plenty of spooky classics are airing on TV, and we're seeing gothic décor in a new light! Your home doesn't have to be dark and scary to achieve the look, either. Between rich fabrics and elegant finishes, there's a reason this dramatic style has been replicated for centuries. If it inspires you, here are a few Baroque and gothic elements to incorporate into your décor.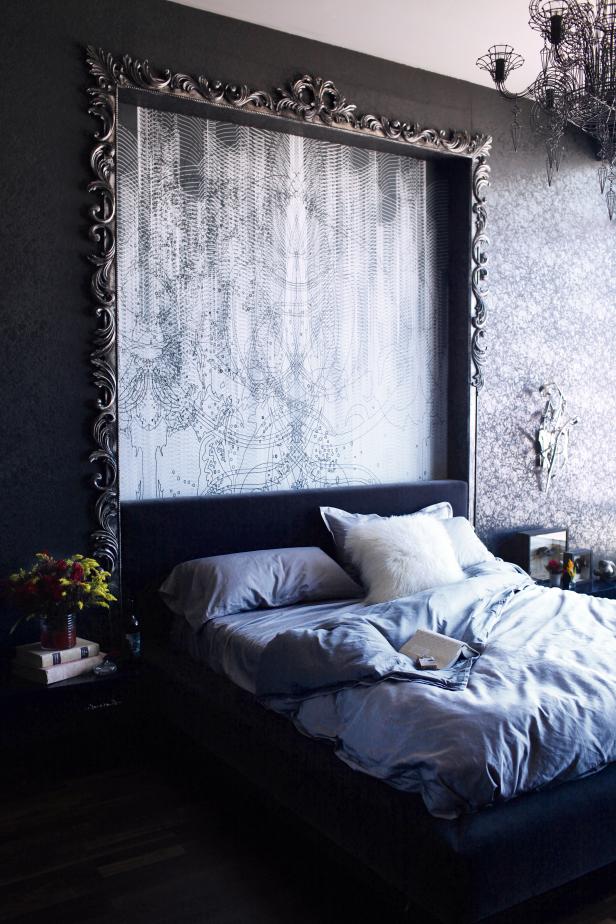 Modern Baroque Bedroom with Gothic Details
The aesthetic in this modern bedroom is "rock star gothic grunge with a modern twist." Custom mural wallpaper by Iris Maschek is recessed into an illuminated cove and framed with a custom silver leaf frame by Voila Gallery, becoming artwork in the space. The neo-Baroque Abigail Ahern light fixture above the bed is a masterpiece on its own.
Choose furniture, wall hangings, pictures frames, art, fabrics, trays and sconces that have scrolls, fleurs-de-lis and medieval crosses etched, carved or sewn into them. Items like this will have your place feeling like a medieval castle in no time.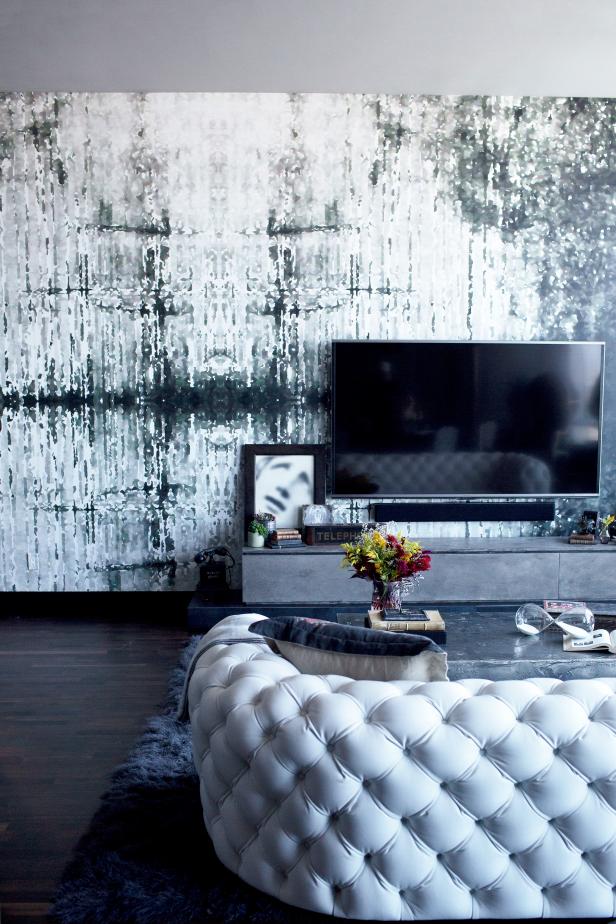 'Rough Luxe' Living Room with High-Drama Details
One wall of this contemporary living room wall features wallpaper by Italian manufacturer Yolo, a modern take on old world peeling plaster. Filled with drama and goth details, this Los Angeles home is harmonized by a palette of black, white, gray and metallics. In this "rough luxe" living room, a tufted leather sofa brings an element of modern Baroque to the space, and the pewter coffee table was commissioned by a local fabricator.
This look is all about opulence and volume. More is more. Baroque and gothic décor is the complete opposite of the sleek lines and minimalist feel of modern design. Go for bold, round pieces, even if they aren't large in stature.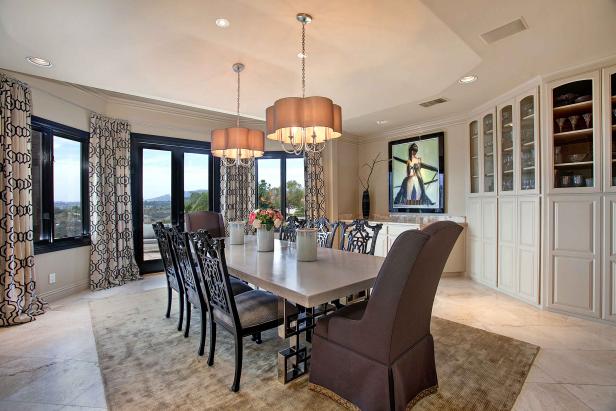 Contemporary Dining Room With Black and White Curtains
This dining room takes on almost Gothic elegance with black and dark brown accents and dining chairs whose intricate pattern is picked up by the curtains.
Jackson Design and Remodeling
Velvet is in this season and easy to find. Use this, as well as silks and satins to add a touch of decadence. Use long, heavy drapery panels to frame not only windows but doorways, too. Consider hanging fringed tapestries on empty, expansive walls.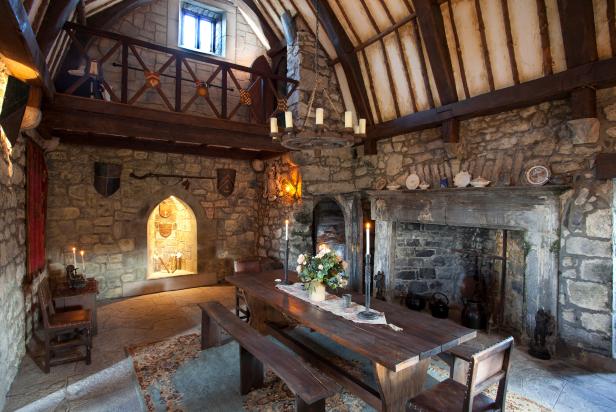 Banquet Hall: Tulira Castle in Ardrahan, Ireland
The banqueting hall sits on the top floor of the medieval tower. The Gothic architecture fulfills its purpose of filtering light into the space. The soaring ceiling and pointed arches also reflect this dramatic style.
Ganly Walters, a member of Luxury Portfolio International
Include wrought-iron, wood and stone pieces to emulate a cozy castle atmosphere.
5. Wallpaper & Crown Molding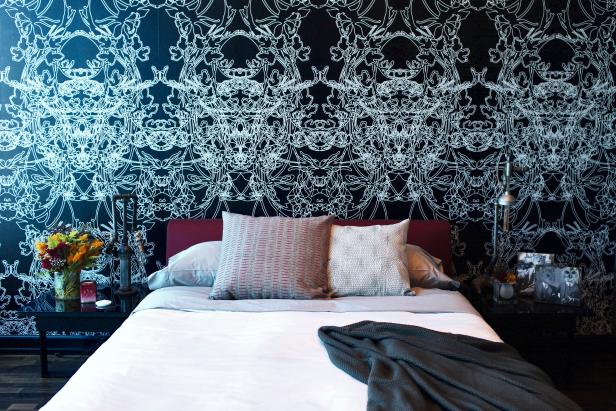 Modern Guest Bedroom with Gothic, Moody Vibe
An accent wall in this "gothic glam" guest bedroom is covered in wallpaper from Iris Maschek. A ruby-hued bed adds a pop of color but keeps with the room's moody vibe. Lamps from Voila Gallery connect the space to industrial elements found elsewhere in the home. LIghting is dim, setting the tone for a show-stopping space with a modern gothic mood.
If you own your place and can make more permanent changes, install crown molding to make the walls look higher and more defined. (You can also add this to the top of your entertainment center and cabinets for less permanent options.) Choose glamorous damask and brocade patterns in your wallpaper. Opt for rich textures and bold colors, but avoid black. If you have a modern piece of art or furniture that you'd like to overhaul, consider covering it with wallpaper for less of a commitment.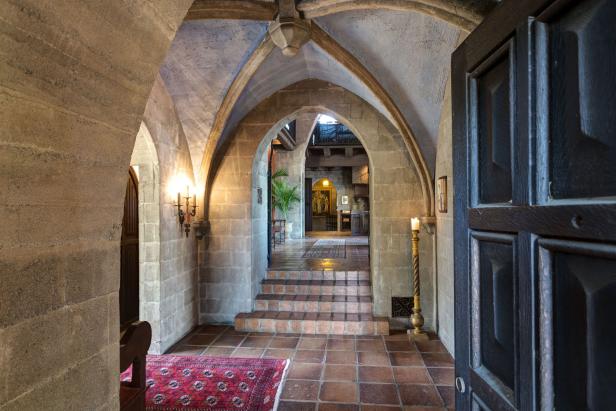 Stone Foyer With Gothic Arches
Stepping inside this stone foyer is an experience unlike any other. With Gothic-style arches and a terra cotta tile floor, this extravagant hallway easily transports visitors into the medieval era.
No Baroque or gothic design is complete without statement-making light fixtures, like chandeliers and candelabras. Whether you go with an iron look or crystal, these pieces will take things up a notch. Create soft lighting by way of candles, too (because I've never seen an LED light bulb in any of the Game of Thrones castles).
7. Detailed Tapestries & Artwork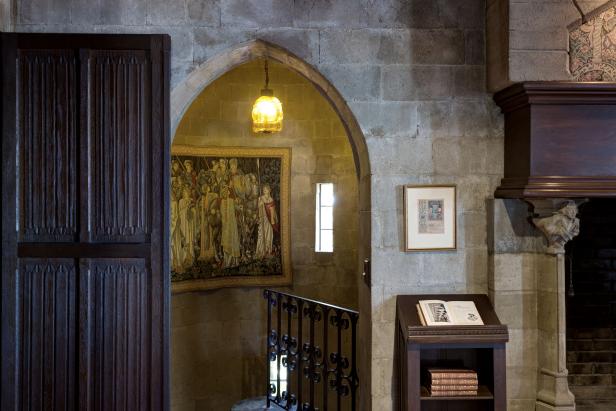 California Castle Features Wood Accents
This grand castle-inspired home incorporates Gothic style elements in each room. Wood accents contrast with the stone wall, while the entry way to this room boasts traditional medieval arches and ornate railings.
The Grubb Company, a member of Luxury Portfolio International
Stained glass and beautiful artwork always make us think of medieval homes and churches. While you may not be able to install actual stained-glass windows in your home, you can look for hanging pieces in the shape of a lancet window, a tall, narrow, pointed arch common in this time period. Consider adding large, richly colored medieval paintings on your walls. They make great conversation pieces and truly add a gothic vibe to any room.