All About Loft Architecture
Made popular by artists in the 1980s, these urban homes offer an industrial look and flexible, open space.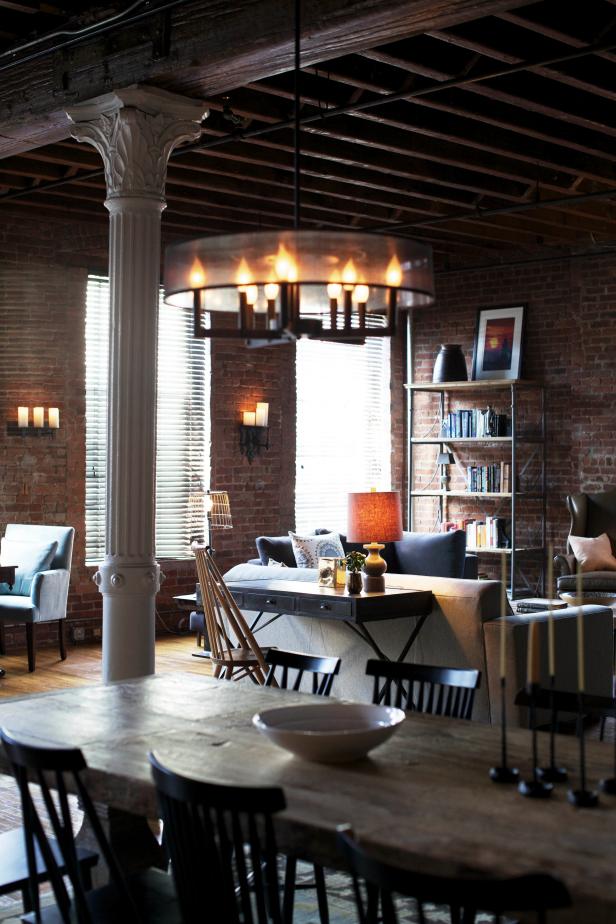 New York City Loft With Open Floor Plan
Unfinished elements, like this home's exposed brick walls and wooden ceiling beams, are common features of lofts.
Michael Moeller
Unfinished elements, like this home's exposed brick walls and wooden ceiling beams, are common features of lofts.
Struggling artists may have invented the concept of lofts, which many associate with urban living in abandoned industrial buildings, but the style made its way to suburbia as developers began creating loft-like spaces.
Original "hard" lofts, carved out of existing buildings with large, open spaces, traditionally featured an exposed, industrial look. These buildings then inspired "soft" lofts, usually built as condominiums with high ceilings and modern amenities that are hidden behind the drywall.
While lofts can be found in all major cities, some of the oldest are found in lower Manhattan. At the beginning of the industrial age, when horse-drawn carriages were used for transportation, the narrow streets of New York were not an impediment for light manufacturing companies. But as trucks emerged -- and grew in size -- all that changed.
"In the 1940s, manufacturing left and the buildings were abandoned until the mid-'60s, when artists who needed big spaces to paint large canvases moved in," says Henry Smith-Miller, a partner with SMH + Architects in New York, who moved into a loft himself in 1971. "As a young architect, I found a space that had been occupied by actors for Andy Warhol's movies. There was the space, a toilet and a tub sitting in the middle of the room. Little did we know of the vast premium soon to be put on the pure luxury of the space itself."
The lofts -- in cast-iron facade buildings with raw interior walls and few doors -- were not popular with fire department officials, who forced many out of the buildings because of safety concerns. The artists fought back, threatening to boycott New York galleries, and over time, joint living-work spaces were accepted by city officials.
"Everybody copied New York," says Marinel Robinson, a principal with Decoma, one of the first firms to convert industrial buildings to lofts in Los Angeles. "Artists started buying these renovated factories and warehouses in the mid-1980s, until the real estate bust in 1992. In the 2000s, developers started to build new buildings that look like lofts with open spaces."
She says TV shows like "Sex and the City" made "soft" lofts trendy and hip to affluent young buyers, who want something different from their parents' suburban lifestyles. While artists still love the practicality of combined space for work and home, other professionals are also enjoying the expansive feel of open-space condos.
Open, flexible space. Traditional "hard" lofts usually have a minimum of 1,600 square feet with few interior walls, allowing the floor plan to be custom-designed.
Exposed walls, air conditioning ducts, or fire sprinkler lines. The loft's unfinished look pays homage to its roots in old industrial buildings.
High ceilings. Most "hard" lofts have ceilings that are 10 feet or higher.
Authentic 19th century materials. The use of concrete or hardwood floors, tin ceilings, brick or thick plaster walls is common.
Huge windows. Since old industrial buildings were built before the invention of electric lights, factory windows were expansive to let in as much daylight as possible.
40 Mercer. Designed by French architect Jean Nouvel, this 15-story glass loft development in Manhattan contains condos, retail spaces and a spa. Completed in 2006, this was the first building constructed under a new zoning law that permits building from the ground up in the Landmarked District of SoHo.
Westbeth Artists Housing. This conversion of a Bell Telephone Laboratory in 1970, with funding from the National Endowment for the Arts and the J.M. Kaplan Foundation, continues to offer artists' housing and cultural activities in the West Village of New York.
Biscuit Company Lofts. Built in 1925 as the West Coast headquarters of the National Biscuit Company, this Los Angeles landmark structure was restored and adapted to loft condominiums in 2006.
Practically Speaking: Hassles and Headaches
Older spaces can often be drafty because of existing metal casement windows, so owners may want to consider installing energy efficient windows.
For lofts in earthquake country, it's important to retrofit for seismic activity.
"With older buildings, be sure to test for structural integrity because the building may have gone through a fire at some point," Smith-Miller advises. "It's important to look out for lead paint and asbestos as well."
Buildings used for light manufacturing were sturdily built with concrete so sound between floors would not transmit. However, noise travels easily in buildings with wood floors, so it may help to use area rugs underfoot and tapestries on walls.
"There's no soundproofing between floors with exposed ceilings," Robinson adds. "New buildings have cork floors or soundproofing material between the floors. The maintenance on a true artist's loft is easy, though, because everything's exposed. If there's anything wrong with the roof or plumbing, you see the leak immediately."
Designer Brian Patrick Flynn maximized space and style in this 700-square-foot apartment.