Once scorned and ripped out of homes, linoleum is now back in style. Here, a brief history.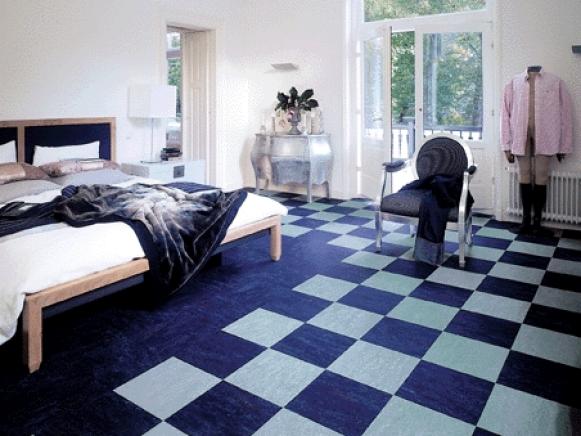 feb06decnews_linoleum_marmoleum
Linoleum is made of solidified linseed oil combined with wood flour or cork dust, tree resins, ground limestone and color pigments over a burlap, jute or canvas backing. It was created in the 1860s by Englishman Frederick Walton, who patented it in 1863. The name comes from the Latin words for flax (linum), the source of linseed oil, and oil (oleum).
In its first life, linoleum was often used in hallways and kitchens. Because of its cork layer, it was easy on feet and the occasional dropped dish. Fancier versions were inlaid tile by tile but it was also available in flexible sheets. It was quiet and easy to clean. And, boy, did it have staying power. Linoleum was durable with a capital "D." In fact, folks fell out of love with it decades before it wore out. Eventually wood and vinyl flooring, which came in far more colors, took linoleum's place as the kitchen floor of choice.
Today, linoleum is sometimes still confused with vinyl flooring, which is made with chlorinated petrochemicals, but lino's natural ingredients make it a much more environmentally friendly choice. It's made from natural, largely renewable, materials, and there are no environmental toxins involved in its manufacturing. That, along with our love for all things retro, may explain its renewed popularity. Not to mention that lino is now available in a wide variety of very hip colors and is relatively easy to install. And new factory-applied sealer coats protect the vivid colors against dirt and stains. The product is anti-static (which means it repels dust) and is anti-allergic.
Popular again in kitchens, mudrooms, laundry rooms, even on counters and backsplashes, linoleum also is considered a colorful choice for other rooms in the house where comfort and durability are top priorities.