Add Bold Pattern to a Ceiling With a Painted Zigzag
Turn a plain ceiling into a designer focal point using bold colors and painter's tape.
tape measure
pencil
L-square
cardboard
utility knife
flat latex paint
painter's tape
paint pan
angled brush
detail brush
paint roller
extender pole
roller sleeve
drop cloth
ladder
note pad
Using a pencil and note pad, sketch the intended zigzag pattern for the ceiling. In addition to sketching the overall shape and scale of the pattern, also note the placement of each color.
Cover floors and furniture with drop cloths to protect the room from paint splatters.
Using the paint pan, paint roller, roller sleeve and extender pole, roll a solid color on the ceiling.
Use a tape measure to determine the length and width of the ceiling. These dimensions are important in helping dictate the proper width for each zigzag.
Before marking the ceiling, create a jig with the desired zigzag pitch. To do that, use an L-square and a pencil to mark the pitch onto cardboard, then cut the jig along the marked pencil lines using a utility knife.
Mark Center Point of Ceiling
Using the tape measure, find the center point of the ceiling and mark it with a pencil.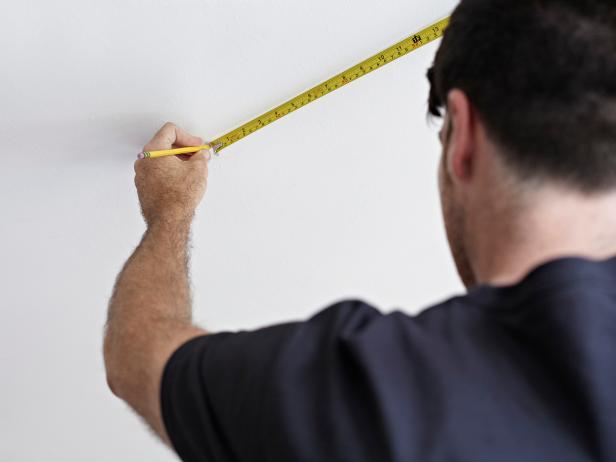 Original_Brian-Patrick-Flynn-Zig-Zag-Ceiling-Mark-Center-Point-of-Ceiling_s4x3
Starting at the center of the ceiling, trace the jig to the ceiling with a pencil. After each run is complete, use the tape measure and pencil to mark proper width, then use that mark to begin next zigzag run.
Place painter's tape along the outside top and outside bottom edge of marked pencil lines for the zigzags intended for the first accent color (Image 1). Using the paint roller and roller sleeve, add the first accent color between each taped-off area (Image 2).
Once dry to the touch, reposition the painter's tape directly along the inside edges of the newly painted zigzags. This will expose the final areas in need of paint (the second accent color).
Paint Second Accent Color
Using the paint roller and roller sleeve, paint the second accent color inside the taped-off areas.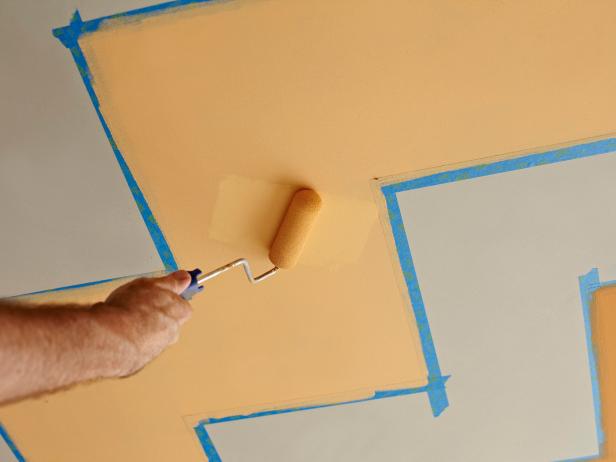 Original_Brian-Patrick-Flynn-Zig-Zag-Ceiling-Paint-Second-Accent-Color_s4x3
When all paint is thoroughly dry, slowly peel back the painter's tape from the painted zigzags.
Using an angled brush or detail brush, touch up any imperfections or bleed lines.