Add a Mudroom or a Laundry in a Small Space
Discover these tips for making every precious square foot as functional as possible in the smallest of spaces.
If space is at a premium at your house, consider these suggestions for fitting in some utility space.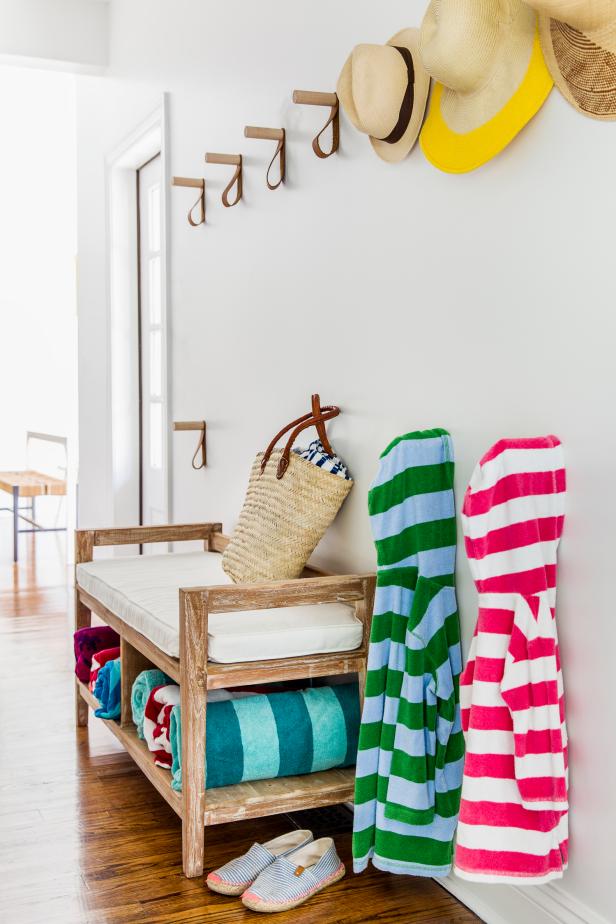 Bench and Hooks Corral Beach Accessories in Entryway
A rustic bench and hooks at heights for both adults and kids helps corral all of the accoutrements that come with spending a day at by the ocean in this beach house entryway.
Sean Litchfield Photography
You don't want to spoil the look of nice foyer, but if it's your main point of entry and exit, it needs to be practical. If space allows, add two sets of shallow floor-to-ceiling cabinets or bookcases and place a cushioned bench between them. Slide a bin under the bench for shoes and boots, and hang hooks above it for jackets, coats and bags. Stock open shelves with baskets for hats, scarves and umbrellas, and paint a bold color on the wall behind to add visual interest.
If you have only a small, narrow hallway in an apartment or leading in from the garage, you can still turn it into a functional mudroom by mounting a narrow tray or ledge for your keys, mail and cell phone on one wall. Below the shelf, add stylish wall hooks to hold purses, bags and jackets.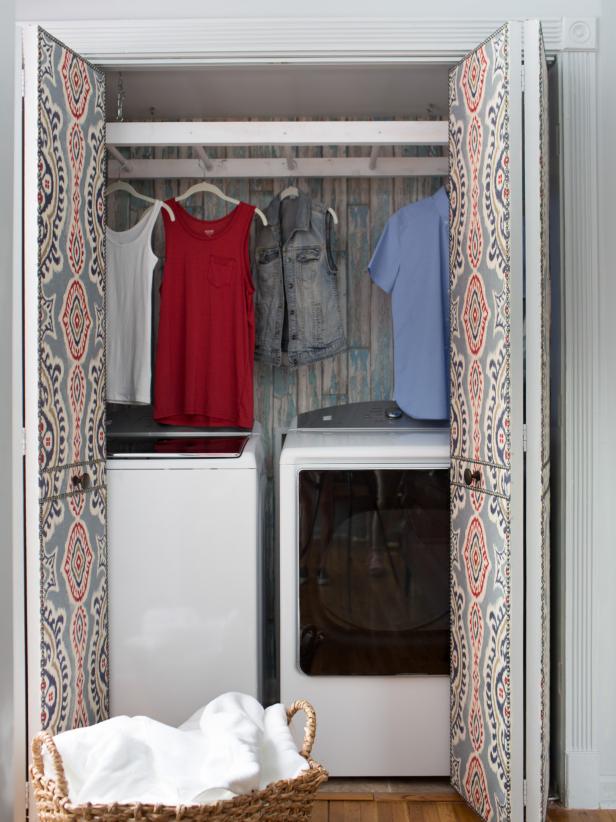 Clothes Hanging in Made-Over Laundry Room
When designing small task spaces, create visual interest through the art of layering. Here the back wall is given depth with a linear-patterned wallpaper that looks like rustic barn siding. For contrast, the closet doors are covered in a fabric with a more fluid pattern that pulls in the same blues and whites.
If you don't have a separate laundry room or a spacious basement or garage, turn a small closet into a compact washing area by adding a stacking washer and dryer. And don't overlook the back of the door - it's the perfect place to mount a fold-down ironing board. You can also use the closet to hang wire racks for the iron, spray starch and other supplies and install hooks or a hanging rod for freshly pressed or drip-dry clothes.
No spare closet? Consider outfitting a freestanding armoire or a tall storage cupboard to serve the same function. You can even add slide-out bins to hold (and hide) dirty laundry until washing day.
And if your laundry room is in the kitchen and your pantry is big enough to store cleaning supplies, add a fold-down ironing board to the pantry just as you would in a closet.