8 Tips for Making Beautiful Vignettes
Get tips for arranging accessories into a gorgeous still life that creates a mood and makes your room look polished and pulled together.
One of the easiest ways to add designer-worthy style to your home is to arrange objects into vignettes, or groupings, atop tables and shelves. Think of it as creating a beautiful still life. You can make a vignette on top of any flat surface: a dresser, table, bookshelf, countertop or window ledge. You can use accessories like vases, mirrors, plants, greenery, photos or other personal belongings to create a mood, just like a movie set designer does for a film. A vignette makes a room look more polished and pulled together.
Here are eight tips for creating striking vignettes in your home:
1. Build your vignette around a light source.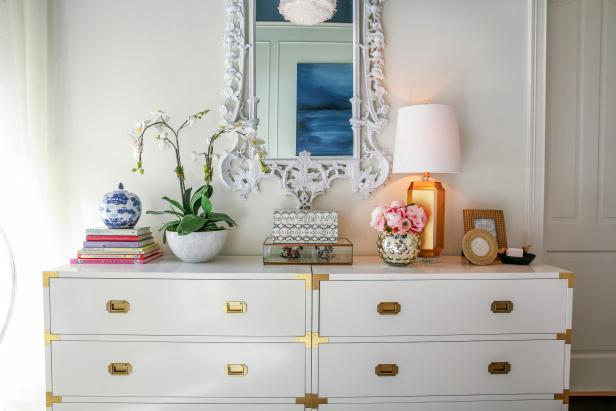 Pink and Gold Details Create a Glamorous Girl's Space
Designers wanted to create a glamorous space for this teen to hang out, so they added a white, modern dresser with gold accents to the space. Then, they used pink and gold details to make the space a bit more girly, and they brought in an elegant, white mirror to tie the design together.
If your arrangement of objects is in a dark corner, it won't be seen and the effect will be lost. Try building your vignette around a lamp.
2. Choose objects to support the style and theme of your room.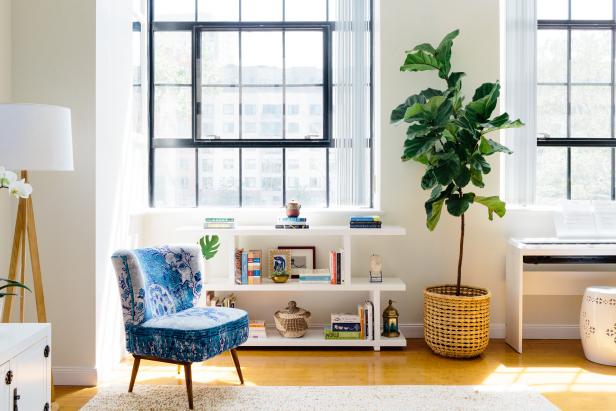 Sitting Area and Music Area in Loft Apartment
Against the wall in the loft space, designers created vignettes to meet the owner's needs. In one corner, a blue chair rests in front of a bookshelf to create a reading nook bathed in light, while just a few feet down a keyboard sits underneath a window, providing the owners with a creative space in their loft.
If your room is formal, a symmetrical design works best. If the room is casual, asymmetrical groupings are better.
3. Use color in your vignette to coordinate a room.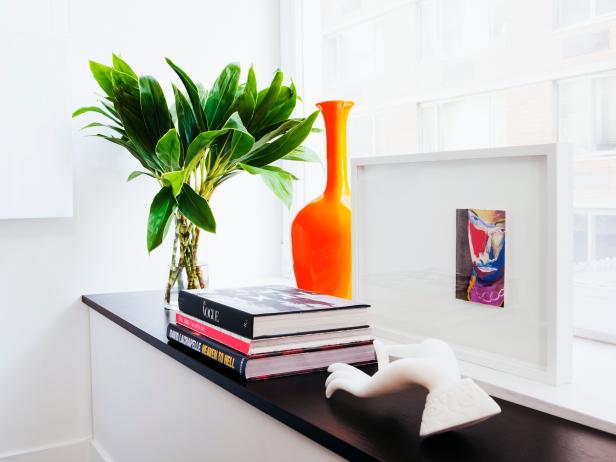 Colorful Accessories in Modern Living Room
Bright and whimsical accessories pop in this light-filled corner of a modern living room. Colorful art is matted for maximum impact, and surrounding books and accessories pull from its bright palette of primary and secondary hues. A leafy display in a clear glass vase adds life to the arrangement.
Use items in shades that complement the dominant color in a room. Flowers, houseplants or books with colorful spines are good ways to introduce color into a grouping of items.
4. Display objects in odd numbers.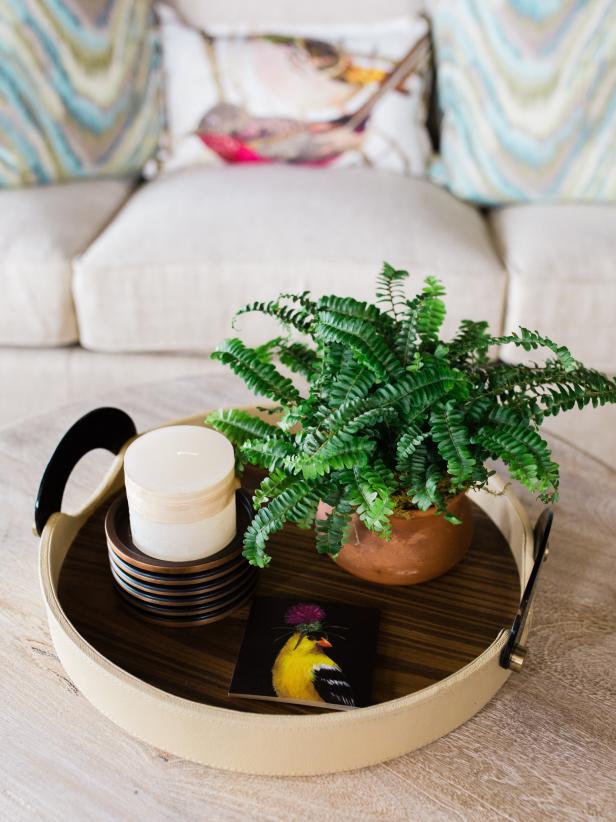 Living Room Coffee Table Vignette with Fern
Dress up your coffee table with greens, such as Boston fern, and accessories. Since ferns love moist soil, using organic clay pots lined with pea gravel gives you the option to lift the plant and water for easy care, says Karin Jeffcoat, owner of Cote Designs, a floral and event studio in Aiken, S.C.
Casto Photography & Cinema
Place several objects of similar shape, size and color together in odd numbers for maximum impact. Groups of three or five work particularly well and are stronger visually than a group of two or four.
5. Vary the height of the objects.
Farmhouse Chic Mantel Decor
When using old books, if the covers or spines are ugly or in bad condition, open them up and use the pages to soften up the mantel decor. Designer Janna Allbritton always tries to incorporate something soft (such as pages or ribbon) with something shiny (such as mercury glass) and greenery (such as a succulent or topiary). She also loves bringing in wire, wood and metal elements, which can be snagged for just a few dollars at yard sales or thrift shops.
Use small pedestals to elevate items. Try stacking books to create a platform for smaller objects.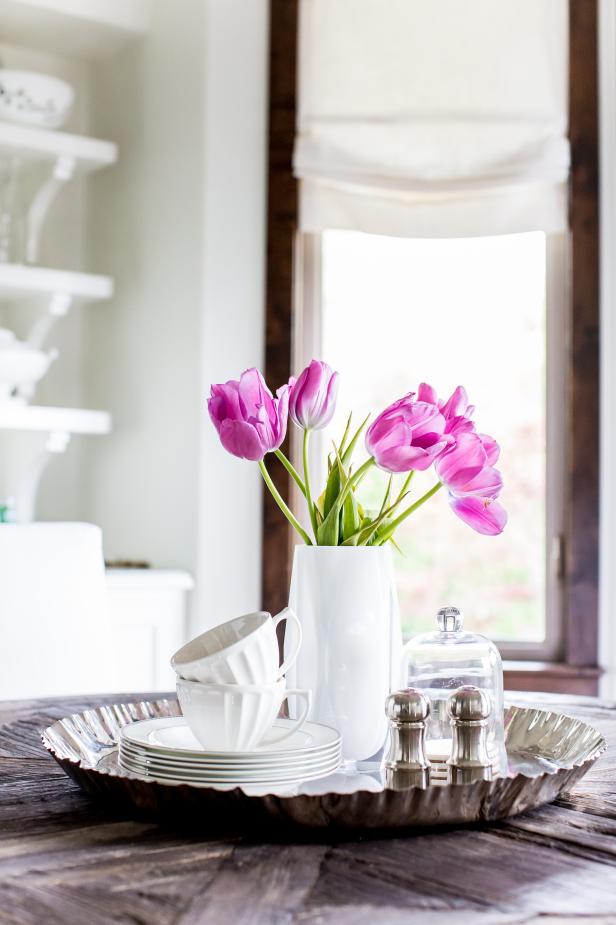 White and Silver Tabletop Vignette
White and silver with a pop of color from fresh flowers sets off this simple tabletop vignette.
Lindsay Salazar Photography
Group candles, for example, or family vacation photos. In the kitchen, display various kitchen items like salt and pepper shakers, tea cups and saucers together on a vintage pie tin.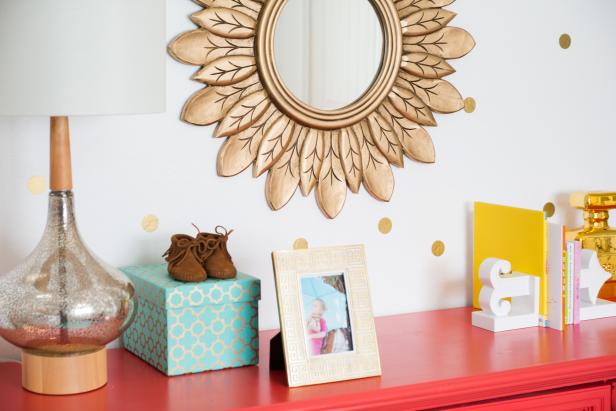 Elegant Vignette in Girl's Nursery
Pretty and colorful accessories decorate a coral-colored dresser in this contemporary girl's nursery. A gold-framed mirror bounces light around the room and reflects the pretty view.
John Woodcock Photography
Place objects from the back of the flat surface to the front instead of in a straight line the length of the surface. Placing objects atop a mirror, or leaning them against a mirror that's on the wall, is an easy way to create a sense of dimension.
8. Vary the textures of objects.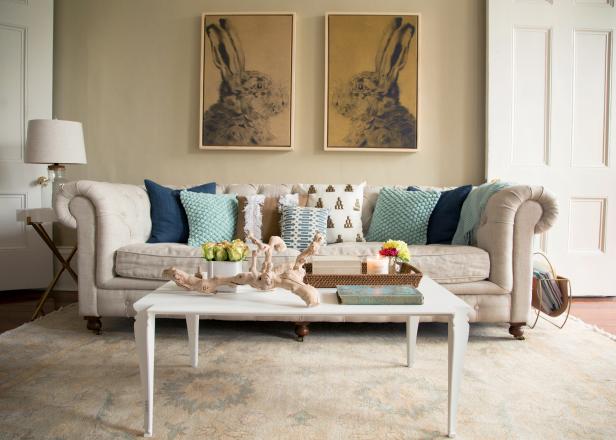 Contemporary Living Room in New Orleans Victorian Home
Layers of textures and colors through sofa pillows creates a cozy, feminine space in this contemporary living room. Two large pieces of artwork anchor the pretty, neutral sofa that sits against the wall. An eclectic vignette on the coffee table ties the muted colors of the room together.
Nick O'Neill for Laurel & Wolf; Designer: Lauren Messina
Mix hard and shiny accessories with rough and natural. Use weathered wood or iron architectural elements to introduce an unexpected texture.