Winning Color Combos for Fall
After years of soft neutrals and harmonious earth tones, bolder hues are taking center stage. Check out these daring color combinations for fall.
From the sophisticated aqua and chocolate to tart lime and lemon, strong color pairings are all the rage, and one of the easiest ways to freshen and lend drama to your decor. "People are taking more risks with color and combining colors in more unique ways," confirms Joann Eckstut, author of The Color Palette Primer: A Guide to Choosing Ideal Color Combinations for Your Home. "Once they see how well strong hues can work, they're willing to try them, and often love the result."
Read on to learn about the hottest pairings around, to pick up simple tips for using these delectable duos at home, and to see some of our favorite new products that sing with color.
Why it works: At the deeper end of the spectrum, intense raspberry creates a dramatic foil for rich, dark chocolate. Both are yummy — and deliciously playful. "The pink pops against that soft, warm background, and the brown brings out pink's own warmth," Eckstut says.
Variations: Lavender and brown is another candy-hued combo, while brown with rust or red are distinctly autumnal alternatives.
Easy idea: Edge a set of brown throw pillows with a band of pink ribbon, braided rope or fringe, or give them a graphic look with iron-on designs from a craft store, suggests Toronto color consultant Jane Lockhart, host of HGTV's Get Color! and the author of Room Recipes: Cooking Up Style With Color.
Why it works: Vivid, vivacious cyclamen teamed with zesty tangerine brings an exuberant, youthful zing to just about any room (though it's especially fun in a kitschy kitchen or a girlie bedroom). Alone or together, these color-wheel neighbors just say "happy."
Variation: Orange and red.
Easy idea: Wrap a plain white lampshade with striped or patterned pink-and-orange fabric, or top an orange ceramic lamp with a swath of deep pink Dupioni silk. "It's incredibly easy and inexpensive," Eckstut says. "Simply cut a piece of material to fit and adhere it to the lampshade with fabric glue." Finish the seam and edges with a band of ribbon, and voila!
Pairing these two colors brings a rich yet fresh look to your space. This combination works well with more modern styled surroundings.
Why it works: A pairing of deep charcoal gray with mellow mineralized yellow yields a surprisingly rich result, while silver with citron is crisp and cool. Either way, this fresh combo is modern, urban, and all grown up. "The coolness of the gray contrasts nicely with the warmth of ochre or the intensity of citron — it's an exciting juxtaposition," says the Color Association's Joann Eckstut.
Variations: Gray with chartreuse or lime.
Easy idea: Punch up a plain gray window panel by stitching a thick band of yellow fabric on the top or bottom, or layer a yellow panel between two charcoal ones for a striped effect.
"Opposites on the color wheel, these are classic complements," Eckstut explains. "Plus, there's so much variety in the orange and blue families that you get all sorts of different effects."
Why it works: Bright tangerine paired with turquoise has a citrusy freshness. Lush persimmon or terracotta teamed with deep azure or inky indigo evoke an exotic Moroccan bazaar or a blazing Mediterranean sunset. And salmon with ice blue is rich yet restrained and sophisticated.
Variations: Orange with gray is another hot-meets-cool modern match, while orange with brown or green lends a warm, retro vibe.
Easy idea: Perform magic with paint. "Paint is the thing that people are most scared of, but it's one of the cheapest and easiest things to do, and it's easy to change," says Get Color's Jane Lockhart. No need to paint all four walls, either — opt instead for a dramatic orange accent wall hung with artwork in various shades of blue (or vice-versa), sassy stripes of color across a neutral wall (vertical stripes give a traditional wallpaper look, while a wide horizontal orange-and-blue band creates a fun, modern effect), "or even overlapping squares of color painted directly on a blank wall, which works almost like art," Lockhart says.
Why it works: "The popularity of blue and green—colors that symbolize nature—reflects our renewed interest in the environment," Eckstut says. And while just about any blue-green duo works well, today's pairings tend toward brights—lime or grass green coupled with robin's egg blue or aqua, for instance. Can you say sharp?
Variations: Delft blue with lemon yellow, or light blue with a darker tone like turquoise and navy.
Easy idea: Soft blues and greens bring serenity to a bedroom, so introduce these hues into your boudoir with fabrics: Create a customized headboard—and a luxurious focal point—by hanging a swath of patterned silk or other dreamy fabric at the head of your bed, running it up the wall and a couple of feet onto the ceiling before letting the edge of the fabric cascade down. Finish the look with a mix of blue and green accent pillows and a crisp throw folded at the foot of your bed.
Why it works: From intense-yet-cozy wasabi and soft mocha to clear, fresh lime and chocolate, retro-modern brown and green pairings are a big improvement on the vomitrocious '60s duo you grew up with. "Today's combinations are much more subtle and sophisticated," Eckstut says. Add to that the lovely, naturalistic patterns that so often feature this couple, and you have this season's earthy tweak on the fading aqua-chocolate craze.
Variations: Brown and just about anything, from deep rust to silvered lilac. "Brown is the new anchor color," asserts Barbara Schirmeister, a New York City interior designer and Color Association committee member. "From khaki to taupe to espresso, browns are wonderful, rich foils for other colors." What's more, newer metallic tones such as burnished copper and deep bronze broaden the brown palette, creating an opulent backdrop for a variety of poppy brights and soft earth tones.
Easy idea: Assemble a collection of green pottery or a bowl of crisp Granny Smith apples on a brown linen runner for a simple but elegant centerpiece.
Who could forget the classic ying and yang of ebony and ivory, on the rise again thanks to the current craze for postmodern silhouettes and graphic damasks.
Why it works: "Black and white has that great juxtaposition of light and dark," says Leatrice Eiseman, executive director of the Pantone Color Institute and author of The Color Answer Book. Today's black and white patterns, Eiseman notes, are often updated (and warmed) with a jolt of red, orange, or yellow.
Variation: Espresso brown with cream, a warmer alternative to black and white that maintains the pairing's striking contrast.
Easy idea: Go Baroque by using one of the myriad new graphic black and white wallpapers as an accent. Create a faux headboard by papering a rectangle behind your bed, and then tacking molding around it. Or paper a small nook or the inside of a hutch before filling it with, say, red books and other eye-catching crimson accessories.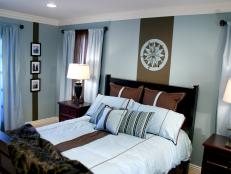 Get inspired to add the right hues to your home with five tips from top color experts.