Why I'll Never Get on the "White Paint is Boring" Bandwagon
Don't get in between me and my fave color white.
I absolutely love to get paint samples before any new design project. I hold them up to my walls as if they were a piece of art. I even like to throw them in my purse to test them out in different lighting. But, real talk — 99 percent of these paint samples are different variations of white.
After years as an interior designer, my fave color to design with is white. Let me explain why.
White Is Anything But Boring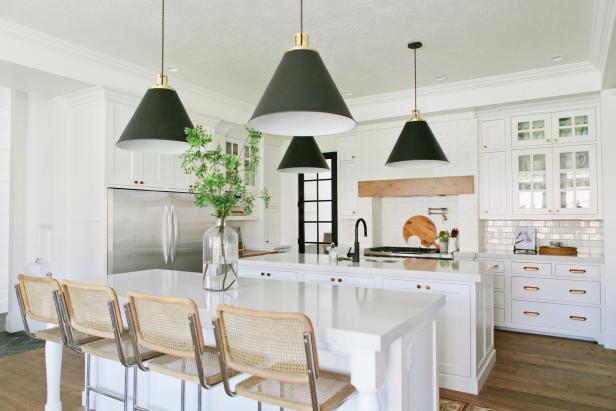 White Kitchen With Pendant Lights
An all-white kitchen is as crisp as it gets. Contemporary pendant lights and bar stools introduce an element of softness to the space.
When I hear "white is boring", I get annoyed. What does that even mean? If white is boring, does that mean every other color is exciting? Beige is crazy fun and life-changing, but white is boring? Is gray the answer to all your prayers?
This idea doesn't make any sense when you break it down. Colors that you love are exciting. Colors you don't love are boring. White is a color I crazy love.
White Gives You Color Freedom
I know this might seem counter-intuitive, but white actually gives you more color freedom in a space. So if you love color, you'll have more opportunity to bring it into your space if you fully embrace the magic of white. The magical thing about white is that it goes with every color in existence — every last one of them.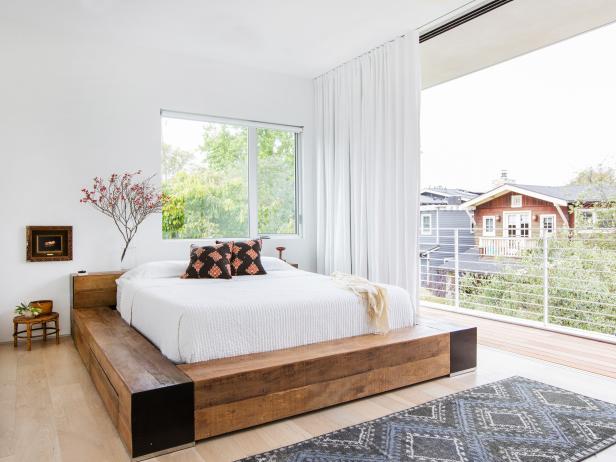 Contemporary, Rustic Bedroom
A wall opens up to bathe this rustic meets contemporary bedroom in natural light. A chunky wood beam platform bed contrasts against the textured white bedding.
With this approach, you can completely change your mind without switching everything up. If you go with a blue/green palette in your living room, but decide you hate that color six months down the road, simply change furnishings like pillows, a new art print, a different throw and, voila! You have a whole new color palette in your space without ever having to touch a paintbrush.
White Is Great For Darker Spaces
White does wonders for brightening up a space. If you have a dark room in your house or apartment that you want to lighten up, white paint (or tile!) is the solution.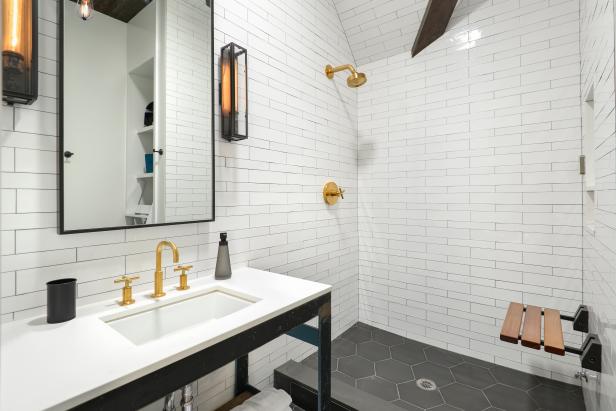 White Bathroom With Subway Tile
White subway tiles deliver crisp freshness to this bathroom that also features a vaulted ceiling and midcentury modern sconces. Brass fixtures in the shower and sink offer a welcome pop of color.
White helps reflect whatever light is coming in and can take your space from dark and dingy to light and airy with two simple coats of paint. Tip: Use a semi-gloss or gloss finish for maximum light reflection.
White Isn't Just for the Walls
My white obsession runs so deep, it now goes well beyond the walls and trim of a space. I've had white floors in my home for the past 10 years, and I can't ever go back.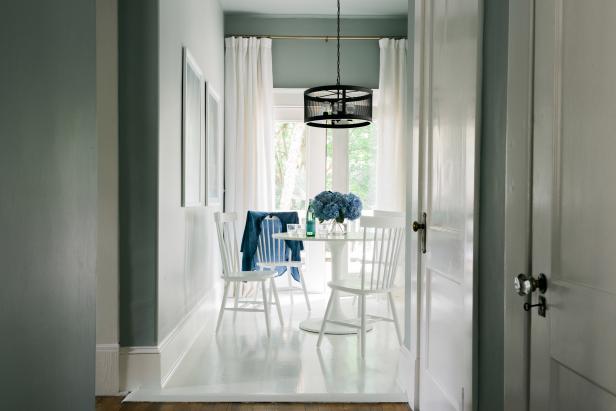 Kitchen Eating Area With Painted White Floors
High-gloss white wood floors are a great alternative to tile or stained wood. When installed correctly, maintenance and clean-up is a snap, and it's hard to beat the clean and fresh look that this finish provides.
We painted our wood floors white in our NYC apartment, and despite everyone's gasps, I absolutely love it. In our Los Angeles apartment, we have an environmentally-friendly shiny white laminate that is often used on dance floors. It's bright, glossy and a showstopper if I do say so myself. So, can everyone give white a break? Let's all agree to replace "boring" with sexy, modern, fresh and fabulous.