White Done Right: Traditional Elegance
Check out these great ideas for decorating with white in a traditional space.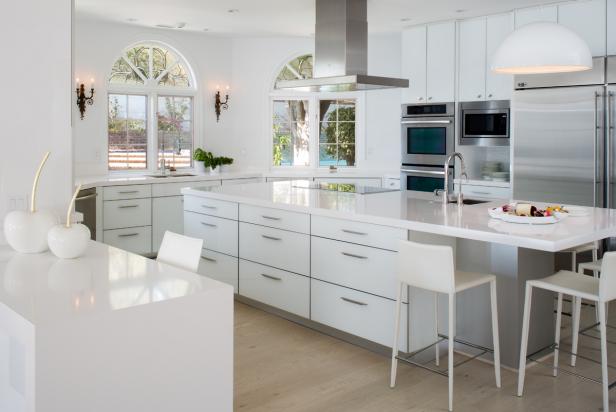 Modern Monochrome White Kitchen With Large Island and Stainless Steel Appliances
A mix of natural light and decorative light fixtures add to the bright look of this all-white kitchen. Polished white countertop reflects the light over smooth, large cabinets. A large island extends out to an eat-in area with simple white bar stools. Stainless steel appliances are built into the kitchen, and a few small decorative items add a personal touch to the design.
Dawson Design Group, Inc.
The purpose of creating a white monochrome elegant space is to feel peaceful, serene and sophisticated. In a white on white room, you have more freedom to do things differently. "Clutter is kept away, everything should be hidden," says Ammie Kim, a Beverly Hills designer. All unnecessary items or things with colors should be moved. It's a very sophisticated and minimal look.
In an all white space, the only things to differentiate the elements are texture. "If you use silk white drapes on the window, I would suggest different textures elsewhere, on the wall for instance," says Kim. Try a matte wall finish for contrast, like she's done in this elegant bedroom. Cover one sofa in linen and another in hemp. Lay a downy rug and a nubby cashmere throw. Whether it's cream tulips in a silver vase, a bouquet of ivory glass stones in a bronze bowl or a china white teacup and saucer, having lots of texture creates interest, and provides an elegant feel rather than a harsh one.
To create a sophisticated room, choose toned down colors in a variety of values. For instance, a beige may be light and have little weight to it, while another is infused with gray shades, which tone it down to appear heavier. "I would suggest colors like that because they are more sophisticated," says Kim. Plus, you won't get tired of subtle colors as easily as you would brighter varieties. Shades that are less intense make you feel calm and centered and include pebble, sandbar, linen and cornsilk.
Gold and silver tones lend sophisticated elegance to a traditional white space. Hang a gold-framed mirror, a chandelier with a bronze finish, or metallic candelabras. Choose candles in rich shades like burgundy and moss for added elegant zest.
When working in the accessories, avoid anything in a bright, saturated hue, which can destroy the tone-on-tone elegant feel.

Avoid yellowish toned wood furniture or flooring like oak. That's an example of adding the wrong shade to a white palette, which clashes.

Avoid patterns since they muddle a monochrome feel.
Jennifer Nelson writes about health, fitness, lifestyle and home. Her work also appears in Better Homes & Gardens, Woman's Day, Cooking Light and O, The Oprah Magazine.