White Done Right: Country Cottage Style
See how decorating in white country cottage style can give a space a cozy feel.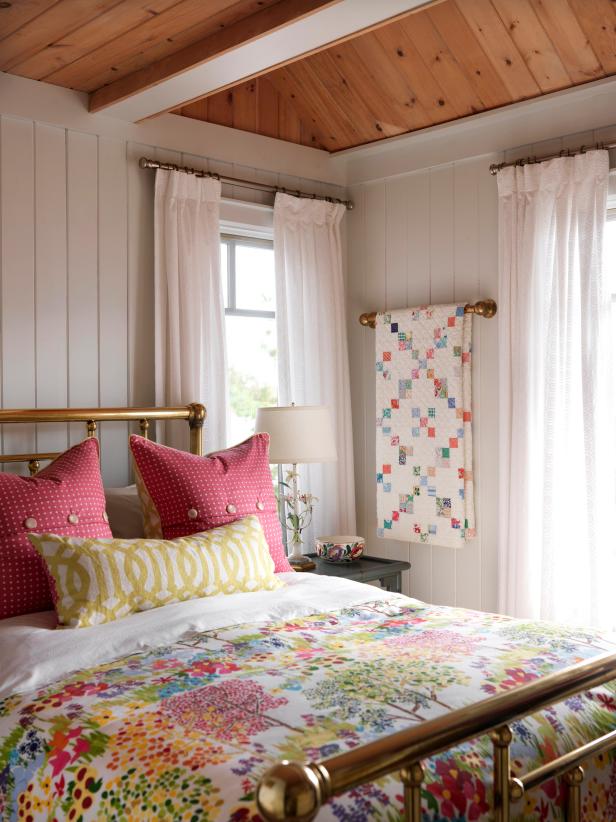 White Cottage Bedroom With Brass Bed and Colorful Bedding
Sarah Richardson, host of HGTV's "Sarah's Summer House," used the sun as the inspiration for the bright colors in this guest bedroom. The recycled white-painted pine paneling on the walls gives a neutral backdrop to the colorful fabric schemes. The division in the windows brings charm into the space, while the brass bed adds a robust element to the summer cottage bedroom.
Decorating in white country cottage means including items like quilts, antique furniture or reproductions, flea market finds, trunks and copper or iron accents. These give cottage style decor the rustic country feel that's simple, personal, warm and inviting. The success to white country cottage is contrast. "Unless it's a really modern space or you're going for a Swedish look, having all-out white doesn't really work when you're trying to do cottage," says Lori Dennis, a California designer. "Plus, it's extremely hard to keep clean."
Dennis is a fan of using contrasting color whether it's a maple wood floor, sunny yellow throw pillows or celadon artwork. Bring in a few strategically placed colors like a forest green plant, or a chocolate silk throw to make a room pop. Layering white also creates visual interest. All shades of white should be slightly different. An ivory rug under a cream chair with a beige sofa and tan pillows layer the look for more depth. "I think if the walls are white, the ceiling should be cream. If the ceiling is white, the walls should be cream," says Dennis. Contrast adds dimension to a white room.
To create interest and balance, don't skimp on texture. Cover a sofa, chaise and ottoman in different tactile fabrics. Perhaps a white wool rug layered on weathered floors with linen chairs, a brocade ottoman, and a careworn cotton skirted table. Accessorize with still more texture like porcelain and flowers. For country cottage, limit the amount of exposed wood by covering it in fabric. Country screams cozy with eyelet lace, quilts and overstuffed cushions.
Bringing in nature finishes a country look. "Any time you can mix wood with creams, it just looks really cottage," says Dennis. Experiment with rattan, bamboo, natural wood, bark as well as twigs, flowers and greenery for rural charm.
There's a lot more of everything in the country look, but avoid clutter. "One way to achieve that full cozy feel is to use lots of fabric everywhere vs. putting down a lot of tchokes," says Dennis. The charm in a country cottage is displaying accessories you use. A silver tea set on the table adds character as do floor cushions or a cozy quilt to cover up in.
Create country windows with billowy fabric. Poofy valances, ruffles or fringe add a cottage touch. A full valance and flowing drapery panels work well. Fabrics from sheer lace to lined cotton look country. Hang varying shades of white on the window to create drama; try a taupe valance and ghostwhite panels.
Choosing the same white shade everywhere
Not adding natural elements, which can make a room feel stark
Not buying washable fabrics
Jennifer Nelson writes about health, fitness, lifestyle and home. Her work also appears in Better Homes & Gardens, Woman's Day, Cooking Light and O, The Oprah Magazine.