White Done Right: Contemporary Style
Here are some great ideas for decorating with white in a contemporary space.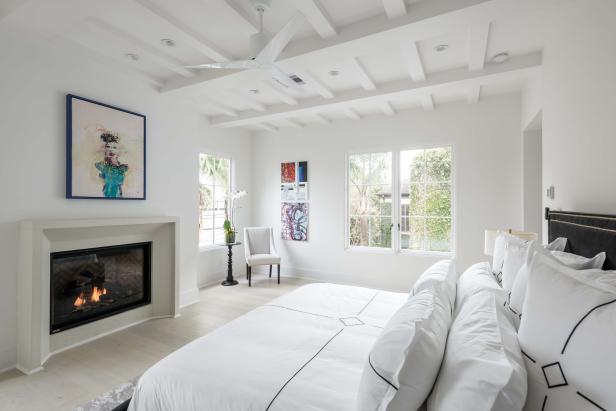 White Contemporary Bedroom With Fireplace
An all-white bedroom can be so refreshing, and this one gets an extra dose of coziness from a fireplace and wood beam ceiling.
An all white contemporary clean canvas signifies minimal, sterile and fresh. Rather than a color in contemporary design, white is an absence of color. A monochromatic contemporary look infuses clean lines and smooth surfaces without intricate details.
"People who do white on white contemporary are suggesting, I want you to feel completely peaceful and notice other things besides the color of the room," says Dan Heldenbrand, a Phoenix-based designer. Often the focus is an incredible painting, a hulking sculpture or another element that attracts the eye within a fade-to-white background.
When choosing color, work carefully with carpeting, flooring, window treatments and art to select a tone that complements. Whites range from blue-tinged to red-tinged with hundreds of variations. Heldenbrand recommends infusing additional color with art or a single piece of furniture, a sofa that's a brilliant hue, or a chocolate rug.
"I think introducing a color is a personal thing for the homeowner — I don't think there is a right or wrong" says Heldenbrand. "I have been in places where everything but maybe one or two pieces of art has been dead on the same color, which I think is rather boring." Instead, use shades from ivory to seashell, eggshell and ecru to create allure.
Contemporary flooring is minimalist, maybe a honed travertine that's polished or a whitewashed wood or very light ash. For wall-to-wall carpet, select shades of tan, wheat or moccasin, which is less stark than a true white.
Stainless steel, nickel and chrome metals are customary in contemporary design, providing a decorative framework of sleek finishes. Leather is often a signature component. Furnishings should feel clean with geometric lines, and chrome, brushed nickel or bronze patinas.
Since white reflects light back, pay attention to how light enters a room, and when natural light is present, like in this bedroom by designer Van Tullis. The kind of light bulbs used have a considerable effect on a white palette because incandescent bulbs contain more of a yellow cast, where fluorescents often emit either a pink or blue hue.
"I personally like a halogen bulb over an incandescent bulb; it's a little bit more pure light, more like natural light," says Heldenbrand. Natural light provides a warmer spectrum. Since walls absorb various shades based on light conditions, Heldenbrand recommends experimenting with three two foot by two foot panels of white wall coloring to see how various light hit them at all hours. "By the next day, you'll have eliminated two of those colors, just because you don't like how several of them look."
A contemporary window is dictated by whether you want coverings to offer decoration or light control. A solid fawn pull shade, beige blinds or sand color sheers are excellent choices. Unless a window is a stunning focal point in the room, it should be minimized.
Mistake to Avoid: Not Balancing a Space
If you employ color as a focal point with artwork or pillows on a sofa, you shouldn't have one piece of art on a far left wall, and nothing on an adjacent wall, or bold pillows on one chair but not on the opposite one. "Anything you do different from the white, needs to be in balance and make sense," says Heldenbrand. Tying everything together is even more important in the starkness of an all white room because you don't have other colors to distract the eye.
Jennifer Nelson writes about health, fitness, lifestyle and home. Her work also appears in Better Homes & Gardens, Woman's Day, Cooking Light and O, The Oprah Magazine.