The Most Popular Colors from HGTV.com
Deep and dark, or bright and sunny, these brilliant hues are the biggest hits on HGTV.com.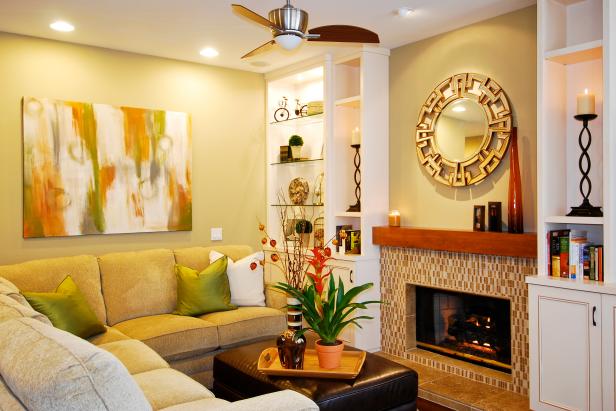 Transitional Family Room with Fireplace and Built-In Shelving
The sofa sectional allows for comfortable seating during family gatherings. Built-in shelves flanking either side of the fireplace lend themselves to displaying family treasures.
Soft and subdued, yellow is often used in babies' rooms and kitchens to create a calm, quiet place to begin a new life or to start the morning. But this versatile color is not just for the duck-and-bunny set or for old-fashioned spaces. Pick the right shade and yellow can be dramatic, daring and surprisingly debonair, as it is in this living room by Grace Blu Designs.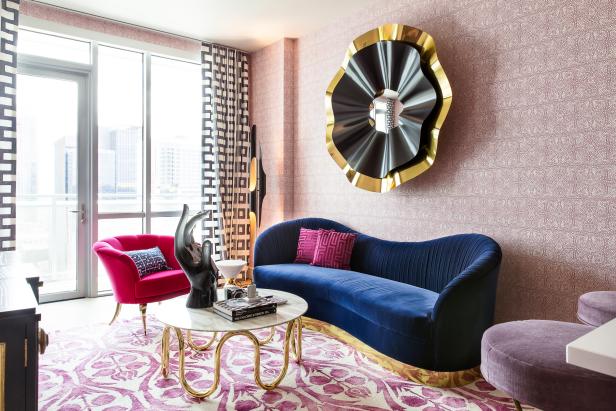 Bold, Modern Living Space
This condo living space showcases bold colors and geometric patterns, from the soft pink wallpaper and floral print area rug, to the navy velvet sofa and patterned window treatments.
Pink is often considered a juvenile shade, but it doesn't have to be. Designer Maureen Stevens mixed a soft pink wallcovering with pops of hot pink in the furnishings and accessories to give depth to the design of this living room.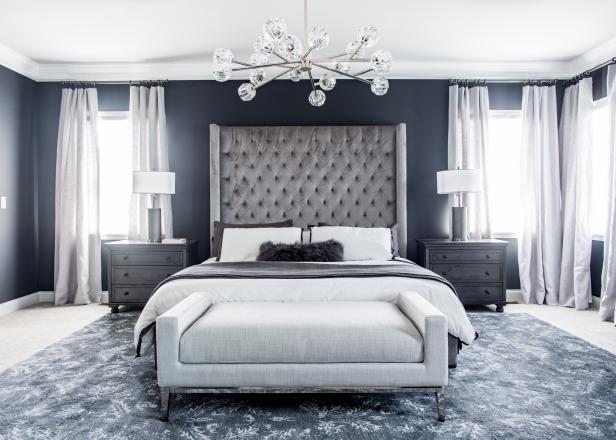 Bold Contemporary Master Suite
This bold contemporary master suite contrasts dark and light elements, from the textured velvet headboard to the dramatic area rug. A modern chandelier hangs from white ceilings with dark gray walls surrounding the bed and matching nightstands.
Cool and contemporary, gray captures our reader attention as a no-longer neutral shade. Here, it takes center stage in a monochromatic palette. For this bedroom, Design Bar used a steel-gray paint and softer gray upholstery on the headboard and bench. The textures of accessories and the sparkly chandelier soften the overall design.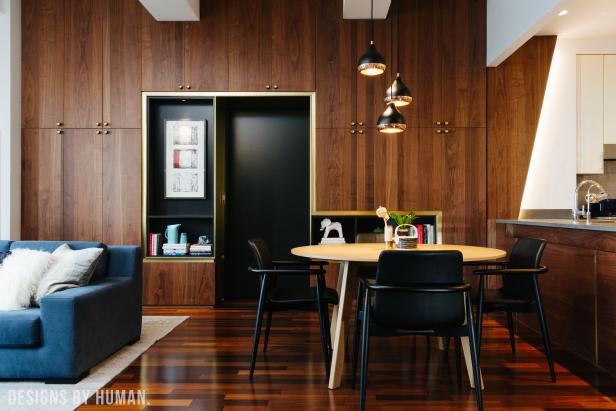 Modern Scandinavian Living And Dining Space
Polished hardwood floors and beautiful custom built-ins with brass accents create a warm, cozy vibe in this modern Scandinavian living and dining space. Elegant pendant lights hover above the round wooden dining table with four black chairs, only steps away from the living room with a blue sofa.
By far what you, the readers, are most taken with on our site is this rich, deep brown. Various woods and leathers work well together and meld to create a welcoming mood in this cozy living/dining space by Joe Human in shades of brown.