Dive Into Color With David Bromstad
David Bromstad, host of HGTV Color Splash, shares his painting tips and inspiration for creating a world of color at home.
David Bromstad is making a splash, and it's not just his smile that's got people excited. The Season 2 winner of HGTV's Design Star has his own series, Color Splash that's chock full of color dos, don'ts and inspiration. Bromstad left his own fine arts business in Miami to travel to San Francisco to do the show. We caught up with him while he was shopping for furniture.
You're an accidental designer?
Oh yes, I'm an artist grad from Ringling with a Bachelor of Fine Arts and Illustration. Becoming a designer wasn't what I had in mind, but it's great! After I graduated, I moved to Orlando and worked with Disney as a kind of a private artist on contract. When Disney was having troubles after 9-11, my contract wasn't renewed so I started working with an interior design friend of mine. He didn't like doing kids' rooms so that became my thing. And I loved it.
Until Design Star you'd never worked on adult rooms?
No, and some people look down on kids' rooms, but I love working on them. They're a lot of fun because you can think outside the box. There are no boundaries when it comes to children; imagination is the only thing that limits you so you can really take it to another place. In all of my rooms I try to create a fun and engaging environment. For adults, too. Every room starts as a blank canvas.
And now you're an HGTV host of your own show. Why a show on color?
People are afraid, very afraid of color. So Color Splash is focusing on how to get people comfortable with color so that they can actually use it. It's a cool show because it's very cinematic; we shoot all over San Francisco and there are some really sweeping shots. And there's a shopping segment, a sketching segment. It's really personality driven, which I love.
Disney was very inspiring. They are the only company in the world that knows how to create an environment and do it right. You walk in and you're transported, which is not a bad goal for a well-designed room. Because I'm a warm-weather dude I also love nature and the beach and try to bring natural elements into the mix. I love the ocean — just the energy and smell of it is unlike anything else. You can look at everything with a design eye, it's all design: a plate of food, cars, clothes in the mall, what you see walking down the sidewalk, the colors in Miami — it's all inspiring.
What's the biggest color mistake people make?
They just don't know what they're doing because of their fear. So they often go too matchy-matchy. They'll have red walls and then think they need a red comforter. That's definitely a look, but not necessarily a good one. I try to help them keep things simple. Mixing colors is a particular challenge for people. I like to pull from a piece of inspiration, such as a rug or pillow art or duvet cover — that's where I come up with my color combos.
What do you tell folks who are afraid of color?
I tell them that color is a challenge even for designers for whom it might come naturally. But if they start small, it's really simple. One of my main design tips is to keep all of your big pieces neutral. The couches and chairs — anything that's expensive and an investment — should be neutral. Then you can pop in the trendy or current colors in with paint and accessories that you can change from season to season without breaking the bank. The worst thing is if you've invested in a red couch and — eeeuuw — you realize that in a few years that's going to be really out or you'll be really tired of it. I'd rather have that color in a pillow. It's all about shopping smart.
You are known for your custom furniture. How'd you get so handy?
That's thanks to Disney again. I was working on site at the Disney parks doing murals, painting sculptures, and one of the managers of Animal Kingdom said, "Hey, can you do woodworking?" I said yes, even though I had never done it. I thought I could at least try, and I found that I excelled at it. I taught myself as I went along, and then the project kept getting bigger and bigger. It was great.
Are you one of those annoying people who can eyeball something and know exactly how much wood or fabric you need?
Well, yes. I do have a decent sense of what's needed by looking at it. But I'll tell you a secret: over buy. It's always better to have too much than too little. You can find something to do with the extra later.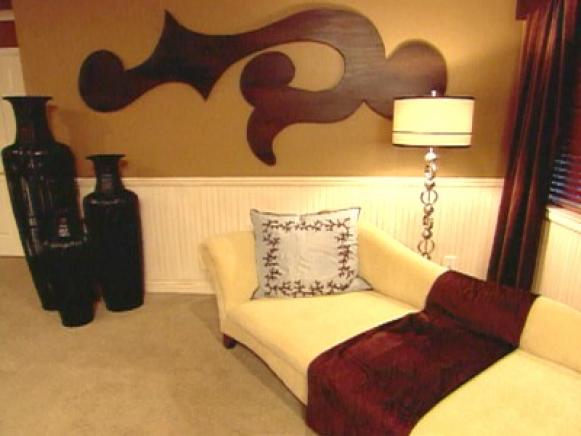 RefundRedesign-HCLRS103
Check out more of host David Bromstad's fabulous room designs and his can't-miss color tips, plus get the inside scoop on him from his parents.
Check out more of host David Bromstad's fabulous room designs and his 
can't-miss color tips
, plus get the inside scoop on him from his parents.
And the painter in you always comes out somewhere, doesn't it?
Yes. I want to leave my clients with something that's unique and original that has a signature feeling to it. So for each project I do a special painting of some kind for them. A mural or small piece. It adds so much personality.
David's secret vice: Watching America's Top Model. "Yes, really! I love reality shows, that's why Design Star was such fun for me. I love the competition and being in the moment.
His worst client: Myself. "I'm the hardest one to please. Everybody else has been a pleasure to work with."
Can't leave home without? My camera. "I take it everywhere. My camera is absolutely something I carry all the time and I'm always snapping pictures of different kinds of furniture and anything that inspires me. I download the pictures to my computer."
What's in his cupboard? Bananas and protein powder. " I know it's weird, but when I'm shooting the show, it's all I eat. I love food, but when I'm busy with work, prepping a meal just interferes with the flow of what I'm doing. So when I'm not on set, yes, I'm drinking my dinner."
Favorite room: I love the bedroom. It's my favorite room to design because it's where you relax and can be transported somewhere else.
Local hero: The interior designer, Steve Scaritt. He's the guy who first had me design for him and he's my biggest inspiration. He has taught me so much, including how to combine colors. He just has a great design aesthetic as well as being a great friend.
Anne Krueger is a frequent contributor to HGTV.com. She has written for In Style, This Old House, Martha Stewart Living and The New York Times.