Designer Decorating With Red
From classic to cutting-edge, here's how four top designers re-imagine the color red.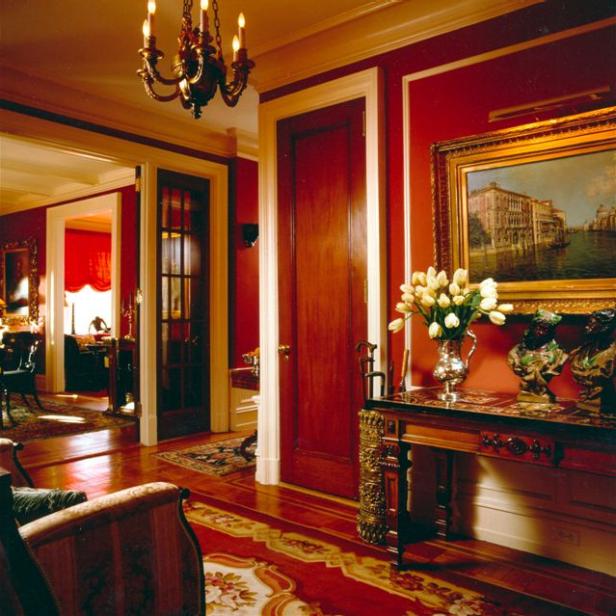 alan-tanksley-red-room
In this pre-war apartment on Manhattan's Upper West Side, designer Alan Tanksley painted the entrance hall and main corridor in two shades of terra cotta. Photograph by Martin Crook
In this pre-war apartment on Manhattan's Upper West Side, designer Alan Tanksley painted the entrance hall and main corridor in two shades of terra cotta. Photograph by Martin Crook
Known to stimulate appetite and conversation, red is most often used in dining rooms. But red can work well in just about any room design.
"These deep, rich colors were a perfect backdrop for the clients' collection of paintings," designer Alan Tanksley says. The colors complement — rather than contrast — the artwork, lending to a space that's "comforting and relaxing, two highly valued qualities for city dwellers."
Tanksley painted the trim and ceiling a light cream color, and stripped and refinished the original mahogany doors. "The light color helped break up the heaviness that could have resulted in having only variations of the deep red terra cottas," he explains. "Also, the tall mahogany doors, some with glass panels, provided a good deal of balance and levity to the rooms."
Tanksley, who also uses red in modern interiors, encourages homeowners to take the plunge with red paint colors. Whenever any of his clients chooses to go red, he says, they are always thrilled with the results.
Although this apartment is small and the entryway tiny, designer John Loecke decided to go bold in color and pattern, and papered the walls with a red chinoiserie pattern from Pierre Deux. Photo by Wendell Webber
"I fell in love with the paper and decided that I wanted to use it in the apartment," says designer John Loecke. "The pattern was a nice fit with the homeowners' collection of 19th-century engravings of Chinese scenes."
The foyer became the natural place for the paper, says Loecke. "This area was all white and thus rather unwelcoming," he says. "The red gives the foyer a warm, welcoming feel. That's what red does for a space. It's inviting, puts you at ease and makes you want to come in."
To make you want to stay, Loecke carried the color from the foyer as an accent throughout the space. "The red notes throughout the rest of the apartment are a nice accent to the more neutral grays and blacks," he says.
Because red is such a powerful color, says Loecke, it can overwhelm a space. "I tend to use it en masse in smaller spaces, like foyers or powder rooms where you aren't spending a great deal of time," he says. "Rooms that you want to feel warm and inviting. Red will always create that warmth."
It's amazing what you can do in just 75 square feet — especially if you are willing to go really, really bold and really, really red, as designers Alexandra Loew and Lauren Soloff from The Desk of Lola did in this Greenwich Village apartment. Photo by Catherine Tighe
The media room's walls and windows are covered in pleated drapes made of cream-on-cherry cotton damask, camouflaging an ugly airshaft view and offering the darkness and acoustic buffering that a media room requires.
"Since the room is so small, it really benefited from a bold choice," designers Alexandra Loew and Lauren Soloff say. "Something more neutral would have left it feeling rather bland and unfinished. We saw this room as a great opportunity to commit to one strong color and really use it from top to bottom."
Although damasks are usually used in more traditional settings, the fabric looks fresh and fashionable here. "The strong vibrancy of the red and crispness of the cream made it look more like a super graphic than a traditional damask," say the designers. "Also, pairing it with a 1970s-style sofa takes that traditional, frumpy edge off."
A red Ultrasuede loveseat by Ligne Rosset completes the look with a solid-red exclamation point.
In this bathroom in her northern California home, designer Martha Angus combined red with shiny chrome finishes and natural Portuguese limestone, and the result is proof positive of red's versatility and verve.
Because it's such a bold color, red works well with sleek, modern elements. And because red is found abundantly in nature, it complements earth tones beautifully. Photo by Matthew Millman
"It was actually my 15-year-old son (it's his bathroom) who chose the wall color — Benjamin Moore's Geranium #1307, midway between deep red and bright orange," Angus says. While she herself might not have selected it, she is justifiably pleased with the way the bathroom turned out.
"This color wouldn't work if you had to put makeup on in the bathroom," she concedes, "but that wasn't a consideration in this room."
And whether you use a lot of red or just a little, try to incorporate at least a splash of red in every room, says designer Alan Tanksley. "Every famous decorator seems to be credited with having been the first to insist that any successful room must have something red in it in order to be complete and a success," Tanksley says. "I don't know who first made that observation, but if you look at practically any gorgeous room in history, you will find it true every time."
Tanksley particularly likes white, silver and crystal accents together in red rooms. "They can be used together to create a very sharp, modern and chic statement," he says, "or can be a bit weathered and worn to create a relaxed, romantic and informal atmosphere." Lori Dennis uses red Barcelona chairs paired with red drapes to create the effect in this living room (above).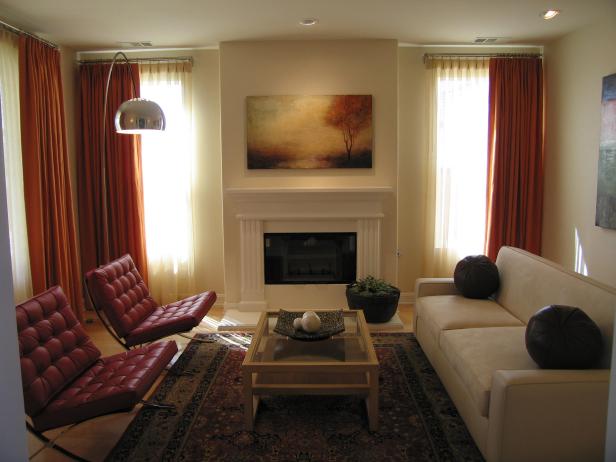 White and Orange Contemporary Living Room With Arc Lamp
The ways to make red work in a home are almost limitless.
The ways to make red work in a home are almost limitless.
Designer John Loecke likes red with hints of orange or pink. "Both are colors derived from red so the two work well together," he says.
If you switch out that orange or pink for yellow, says Catherine B. Stein, color trend forecaster and president of THE COLOR COUNCIL, you'll want to create an American country look: upbeat, energized and optimistic. "And red plus brown is sophisticated and sexy," she says.
For the red-shy, Martha Angus suggests adding a bit of taupe to the mix: "The taupe calms the color down."
"Red can also look really smart with stainless or glass finishes," say designers Alexandra Loew and Lauren Soloff from The Desk of Lola. "It can have a more playful, and '70s feel with other vibrant and acid colors, or can be very clean and simple when paired with white. And, for the truly daring, it can even be paired with purple."
So just how much red should you introduce into your color scheme?
"Some say a little bit of red goes a long way," Stein says. "Of course, it's an individual decision, as color elicits an emotional response. But I say, you can never have too much red!"